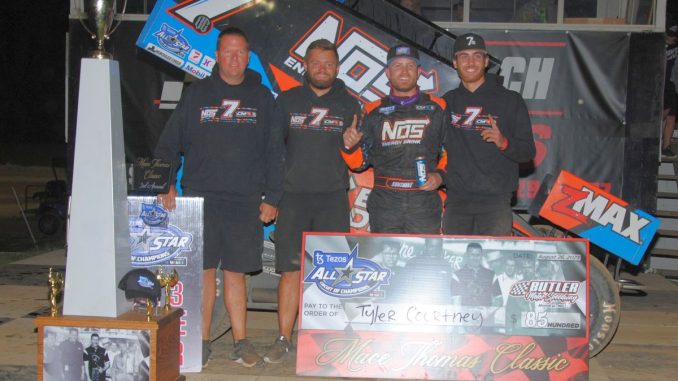 QUINCY, Mi (August 26, 2023) – Tyler Courtney was able to put himself in position to take advantage of Zeb Wise's misfortune in route to winning the 3rd Annual Mace Thomas Classic for the Tezos All Star Circuit of Champions presented by Mobil 1.
Courtney inherited the lead after Wise tangled with a slower car just pas the halfway mark in the 30-lap main event. Courtney then was able to drive away from Kerry Madsen while overtaking slower traffic during the closing stage of the main event for his second victory in the Mace Thomas Classic and 10th feature win of the 2023 calendar year.
Wise's tangle with the slower car also erased Rudeen Racing's lead in the owner point standings. After being up 30 points following the event Friday at Tri-City Motor Speedway when Courtney had power steering issues, Clauson-Marshall Racing now holds an eight point lead in those standings following Wise's misfortune.
Courtney was the fastest qualifier with a lap of 12.489 seconds. Corbin Gurley, Scotty Thiel, Kyle Reinhardt, and J.J. Hickle won heat race events. Wise won the dash while Bill Balog won the B-Main event.
During the first heat race Bryce Lucius and Alex Aldrich flipped in separate incidents. Both drivers exited the cars under their own power.
Tezos All Star Circuit of Champions presented by Mobil 1
3rd Annual Mace Thomas Classic
Butler Motor Speedway
Quincy, Michigan
Saturday, August 26, 2023
Hercules Tire Qualifying
1. 7BC-Tyler Courtney, 12.489[25]
2. 26-Zeb Wise, 12.645[14]
3. 29-Adam Kekich, 12.711[5]
4. 73-Scotty Thiel, 12.753[13]
5. 7N-Darin Naida, 12.836[34]
6. 50YR-JJ Hickle, 12.851[35]
7. 45-Kyle Reinhardt, 12.852[24]
8. 17-Reece Saldana, 12.856[17]
9. 28M-Conner Morrell, 12.862[22]
10. 12-Corbin Gurley, 12.883[4]
11. 32-Bryce Lucius, 12.932[6]
12. 23-Cale Thomas, 12.948[19]
13. 10BR-Jason Blonde, 12.963[33]
14. 16C-Tylar Rankin, 12.993[12]
15. 77-Geoff Dodge, 13.024[20]
16. 4-Chris Windom, 13.042[18]
17. 55-Kerry Madsen, 13.043[36]
18. 70-Kraig Kinser, 13.048[23]
19. 97-Zeth Sabo, 13.055[2]
20. 35-Stuart Brubaker, 13.061[16]
21. 42-Sye Lynch, 13.096[30]
22. 17B-Bill Balog, 13.158[11]
23. 10JR-Keith Sheffer Jr, 13.187[21]
24. W20-Greg Wilson, 13.205[26]
25. 41-Thomas Schinderle, 13.210[1]
26. 71M-Caden Englehart, 13.237[29]
27. 27-Trey McGranahan, 13.360[7]
28. 19-Jett Mann, 13.411[15]
29. 5E-Bobby Elliott, 13.516[27]
30. 3V-Chris Verda, 13.576[32]
31. 4T-Josh Turner, 13.687[10]
32. 20A-Andy Chehowski, 13.702[3]
33. 7-Alex Aldrich, 13.715[8]
34. 1A-Mark Aldrich, 13.728[28]
35. 87E-Logan Easterday, 13.856[9]
36. (DQ) 42M-Boston Mead, 13.071[31]
37. (DQ) 15D-Darel Woolsey, 15.035[37]
Hunt Brothers Pizza Heat Race #1 (8 Laps)
1. 12-Corbin Gurley[1]
2. 97-Zeth Sabo[3]
3. 29-Adam Kekich[4]
4. 27-Trey McGranahan[6]
5. 41-Thomas Schinderle[5]
6. 87E-Logan Easterday[10]
7. 4T-Josh Turner[7]
8. 20A-Andy Chehowski[8]
9. 7-Alex Aldrich[9]
10. 32-Bryce Lucius[2]
CSI Shocks Heat Race #2 (8 Laps)
1. 73-Scotty Thiel[1]
2. 23-Cale Thomas[3]
3. 26-Zeb Wise[4]
4. 4-Chris Windom[6]
5. 16C-Tylar Rankin[5]
6. 17B-Bill Balog[8]
7. 17-Reece Saldana[2]
8. 35-Stuart Brubaker[7]
9. 19-Jett Mann[9]
All Pro Aluminum Cylinder Heads Heat Race #3 (8 Laps)
1. 45-Kyle Reinhardt[1]
2. 7BC-Tyler Courtney[4]
3. 28M-Conner Morrell[2]
4. 70-Kraig Kinser[5]
5. 10JR-Keith Sheffer Jr[6]
6. W20-Greg Wilson[7]
7. 5E-Bobby Elliott[8]
8. 1A-Mark Aldrich[9]
9. 77-Geoff Dodge[3]
Mobil 1 Heat Race #4 (8 Laps)
1. 50YR-JJ Hickle[1]
2. 55-Kerry Madsen[3]
3. 10BR-Jason Blonde[2]
4. 42-Sye Lynch[5]
5. 42M-Boston Mead[8]
6. 7N-Darin Naida[4]
7. 3V-Chris Verda[7]
8. 71M-Caden Englehart[6]
DNS: 15D-Darel Woolsey
Elliotts Custom Trailers and Carts Dash (6 Laps)
1. 26-Zeb Wise[1]
2. 45-Kyle Reinhardt[4]
3. 29-Adam Kekich[2]
4. 73-Scotty Thiel[7]
5. 7BC-Tyler Courtney[8]
6. 50YR-JJ Hickle[6]
7. 12-Corbin Gurley[5]
8. 10BR-Jason Blonde[3]
Classic Ink USA B-Main (12 Laps)
1. 17B-Bill Balog[3]
2. 7N-Darin Naida[1]
3. 35-Stuart Brubaker[9]
4. 17-Reece Saldana[2]
5. W20-Greg Wilson[4]
6. 3V-Chris Verda[7]
7. 5E-Bobby Elliott[6]
8. 4T-Josh Turner[8]
9. 71M-Caden Englehart[10]
10. 19-Jett Mann[14]
11. 87E-Logan Easterday[5]
12. 1A-Mark Aldrich[12]
13. 20A-Andy Chehowski[11]
DNS: 77-Geoff Dodge
DNS: 7-Alex Aldrich
DNS: 32-Bryce Lucius
DNS: 15D-Darel Woolsey
Tezos A-Main (30 Laps)
1. 7BC-Tyler Courtney[5]
2. 55-Kerry Madsen[10]
3. 4-Chris Windom[13]
4. 50YR-JJ Hickle[6]
5. 29-Adam Kekich[3]
6. 97-Zeth Sabo[11]
7. 23-Cale Thomas[9]
8. 12-Corbin Gurley[7]
9. 28M-Conner Morrell[12]
10. 70-Kraig Kinser[14]
11. 73-Scotty Thiel[4]
12. 7N-Darin Naida[22]
13. 10JR-Keith Sheffer Jr[18]
14. 16C-Tylar Rankin[17]
15. 41-Thomas Schinderle[19]
16. 17-Reece Saldana[24]
17. 42M-Boston Mead[20]
18. 42-Sye Lynch[15]
19. 26-Zeb Wise[1]
20. 10BR-Jason Blonde[8]
21. 45-Kyle Reinhardt[2]
22. 27-Trey McGranahan[16]
23. 17B-Bill Balog[21]
24. 35-Stuart Brubaker[23]