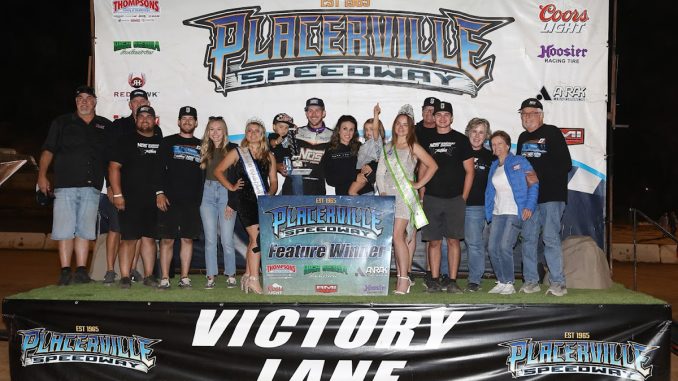 By Gary Thomas
Placerville, CA…Race fans certainly got their money's worth on Legends Night at Placerville Speedway, as Shane Golobic captured an entertaining Winged 360 Sprint Car feature, while Michael Faccinto wrapped up his first career track championship.
A packed house on Saturday also saw Lincoln's Dan Brown Jr. snag the win with the Anrak Ltd. Late Models and Diamond Springs' Dan Jinkerson lock up the track title for the third straight year.
Oakley's Nick Baldwin capped off his fifth Red Hawk Casino Pure Stock championship in style with a victory in the main event, with Lincoln's Dylan Shrum earning another triumph in the Nor-Cal Dwarf Car Association feature. Rio Oso driver Landon Brooks finished off the Western Sprint Tour Speedweek South title as well on Saturday.
The 25-lap Thompson's Winged Sprint Car finale began with excitement as Colby Copeland and Andy Forsberg exchanged the lead multiple times at the start. The duo got extremely close together at one point in turn four, which forced Forsberg to make a great save to continue. Copeland then felt pressure from Fremont's Shane Golobic, as several drivers battled it out behind them.
With action all over the track the top three cars began to bunch up as lapped traffic came into play. Golobic had his opening on lap 13 and made the move to assume the point, relegating Copeland back to second. Forsberg then found a new life and was right in the thick of it when things changed on lap 18. With a pair of cars sitting idle in turn four, the field had to take evasive action, which resulted in Forsberg getting caught by another car near the infield k-rail, ultimately ending his night.
Golobic then clicked off the final seven laps for his 13th career Winged 360 Sprint Car triumph at Placerville Speedway, which paid $4,850-to-win aboard his Matt Wood Racing/ NOS Energy Drink No. 17w. Copeland, Justin Sanders, Landon Brooks and Tanner Carrick completed the top-five.
The top-10 was rounded out by 15th starting Dylan Bloomfield, Michael Faccinto, Justyn Cox, Ryan Bernal and Kalib Henry. Faccinto's seventh place run was good enough to lock up his initial Placerville Speedway title. He becomes the fourth different driver to claim a track championship for Friends & Family Racing, joining Andy Forsberg, David Robinson Jr. and Mason Moore.
Faccinto began the evening by earning the $850 Fast Time Award thanks to ADCO Driveline and Sierra Foothills Wine Service. His lap of 10.833 paced the 40-car field in time trials.
Sprint Car results: 1. 17W-Shane Golobic[3]; 2. 5V-Colby Copeland[1]; 3. 2X-Justin Sanders[7]; 4. 94X-Landon Brooks[11]; 5. 83T-Tanner Carrick[6]; 6. 83V-Dylan Bloomfield[15]; 7. X1-Michael Faccinto[4]; 8. 42X-Justyn Cox[14]; 9. 22-Ryan Bernal[16]; 10. 17-Kalib Henry[8]; 11. 29-Willie Croft[10]; 12. 21X-Gauge Garcia[20]; 13. 15-Michael Sellers[19]; 14. 12-Steven Snawder[9]; 15. 92-Andy Forsberg[2]; 16. 7C-Tony Gomes[12]; 17. 21-Shane Hopkins[17]; 18. 83SA-Isaiah Vasquez[5]; 19. 5H-Josh Wiesz[13]; 20. 1K-Kinzer Cox[18]