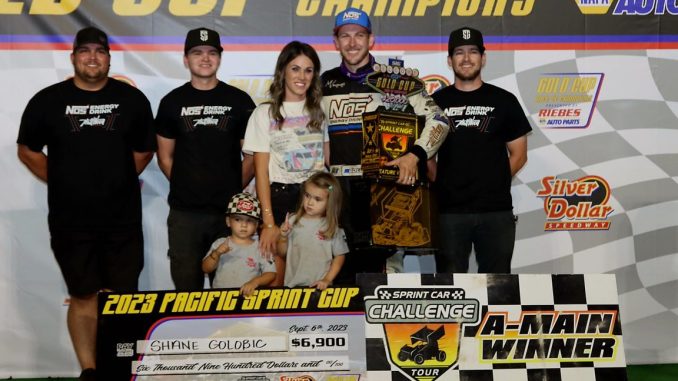 From Gary Thomas
CHICO, CA (September 6, 2023) — So far this season Shane Golobic has been on a mission at Silver Dollar Speedway and that continued Wednesday night when the reigning track champion captured the SCCT sanctioned Pacific Sprint Cup for the second straight year.
Golobic made the winning move past Andy Forsberg on lap six and held off all challengers working lapped traffic to perfection. It marked his 13th career Elk Grove Ford Sprint Car Challenge Tour presented by Abreu Vineyards triumph, which ranks number one all-time.
Andy Forsberg led the field to green after winning the High Sierra Industries Dash and held command early on. A few stoppages occurred early but after a lap three restart the remainder went green to checkered.
Golobic hounded Forsberg looking to find a way by and got to his inside with six laps complete. After that Golobic worked traffic well but had to hit his marks as Forsberg closed in on numerous occasions.
As he always does, Golobic never faltered and accepted the checkered flag for victory over Forsberg and Lincoln's Tanner Carrick who rounded out the podium. It was Golobic's fourth win in five races at Silver Dollar Speedway this season.
Penngrove's Chase Johnson crossed the stripe in fourth with Garth Moore Insurance Rookie of the Year leader Chance Grasty putting together an impressive run in fifth. Elk Grove's Kyle Larson ran sixth, followed by Pit Stop USA Hard Charger Shane Hopkins, who stormed through the field from 22nd to seventh.
Tucson, Arizona's Nick Parker, Aromas' Justin Sanders and 23rd starter Jonathan Allard completed the top-10.
A total of 55 cars competed on opening night of the 69th Gold Cup Race of Champions. Kyle Larson opened the night by earning the Sierra Foothills Wine Services Fast Time Award with a lap of 11.788 around the quarter mile.
The Elk Grove Ford Sprint Car Challenge Tour presented by Abreu Vineyards returns to action during the 12th running of the Adobe Cup at Petaluma Speedway on September 23rd.
Gold Cup Race of Champions – Pacific Cup
Silver Dollar Speedway
Chico, California
Wednesday, September 6, 2023
Winged 360 Sprint Cars
Qualifying Flight A
1. 115-Nick Parker, 12.049[12]
2. 92-Andy Forsberg, 12.122[7]
3. 10-Dominic Gorden, 12.155[14]
4. 83V-Dylan Bloomfield, 12.217[13]
5. 87-Ashlyn Rodriguez, 12.231[6]
6. 7C-Tony Gomes, 12.233[10]
7. 01-Nick Larson, 12.323[8]
8. 93-Stephen Ingraham, 12.412[9]
9. 0-Jonathan Allard, 12.419[4]
10. 77-Ryan Lippincott, 12.443[2]
11. 94JR-Rico Abreu, 12.453[3]
12. 22-Ryan Bernal, 12.477[1]
13. 11S-Steel Powell, 12.503[5]
14. 54S-Drake Standley, 12.896[11]
Qualifying Flight B
1. 28-Chase Johnson, 11.797[10]
2. 7-Ashton Torgerson, 11.829[12]
3. 8JR-Brian McGahan Jr, 11.838[2]
4. 4-Corey Day, 11.884[6]
5. 21X-Gauge Garcia, 12.030[8]
6. 21T-Cole Macedo, 12.051[4]
7. 42X-Justyn Cox, 12.240[9]
8. 8-William Fielding, 12.252[13]
9. 55D-Dawson Hammes, 12.284[5]
10. 25S-Seth Standley, 12.343[1]
11. 15-Cody Key, 12.346[11]
12. 3-Kaleb Montgomery, 12.359[7]
13. 54-Carson Hall, 12.500[14]
14. 2S-Jayce Steinberg, 12.522[3]
Qualifying Flight C
1. 76-Kenny Allen, 11.845[10]
2. 22C-Carly Holmes, 11.913[2]
3. 17W-Shane Golobic, 11.923[9]
4. 4SA-Justin Sanders, 11.997[1]
5. 21-Shane Hopkins, 12.108[6]
6. 7B-Sean Becker, 12.175[12]
7. 08-Preston Carr, 12.219[4]
8. X1-Michael Faccinto, 12.234[5]
9. 9L-Luke Hayes, 12.266[7]
10. 35-Justin Henry, 12.379[3]
11. 2-Wyatt Brown, 12.469[14]
12. 12R-Mitchell Faccinto, 12.572[8]
13. 77W-Brayden Williams, 13.255[11]
14. 91J-John Sullivan, 13.606[13]
Qualifying Flight D
1. 57-Kyle Larson, 11.788[1]
2. 83T-Tanner Carrick, 11.798[12]
3. 1-Chance Grasty, 11.888[8]
4. 94X-Landon Brooks, 11.902[11]
5. 9-Dustin Freitas, 11.925[2]
6. 45-Jake Morgan, 11.931[10]
7. 21S-Jesse Schlotfeldt, 11.937[13]
8. 3C-Casey Schmitz, 12.042[5]
9. 7Y-Anton Hernandez, 12.149[6]
10. 46JR-Joel Myers Jr, 12.200[7]
11. 6W-Billy Wallace, 12.326[3]
12. 30-Casey McClain, 12.525[9]
13. 12J-John Clark, 12.575[4]
Non Qualifier Race (8 Laps)
1. 22-Ryan Bernal[2]
2. 3-Kaleb Montgomery[1]
3. 30-Casey McClain[6]
4. 54S-Drake Standley[9]
5. 2S-Jayce Steinberg[5]
6. 12R-Mitchell Faccinto[7]
7. 12J-John Clark[8]
8. 77W-Brayden Williams[10]
9. 11S-Steel Powell[4]
10. 54-Carson Hall[3]
11. 91J-John Sullivan[11]
Heat Race #1 (8 Laps)
1. 92-Andy Forsberg[1]
2. 115-Nick Parker[4]
3. 83V-Dylan Bloomfield[3]
4. 10-Dominic Gorden[2]
5. 7C-Tony Gomes[6]
6. 87-Ashlyn Rodriguez[5]
7. 0-Jonathan Allard[9]
8. 94JR-Rico Abreu[11]
9. 22-Ryan Bernal[12]
10. 93-Stephen Ingraham[8]
11. 77-Ryan Lippincott[10]
12. 01-Nick Larson[7]
Heat Race #2 (8 Laps)
1. 7-Ashton Torgerson[1]
2. 4-Corey Day[3]
3. 28-Chase Johnson[4]
4. 21T-Cole Macedo[6]
5. 3-Kaleb Montgomery[12]
6. 8JR-Brian McGahan Jr[2]
7. 55D-Dawson Hammes[9]
8. 8-William Fielding[8]
9. 15-Cody Key[11]
10. 21X-Gauge Garcia[5]
11. 42X-Justyn Cox[7]
12. 25S-Seth Standley[10]
Heat Race #3 (8 Laps)
1. 17W-Shane Golobic[2]
2. 22C-Carly Holmes[1]
3. 4SA-Justin Sanders[3]
4. 76-Kenny Allen[4]
5. 7B-Sean Becker[6]
6. 21-Shane Hopkins[5]
7. 35-Justin Henry[10]
8. 9L-Luke Hayes[9]
9. 08-Preston Carr[7]
10. 30-Casey McClain[12]
11. 2-Wyatt Brown[11]
12. X1-Michael Faccinto[8]
Heat Race #4 (8 Laps)
1. 83T-Tanner Carrick[1]
2. 1-Chance Grasty[2]
3. 94X-Landon Brooks[3]
4. 57-Kyle Larson[4]
5. 45-Jake Morgan[6]
6. 46JR-Joel Myers Jr[10]
7. 9-Dustin Freitas[5]
8. 6W-Billy Wallace[11]
9. 3C-Casey Schmitz[8]
10. 54S-Drake Standley[12]
11. 21S-Jesse Schlotfeldt[7]
12. 7Y-Anton Hernandez[9]
Dash (6 Laps)
1. 92-Andy Forsberg[1]
2. 17W-Shane Golobic[4]
3. 7-Ashton Torgerson[2]
4. 83T-Tanner Carrick[6]
5. 76-Kenny Allen[3]
6. 57-Kyle Larson[5]
7. 28-Chase Johnson[8]
8. 115-Nick Parker[7]
C Main (10 Laps)
1. 21X-Gauge Garcia[1]
2. 93-Stephen Ingraham[2]
3. 54S-Drake Standley[4]
4. 42X-Justyn Cox[6]
5. 77-Ryan Lippincott[7]
6. 30-Casey McClain[3]
7. 2S-Jayce Steinberg[13]
8. 21S-Jesse Schlotfeldt[5]
9. 2-Wyatt Brown[8]
10. 12J-John Clark[15]
11. X1-Michael Faccinto[10]
DNS: 7Y-Anton Hernandez
DNS: 01-Nick Larson
DNS: 25S-Seth Standley
DNS: 12R-Mitchell Faccinto
DNS: 77W-Brayden Williams
DNS: 11S-Steel Powell
DNS: 54-Carson Hall
DNS: 91J-John Sullivan
B Main (12 Laps)
1. 8JR-Brian McGahan Jr[1]
2. 21-Shane Hopkins[2]
3. 0-Jonathan Allard[8]
4. 8-William Fielding[9]
5. 94JR-Rico Abreu[12]
6. 46JR-Joel Myers Jr[3]
7. 3C-Casey Schmitz[13]
8. 35-Justin Henry[7]
9. 22-Ryan Bernal[16]
10. 93-Stephen Ingraham[18]
11. 08-Preston Carr[14]
12. 15-Cody Key[15]
13. 6W-Billy Wallace[11]
14. 9-Dustin Freitas[5]
15. 21X-Gauge Garcia[17]
16. 9L-Luke Hayes[10]
17. 87-Ashlyn Rodriguez[4]
18. 55D-Dawson Hammes[6]
A Main (35 Laps)
1. 17W-Shane Golobic[2]
2. 92-Andy Forsberg[1]
3. 83T-Tanner Carrick[4]
4. 28-Chase Johnson[7]
5. 1-Chance Grasty[10]
6. 57-Kyle Larson[6]
7. 21-Shane Hopkins[22]
8. 115-Nick Parker[8]
9. 4SA-Justin Sanders[13]
10. 0-Jonathan Allard[23]
11. 45-Jake Morgan[17]
12. 21T-Cole Macedo[15]
13. 7B-Sean Becker[18]
14. 8-William Fielding[24]
15. 8JR-Brian McGahan Jr[21]
16. 3-Kaleb Montgomery[20]
17. 10-Dominic Gorden[16]
18. 76-Kenny Allen[5]
19. 7-Ashton Torgerson[3]
20. 94X-Landon Brooks[12]
21. 22C-Carly Holmes[11]
22. 83V-Dylan Bloomfield[14]
23. 7C-Tony Gomes[19]
24. 4-Corey Day[9]