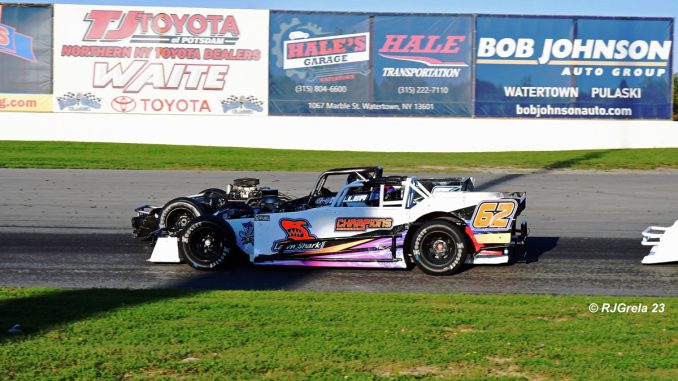 By Dan Kapuscinski Motorsports Promotions
Small Block Super Championship Series – OSWEGO, NY (September 20, 2023) – The Jake's Automotive Small Block Super Championship Series presented by Binghamton Truck & Tire Center is set to make its first appearance at Lancaster Motorplex this Saturday, September 23.
Sponsored by MARDON and Larkin Mowing, the event will be the final race of the 2023 SBSCS season and will pay $1,000 to the winner after 30-laps as part of Lancaster's 35th annual US Open Weekend.
Racing will get underway on Saturday at 4:30 p.m., with pit gates opening at Noon and grandstand gates swinging open at 2 p.m. Grandstand admission is $30 for adults, $25 for seniors and veterans, $15 for kids aged 13-16, and kids 12 and under are admitted FREE. Pit admission is $40.
Joining the Small Block Supers on Saturday will be Sportsman Modifieds, the New York Super Stocks, 4-cylinders and TQ Midgets.
SBSCS main event winner Jesse Bearup holds a commanding 65-point lead in the race for the overall championship ahead of Oswego Speedway track champion, Noah Ratcliff. Ratcliff is trailed by Oswego's Mr. Small Block Super, Cameron Rowe, Drew Pascuzzi and the most recent winner on the SBSCS trail, Dan Kapuscinski.
Other Small Block Super drivers expected to be on hand include AJ Larkin, DJ Shuman, Mike Fowler, Jude Parker, Greg O'Connor, Camden Proud, Griffin Miller and more.
Lancaster Motorplx is located at 57 Gunville Rd. in Lancaster and can be reached online at www.lancastermotorplexny.com.
Camping is available all weekend long for $20. Those camping must check in at the gates prior to setting up camp.
To learn more contact series promoter Dan Kapuscinski at (315) 708-7544 or email dkapuscinski00@gmail.com.
SBSCS Partners: Jake's Automotive, Binghamton Truck & Tire Center, Dan Kapuscinski Motorsports Promotions, UltimateQM.com, Larkin Mowing, Rt. 37 Building Supply, MARDON, Race Wrap Group, Bill Moyer Memorial, GTR Promotions, DeStevens Fabrication