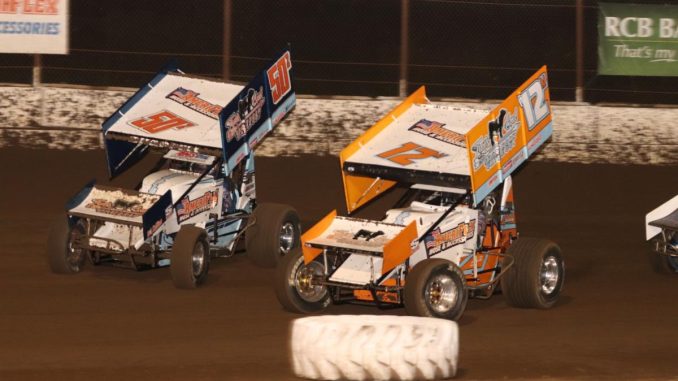 By John Rittenoure
TULSA, Okla. (October 9, 2023) – Only three races remain on the AmeriFlex Hose & Accessories OCRS Sprint Car schedule and the series points lead is on the line when racing resumes on Saturday at Red Dirt Raceway.
Danny Wood moved into the points lead after his victory in the AmeriFlex Challenge at Salina Highbanks Speedway on Sept. 30. The victory dropped Johnny Kent into second by a seven point margin. Saturday at Caney Valley Speedway Kent finished the 30-lap main event in fourth with Wood right behind in fifth. Now the two are tied and set for a showdown on Saturday.
Red Dirt Raceway hosted the OCRS season opener on March 11 and Tanner Conn picked up his fourth OCRS career victory. On June 23 Rees Moran picked up a fifth OCRS career victory and third of the season at Red Dirt.
Blake Edwards became the 13th different winner on the season with his victory last week at Caney.
The 8th annual Pat Suchy Classic at Red Dirt Raceway has an early 5 p.m. starting time. Pits open at 3, drivers draw is 3-3:45, and drivers meeting at 4:15.
2023 Winners: 03/11 – Tanner Conn, Red Dirt Raceway; 03/18 – Fred Mattox, Tulsa Speedway; 04/01 – Zach Blurton, Enid Speedway; 04/15 – Zach Blurton, Longdale Speedway; 05/26 – Sean McClelland, Arrowhead Speedway; 05/27 – Alex Sewell, Salina Highbanks Speedway; 06/10 – Alex Sewell, Lawton Speedway; 06/15 – Rees Moran, Lucas Oil Speedway; 06/16 – Whit Gastineau, I-70 Motorsports Park; 06/17 – Rees Moran, Lake Ozark Speedway; 06/23 – Rees Moran, Red Dirt Raceway; 07/15 – Kyle Clark, Creek County Speedway; 07/29 – Zach Chappell, Caney Valley Speedway; 08/19 – Johnny Kent, Elk City Raceway Park; 08/20 – Danny Smith, Lawton Speedway; 09/09 – Alex Sewell, Caney Valley Speedway; 09/30 – Danny Wood, Salina Highbanks Speedway; 10/07 – Blake Edwards, Caney Valley Speedway.
Top 10 Standings: 1. Danny Wood, 1808; 2. Johnny Kent, 1808; 3. Joe Bob Lee, 1735; 4. Sheldon Barksdale, 1717; 5. Zach Chappell, 1592; 6. Joshua Tyre, 1383; 7. Fred Mattox, 1310; 8. Rees Moran 1214; 9. Alex DeCamp, 1042; 10. Emilio Hoover, 1039.