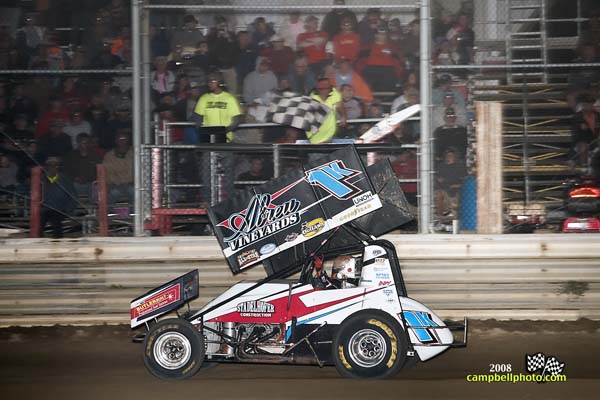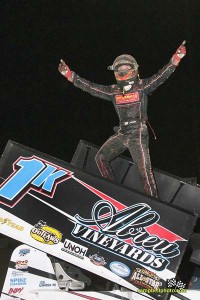 Orrville, OH — (June 25, 2012) — Larson a perfect 2-for-2 in Ohio Sprint Speedweek
ORRVILLE, OH- By Brian Liskai (Monday, June 25, 2012) – Kyle Larson made it two wins in two outings with the University of Northwestern Ohio All Star Circuit of Champions during the 30th Annual Ohio Sprint Speedweek. The Elk Grove, California native drove from his seventh starting spot to pass Dale Blaney for the lead on lap 13 and went on to score the victory at the NAPA Auto Parts Wayne County Speedway Monday.
Larson, 19, who picked up his first UNOH All Star win the previous night at Cannonball Speedway, scored his second consecutive victory at a track he had never laid eyes on. The victory impressed the packed grandstands and reminded many of the veteran fans of another youngster who came to Ohio Sprint Speedweek several years ago and won on tracks he had never seen – 2011 NASCAR Nationwide Series champion Ricky Stenhouse Jr.
"Three and four was elbows up like a lot of places are in California where they have a lot of moisture and rough so that was a lot of fun. I was getting a little wore out there…I usually don't get tired but I had to take
a second and catch my breath there under the yellow. I was really working hard there in three and four and in one and two I had to make sure I didn't hit the tractor tires on the bottom," said Larson beside his Abreu
Vineyards, Stadelhoffer Construction, Butlerbuilt Seats backed #1k.
"The lappers were pretty tough to get by. They were just fast enough that I couldn't get a run on them off the exit. Luckily I got a few of them before the yellow so I had a couple between me and Dale there on the restart," continued Larson of the green, white checkered finish following that late race caution.
"Thanks to Davey, Dalton, Chuck for all their hard work. They built this car in a week and the first two nights out on it we got wins. This is great for Spike Chassis. I have to thank Jeannie and Brian Butler with Butlerbuilt Seats and Abreu Vineyards and Stadelhoffer Construction and everybody that helps out on this car…without them we wouldn't be able to do it," said Larson, who won in a stock car recently with the K&N Pro Series East Series.
"We will see if we can make it a hat trick and go three for three. This is really cool to come out here and get wins the first two nights of my speedweek. All the guys are really tough out here. I grew up reading about
them and watching them on TV…they're all really old compared to me…I've been keeping an eye on them for a long time," joked Larson, who will turn 20 years of age next month.
For three time All Star Champion Dale Blaney – who has four Ohio Sprint Speedweek titles on his resume – a late race caution may have spoiled his chances, as he was reeling in the leader in heavy lapped traffic. But, when you consider the problems Blaney and his team have worked to overcome in the first three races of Speedweek, the runner-up finish was a shot in the arm.
"When I saw the #1 on the board I knew it was him (Larson) and he runs pretty good. My car was stumbling real bad in the corners and on restarts so it was hard for me to throttle it from the center off and I had to kind
of run up a little bit where I had to keep my speed up. The car was pretty good all night and we didn't have too many problems and we brought it home second. Hopefully we're heading back in the right direction and the rest of the week we can do pretty well," said Blaney beside his Ti22 Performance machine.
While Larson has two wins in his first two Ohio Sprint Speedweek events, Bixby, Oklahoma's Shane Stewart has two third place finishes in his first two speedweek starts.
"You don't ever want to start on the pole and fade by any means, but we're going to have to figure out a way to slow Kyle down. We're going to have to put a sniper in the trees and shoot one of his tires out. He's a great
talent and it's always fun to watch him race. Hopefully when he makes it big he remembers all us poor sprint car drivers…he can come back and help us," joked Stewart beside his Level Performance, Hoy's Bar, Kear's Speed Shop backed #29. "I lost my brakes in the middle of the race and was just kind of hanging on. Me and Stevie (Smith) had a pretty good race the last couple of laps and I was lucky to hang on to third which is a solid effort for this team and hopefully we can get a win before I have to go back to Pennsylvania."
Stewart and Blaney would bring the field to the green with Blaney taking charge over Stewart, Paul McMahan, Bryan Sebetto, Stevie Smith and Larson. Just as Blaney was set to hit lapped traffic on the fifth circuit, the caution would fly for a tangle involving Stuart Brubaker and Ryan Davis.
On the restart, Blaney pulled away from a great battle between McMahan, Stewart and Larson. Larson would drive under Stewart for third on lap nine and around McMahan for second on the next circuit and quickly closed on Blaney. Danny Holtgraver would spin in turn two on lap 11, putting Larson right on Blaney's rear bumper.
On the restart, Larson quickly dove under Blaney as they raced side by side through one and two, with Larson gaining the advantage down the back stretch.  Larson would pull away as Blaney ran comfortably in second with the battle for third heating back up between McMahan, Stewart and Smith. Smith would take the third spot at the halfway point.
Larson would race into lapped traffic by the 18th circuit and began picking cars off one at a time. However, with eight laps to go, the lapped cars were racing side-by-side in front of Larson, and the veteran Blaney pounced on the situation to quickly close. Meanwhile, Smith, Stewart and McMahan continued to put on a great show for third with Cap Henry, Tim Shaffer and Tony Stewart in tow.
As the laps ticked off, Blaney pulled to within a couple of car lengths from Larson with Stewart moving into third with five to go. Just as it looked like things would get interesting as they took the white flag, Sam
Hafertepe Jr. would bring out the caution, necessitating a green-white-checkered finish.
On the restart, Larson would have three lapped machines separating him from Blaney and would hit his marks perfectly to take the win. Blaney, Stewart, Smith and Shaffer rounding out the top five.
Wayne County Speedway  – 6/25/2012
UNOH Night
All Star Circuit of Champions (45 Cars)
[#]-Starting Position
Qualifying – Kistler Engines
1. 1S-Logan Schuchart, 15.218; 2. 97-Dean Jacobs, 15.224; 3. 24H-Bryan Sebetto, 15.242; 4. 2-Dale Blaney, 15.257; 5. 54-Cap Henry, 15.288; 6. 15H-Sam Hafertepe Jr., 15.307; 7. 19-Stevie Smith, 15.356; 8. 29-Shane
Stewart, 15.433; 9. 45-Paul McMahan, 15.450; 10. 3L-Mike Linder, 15.457; 11. 1K-Kyle Larson, 15.492; 12. 89G-David Gravel, 15.511; 13. 83-Tim Shaffer, 15.524; 14. 14-Tony Stewart, 15.530; 15. 57X-Andrew Palker,
15.600; 16. 16-Danny Mumaw, 15.624; 17. O-Lee Jacobs, 15.633; 18. W20-Greg Wilson, 15.638; 19. 71AU-Ryan Davis, 15.649; 20. 40-Caleb Helms, 15.670; 21. 35-Stuart Brubaker, 15.687; 22. O8-Dan Kuriger, 15.692; 23. 2M-Dallas Hewitt, 15.711; 24. 5T-Travis Philo, 15.723; 25. 24-Brian Steinman, 15.743;
26. 22-Cole Duncan, 15.770; 27. 4K-Kody Kinser, 15.818; 28. 38K-Rob Chaney, 15.820; 29. 30C-Lance Dewease, 15.822; 30. 53-Phil Gressman, 15.830; 31. 93-Sheldon Haudenschild, 15.851; 32. 4-Danny Smith, 15.855; 33. D4-Danny Holtgraver, 15.997; 34. 6-Bill Rose, 16.050; 35. 3-Pete Miller III, 16.069; 36. 80-Trey Gustin, 16.107; 37. 46AU-Stuart Williams, 16.264; 38. 17-Marty Perovich, 16.340; 39. 35W-Wes McGlumphy, 16.360; 40. D12-Jason Dolick, 16.596; 41. 73-Joe Armbruster, 17.073; 42. 41-Jimmy Pooler, 17.337; 43.
52-Chris Smith, 17.465; 44. 33P-Nick Patterson, 17.550; 45. 21-Jack Whitmore, 17.609
Heat 1 – Kears Speed Shop (8 Laps – Top 5 finishers transfer to the A-feature) 1. 35-Stuart Brubaker[1] ; 2. 83-Tim Shaffer[3] ; 3. 45-Paul McMahan[4] ; 4. 54-Cap Henry[5] ; 5. 30C-Lance Dewease[8] ; 6. 1S-Logan Schuchart[6] ; 7. D4-Danny Holtgraver[9] ; 8. 24-Brian Steinman[7] ; 9. 46AU-Stuart Williams[10] ; 10. 73-Joe Armbruster[11] ; 11. 21-Jack Whitmore[12] ; 12. O-Lee Jacobs[2]
Heat 2 – All Pro Aluminum Heads (8 Laps – Top 5 finishers transfer to the A-feature) 1. 14-Tony Stewart[3] ; 2. W20-Greg Wilson[2] ; 3. O8-Dan Kuriger[1] ; 4. 53-Phil Gressman[8] ; 5. 22-Cole Duncan[7] ; 6. 6-Bill Rose[9] ; 7. 17-Marty Perovich[10] ; 8. 3L-Mike Linder[4] ; 9. 41-Jimmy Pooler[11]
Heat 3 – Dragon Race Fuel (8 Laps – Top 5 finishers transfer to the A-feature) 1. 1K-Kyle Larson[4] ; 2. 71AU-Ryan Davis[2] ; 3. 24H-Bryan Sebetto[6] ; 4. 2M-Dallas Hewitt[1] ; 5. 19-Stevie Smith[5] ; 6. 93-Sheldon Haudenschild[8] ; 7. 4K-Kody Kinser[7] ; 8. 3-Pete Miller III[9] ; 9. 35W-Wes McGlumphy[10]
; 10. 52-Chris Smith[11] ; 11. 57X-Andrew Palker[3]
Heat 4 – Kinsler Fuel Injection (8 Laps – Top 5 finishers transfer to the A-feature) 1. 29-Shane Stewart[5] ; 2. 5T-Travis Philo[1] ; 3. 40-Caleb Helms[2] ; 4. 16-Danny Mumaw[3] ; 5. 2-Dale Blaney[6] ; 6. 4-Danny Smith[8] ; 7. 38K-Rob Chaney[7] ; 8. 89G-David Gravel[4] ; 9. D12-Jason Dolick[10] ; 10. 80-Trey Gustin[9] ; 11. 33P-Nick Patterson[11]
Dash – Outerwears Performance Products (6 Laps, finishing order determined first 6 starting positions of A-feature 1. 29-Shane Stewart[2] ; 2. 2-Dale Blaney[3] ; 3. 45-Paul McMahan[4] ; 4. 24H-Bryan Sebetto[1] ; 5. 19-Stevie Smith[6] ; 6. 54-Cap Henry[5]
C-Main – Computer Man Inc. (10 Laps – Top 2 finishers transfer to the B-feature) 1. 73-Joe Armbruster[3] ; 2. D12-Jason Dolick[2] ; 3. 33P-Nick Patterson[6] ; 4. 35W-Wes McGlumphy[1] ; 5. 52-Chris Smith[5] ; 6.  21-Jack Whitmore[7] ; 7. 41-Jimmy Pooler[4]
B-Main – MSD Ignition (12 Laps – Top 4 finishers transfer to the A-feature) 1. 1S-Logan Schuchart[1] ; 2. 15H-Sam Hafertepe Jr.[3] ; 3. D4-Danny Holtgraver[13] ; 4. 97-Dean Jacobs[2] ; 5. 24-Brian Steinman[8] ; 6.
89G-David Gravel[5] ; 7. 93-Sheldon Haudenschild[11] ; 8. 57X-Andrew Palker[6] ; 9. 3-Pete Miller III[15] ; 10. 4K-Kody Kinser[9] ; 11. 46AU-Stuart Williams[17] ; 12. 80-Trey Gustin[16] ; 13. 73-Joe Armbruster[20] ; 14. 4-Danny Smith[12] ; 15. 17-Marty Perovich[18] ; 16. 3L-Mike Linder[4] ; 17. 38K-Rob Chaney[10] ; 18. D12-Jason Dolick[19]
A-Main – University of Northwestern Ohio (30 Laps) 1. 1K-Kyle Larson[7]; 2. 2-Dale Blaney[2]; 3. 29-Shane Stewart[1]; 4. 19-Stevie Smith[5]; 5. 83-Tim Shaffer[8]; 6. 45-Paul McMahan[3]; 7. 14-Tony Stewart[9]; 8. 54-Cap Henry[6]; 9. 24H-Bryan Sebetto[4]; 10. 97-Dean Jacobs[12]; 11. O8-Dan Kuriger[18]; 12. 30C-Lance Dewease[22]; 13. 16-Danny Mumaw[10]; 14. D4-Danny Holtgraver[24]; 15. W20-Greg Wilson[14]; 16.
53-Phil Gressman[23]; 17. 40-Caleb Helms[16]; 18. 2M-Dallas Hewitt[19]; 19. 15H-Sam Hafertepe Jr.[13]; 20. 5T-Travis Philo[20]; 21. 22-Cole Duncan[21]; 22. 35-Stuart Brubaker[17]; 23. 71AU-Ryan Davis[15]; 24. 1S-Logan Schuchart[11]
Hard Charger: 30C-Lance Dewease[+10]
Photo Gallery