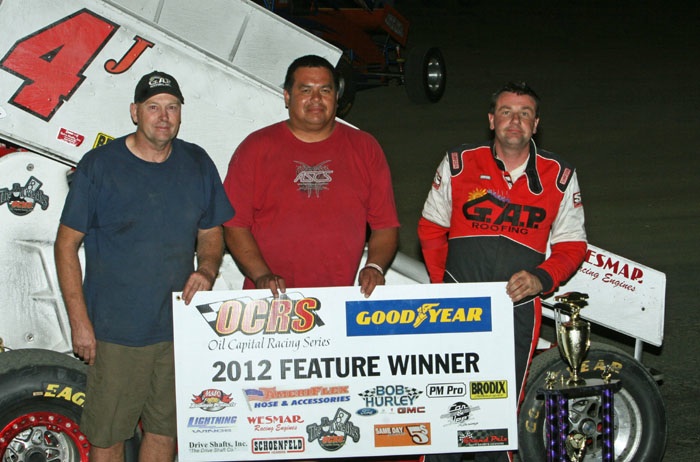 From John Lemon
Tulsa OK — (June 30 2012) — Jamie Passmore took another step towards his fourth OCRS championship when he led wire-wire in tonight's A Feature besting 2012 OCRS "Rookie of the Year" points leader Alex Sewell while not one, but two potential top five finishers were waved off as their cars were found to be to light at the scales.
On a track that drivers knew passing would be challenging at best, the front row starters consisting of Pole Dash winner Tim Kent and Passmore were set for a dirt track drag race to the first turn. At the drop of flag master JD Etter's green cloth, Passmore immediately set sail to be the early leader and he was able to accomplish his first goal of the race with Kent tucking in right behind in his Kent Construction / XXX Chassis mount.
Sewell, driving the Action Auto Collision / Dyno Services of Oklahoma / Sewell Mechanical machine, worked his way past Kent for second from his outside second row spot and by the time the leaders would complete a lap, Lindsay Oklahoma's Harli White would spin to a stop in turns 1-2 while Shayla Waddell went to take evasive action and in doing so, clipped an infield tire which resulted in suspension damage to her left front and thus the popular driver went to the pits for the night. White would rejoin the field at the tail but would be heard from again.
Passmore caught lapped traffic at the halfway mark. Sewell continued to hold second with Kent, Danny Jennings and Danny Smith next in line. The latter three would be tightly bound together as the laps unfolded. On the 15th lap, Joe Wood Jr. would slow to a stop with issues on the front straight, he would be pushed off the track and would not return. While under yellow, Fred Mattox would duck into the pits with a problem and he also would not make it back out. The restart would see Passmore up front, Sewell, Kent, Jennings, Smith, Kyle Clark, Colton Brewer, Casey Wills and White who was now beginning to pick up the pace after her early spin.
On the restart, Smith began to apply heavy pressure to Jennings for the fourth spot then Wills would execute a full 360 degree spin in turn two and also add a 180 degree loop to that. He would stall the car and bring out a yellow. On the restart, White began her charge forward. First she passed Clark, then she swept by Smith in turn four of the 18th lap and Jennings was her next target. White executed a pass on Jennings for the fourth spot in turns three and four. However, post race inspection found the 17w sprinter was too light at the scales and her results were deleted from the record books as a DQ. Officials radioed to the pits for the Brewer car to report to the scales as White's DQ would move Brewer to fifth in the final results. Brewer's car was also to light and he was also omitted from the results.
Passmore's victory was his 6th of the season with all triumphs coming at different venues in his GAP Roofing / Wesmar Racing Engines / Eagle chassis. " Ya know, there are some really good cars here and sometimes you just got to be lucky and we were tonight" said a modest Passmore. In relation to Sewell being right behind him Passmore said " You really have no idea (they are there) until you see them. When your out front, you just have to work your line while the guy behind you can try different lines to see what works better. I found some places where there was some rubber on the track and that helped us a lot" explained the winner. As for Sewell, he had this to say about his run: "The tire started to really shake about lap 8 or 9 and I just wanted to conserve (the tire) and just not shred it. I just wanted to keep him (Passmore) in front of me in case something happened to him so we could take advantage. He is really fast and it's a pleasure to run second to him and maybe one day we will get to out run him."
The next stop on the 2012 OCRS tour will be at the historic Thunderbird Speedway where Stanley and Dennis Slader will host OCRS for the second time this year. Passmore was victorious at T-Bird on May 25th.
Southern Oklahoma Speedway
Ardmore, Oklahoma
Race date: June 30, 2012 – Event 10
21 Cars
M&W Aluminum Heat:
1- Jamie Passmore (6), 2- Whit Gastineau (2), 3- Danny Smith (4), 4- Harli White (7), 5- Colton Brewer (3), 6- David Lambert (1), 7- Beau Gastineau (5)
Bob Hurley Auto Family Heat:
1- Tim Kent (1), 2- Rafe Essary (3), 3- Fred Mattox (5), 4- Joe Wood Jr (6), 5- Kyle Clark (7), 6- Casey Wills (2), 7- Chuck Bellefeuille (4)
Drive Shafts Inc. Heat:
1- Danny Jennings (5), 2- Alex Sewell (4), 3- Terry DeVeny (6), 4- Shayla Waddell (1), 5- Michael Bookout (3), 6- Gary Owens (2), 7- Johnny Kent (7)
Pole Dash:
1- Tim Kent (1), 2- Jamie Passmore (2), 3- Danny Jennings (4), 4- Alex Sewell (5), 5- Terry DeVeny (6), 6- Rafe Essary (3)
OCRS A Feature:
1- Jamie Passmore (2), 2- Alex Sewell (4), 3- Tim Kent (1), 4- Danny Jennings (3), 5- Danny Smith (10), 6- Kyle Clark (12), 7- Gary Owens (18), 8- Johnny Kent (20), 9- Casey Wills (17), 10- David Lambert (16), 11- Michael Bookout (15), 12- Chuck Bellefeuille (19), 13- Fred Mattox (9), 14- Joe Wood Jr, (11), 15- Whit Gastineau (7), 16- Terry DeVeny (5), 17- Rafe Essary (6), 18- Shayla Waddell (13), 19- Beau Gastineau (DNS), 20- Colton Brewer DQ, 21- Harli White (DQ)
AmeriFlex Hose & Accessories "Hard Charger": Johnny Kent +12
Photo Gallery