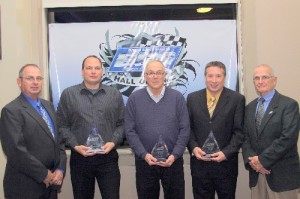 From Dean Reynolds
SYRACUSE, NY – The annual awards banquet held recently at the Vernon Downs Hotel and Casino not only closed down the 2012 racing season, it also kicked off the celebration of the Lucas Oil Empire Super Sprint (ESS) 30th Anniversary Tour in 2013.
It was a special night as three true legends from the ESS ranks were inducted as the class of 2012.  Gordy Button, Mal Lane and Mike Woodring received accolades from the capacity filled banquet room.  For their induction they were also presented with a solid crystal, blue edge plaque.
Button will forever hold the distinction of being the first ever ESS champion which he was crowned in 1983.  The Kirkville, NY driver went on to capture two more championships and collect 29 A-Main victories total which is still sixth on the all-time win list.
He was still behind the wheel of a crate late model last year and might put on the helmet again.  Joined by his wife and friends, he gave a heart felt speech which reflected back to the days when ESS started.
Called up next to the podium was Dundee, NY's Mal Lane.  The former small block modified standout will always be known for winning his first ESS championship in his first year ever in sprints!  What also makes Lane's career ever more spectacular is that he went on to win the next five titles in a row.
The family business, Lane's Yamaha, still has a big sponsorship fixture with ESS by sponsoring the annual Rookie of the Year award.  Along with his wife Cindy, Mal attends many shows during the year and continues to enjoy watching the winged warriors.  He totaled six championships in route to 36 career A-Main wins which is fourth in the all-time list.
Long-time friends and crew members Ron Povoski and his wife joined Mal at his table and while his sons were in Florida they sent their congratulations. Mal thanked so many people including the Yonge family for their support over the years.
The final inductee for the class of 2012 can be known as possibly the greatest ESS driver of them all.  Hamburg, NY's Mike Woodring amassed eight championships, seven in a row and what is still a record 59 ESS victories in a career that spanned a little over a decade.
Moving on as a car owner and crew chief for many top teams that ran the World of Outlaw circuit, Woodring still keeps busy running a team for Australian Brooke Tatnell from his Minnesota home.  He is also famously known for owning and crewing the car for the first ever female winner in the Outlaws in Erin Crocker.
Woodring's father, his wife and daughter joined him for the induction which came to a total surprise.  He spoke to the crowd on how he still has his heart with ESS and is glad to see the club continuing to grow over the years.  He even hinted that he might get back behind the wheel for a show as he does miss the ESS competition.
A special logo for the Hall of Fame was unveiled with members going to be inducted each year during the banquet.  The ESS website will have a special section set aside for the inductees and there is even an actual site being sought out for the placement of the Hall.
The 30th Anniversary Tour is well under way as over 20 dates have already been firmed with many special announcements coming shortly.  For all the latest information you can log on to www.empiresupersprints.com or follow ESS on their Facebook page or on Twitter @ESSprints

The Lucas Oil Empire Super Sprints are brought to you by: Lucas Oil, Le Groupe Ultra, SUNY Canton, Universal American, Hoosier Racing Tires, Fondations 4 Saisons, Cobra Coaches, Westward Painting Company, Mach 1 Chassis, Lee's Repair Auto and Truck, Fondations 55, Eric Varin Roofing, North Eastern Pool and Spa, Car Mate Trailers, Brodix Cylinder Heads, Ohsweken Speedway, Northwood 2 Construction/Lasalle Motorsports, AKS Firearms, Jasmin Peloquin Sport, 730 Truck Stop, FX Chevy and many, many associate sponsors!!