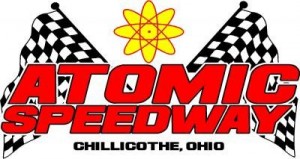 From Scott Wolfe
Chillicothe, OH — (March 22, 2014) — A full grandstand and a stout field of cars featuring winners from three states kicked off the 2014 racing season in a big way at Brad McCown's Atomic Speedway Saturday night March 22, where Piketon, Ohio's Jimmy Nier brought home the 410 sprint car win and 4-time AMRA Champion Chris Garnes, Evans, West Virginia captured the AMRA Late Model victory. Verona, Kentucky driver Dave McWilliams claimed the Advance Services AMRA Octane Modified win, while Jackson, Ohio youngster Harley Martin blitzed the Sport Mod field.  For owner Brad McCown and staff it was another home run, as the racy highbanks of Atomic Speedway produced some great racing throughout the evening and the final feature was completed by 9:18 p.m.  Racing continues next Saturday night March 29.
Next week, March 29 racing will begin with the same early start times of racing at 4 p.m. with Pit gates opening at noon, and main gates opening at 2 p.m.  March 29 is EMS/Fire Department/ and Police Department Night with Atomic Speedway honoring these civil servants with a $5 admission . General Admission is $12 and $30 pits.
In the Pine Tree Towing and Recovery 410 sprint car main, pole-sitter Caleb Griffith fell victim early to Helena, Ohio's Stuart Brubaker and Jimmy Nier. The northern Ohio driver Brubaker continued to impress the large crowd, bringing them to their feet on lap two when he recaptured the lead on a crossover move to overcome a turn one pass by Nier.  The races only caution flew seconds later for a Nate Reeser spin, but from that point on the feature went green-to-checkered.
Brubaker survived a Nier challenge on the restart and appeared to have the race well in hand for the next ten laps.  Both Brubaker and Nier were masterful in traffic, as battles for position continued throughout the pack.  A high quality field of sprint cars once again graced the high banks of Ohio's fastest 3/8 mile high-banked track.
On lap 12 Nier started to gain some ground as All-Star champ Dale Blaney dueled for third with a feisty Griffith. For much of the race Danny Smith, Travis Philo, Brad Bowman, Cole Duncan, and Jimmy Stinson battled within inches of each other for track position. Smith eventually prevailed in that group despite great runs from Bowman and Philo.
Meanwhile, Nier's Maxim/Charlie Fisher Powered mount decimated Brubaker's lead and blasted by on lap 18.  Brubaker challenged a couple laps, however, it appeared his tires went away just enough to enable Dale Blaney to enter the mix.  Blaney sailed by and began a run at Nier, but time ran out with Nier capturing a popular six car length win.  Rounding out the top ten were Brubaker in third, Caleb Griffith, Danny Smith, Travis Philo, Brad Bowman, Cole Duncan, Jimmy Stinson, and Ron Blair. Heat wins went to Nier, Blaney, and Griffith.
"It's great to see this place open," said Jimmy Nier to a gaggle of cheers from the crowd. "I give Brad (MCown) and his staff a lot of credit for getting this track prepped tonight and thanks to the fans for braving the cold to support (racing).  The track was fast and racy and as good as it gets with the wind and all this time of year."
The Gullion Enterprises AMRA Late Model main was also a barnburner.  Jeremy Scott and Billy Gullion paced the field to Frank Lemaster's green flag, where Gullion immediately took charge.  Steve Breeding from Isom, Kentucky quickly filed into second where he and Flyin' Ryan Markham began hot pursuit. As a result of the redraw, Chris Garnes started fifth, but was quick to make his way to the front.  Garnes quickly made Markham his prey, then two laps later moved into second ahead of Breeding.  While Gullion ran a smooth, fast line on the point, one of the best races of the night was the battle for third between Markham and Breeding.
Throughout the run Kevin Wagner, the third heat winner, dueled with former AMRA champ Andy Bond, Mike Sampson, and ADRA champion–The Coshocton Ironman–Bryan Casey.
Gullion survived several slide jobs from Garnes, and then began a march that padded his lead through the midpoint of the race with Garnes in tow.  The ever-improving Gullion worked traffic to perfection, but the veteran Garnes had a little more bite later in the race, passing Gullion for the top spot on the 20th circuit.  Garnes' new Swartz Extreme Chassis rocketed to the checkered flag just ahead of Gullion, Markham, Breeding, and Wagner.  Rounding out the top ten were Bond, Sampson, Casey, Mike Unger, and Dylan Huron.
Garnes and Gullion also brought home heat wins.
Garnes said in victory lane, "These Audie Swartz cars drive the same new or old–they really hook up. Any time you win its good and right now we are looking to be here (at Atomic) running for an AMRA championship at least through the NDRL show."
Kenny "worth the price of admission" Johnson came from last to first to win his heat on the last lap.  Many fans were expecting something just as spectacular in the feature. Dave McWilliams thought otherwise!
The fans almost got what they wanted when McWilliams, the pole sitter, and early leader went tooth and nail with Johnson over the first four laps.  On lap two Johnson had bagged Chillicothe's Fireball Pinkerton for second then put on an outlaw slide job on McWilliams in turn one.  The large crowd came to its feet as McWilliams dove back under Johnson and reclaimed the lead.  Several such passes and lead swaps continued, only to be slowed by cautions.  Johnson made his last bid for the lead on lap seven, scrubbed off some speed and never quite had the ooomph he needed in the middle stages of the race. Pinkerton then occupied Johnson in a scrap for second as McWilliams drove off to a comfortable lead.
Rick Hensley, former track champion, was the talk of the night. After flipping hard off turn three in his heat, Hensley started nearly scratch and had worked his way up to sixth by lap five.  Jess Hartman, Jason Montgomery, and Kevin Harkin battled with Hensley for position much of the night.
Up front however, Johnson and Pinkerton made a late race charge to unseat McWilliams for the top spot. The last three laps Johnson stood up on the wheel and closed the gap quickly on McWilliams.  Johnson was on McWilliams' hind quarters through one and two of the final lap, but the race-long leader carried the momentum into three and slammed the door on a Johnson pass at the finish to pull off the win.
"Wow, Kenny Johnson …he taught me how to race this place. We had a good race going there. It's really exciting to be here in victory lane," said McWilliams. "I'd like to thank my sponsors and Diamond Race Cars and my crew for getting this car back together after the heat.  We hope to be here alot this season, and we'll be back next week, hopefully here in victory lane."
Rounding out the top ten were McWilliams, Johnson, Pinkerton, Jess Hartman, Rick Hensley, Jason Montgomery, Kevin Harkin, Jason Armes, and Dave Jameson, who had a good charge off the tail after a mid race spin.
Sixteen year-old Harley Martin drove a hard-smooth race, leading most of the way despite charges from practically everyone in the field.  Martin survived challenges from Tony Whitt, Jr. who led a couple mid race laps, then battled Chris Shelton and Tony Whitt, Sr. on two other occasions.  With one lap to go Shelton was whistled for rough driving as both Martin and Shelton spun, sparking a series of restarts that created some anxious moments at the finale.  Martin survived all the hoopla which bolstered a strong second place finish from Greg Litteral and Shelton who came back off the tail to third.
Rounding out the top ten was the winner Harley Martin ahead of Litteral, Chris Shelton, Tony Whitt, Sr. , Tony Whitt, Jr., David Lunsford, Robert Lunsford, Steve Noble, Dwayne Hurley, and Mike Brust.
Atomic Speedway has signed a Hoosier Tire deal which means, "Hoosier Tires in all classes!" All Star tire rules will apply for Sprints Cars, Late Models must run a 1300 or harder compound, the AMRA tire rules apply for Modifieds, and Street Stocks and Sport Mods have until June 1 to burn off tires other than Hoosier. All Street Stocks and Sport Mods must run Hoosier tires after June 1. NO BURN OFF for other divisions—Hoosier Only!
For more information please call 740-703-9749 or 740-663-4141 or visit the Atomic Speedway website at <<<   www.atomicspeedway.net >>>  Atomic is located 12 miles South of Chillicothe, Ohio off SR 23, two miles out Blain Highway between Chillicothe, Ohio and Waverly, Ohio at Alma.
*Although the first official AMRA race will not take place until the first week of April, drivers can purchase an AMRA License at the track Saturday for $75.  Drivers do not have to have the AMRA license until the weekend of April 5.  Late Model and Modified drivers can save $10 and purchase an AMRA license online at the AMRA Website  www.amramodified.com   for $65 through March 31.  No Atomic registration fees this year, compliments of Brad McCown!
Upcoming Dates:
March 29- EMS/FD/PD Night: Sprints, AMRA Late Models, AMRA Modifieds, Street Stocks
April 5- $1 dog night: Sprints, AMRA Late Models, AMRA Modifieds, Sport Mods
April 12- DARF Night, AMRA Late Models, AMRA Modifieds, Street Stocks, Sport Mods
The summary: March 22, 2014
Pine Tree Towing and Recovery 410 Sprint Cars (17)
Heat One: Jimmy Nier,Stuart Brubaker,Danny Smith, Jimmy Stinson,Jesse McCreary, Mark Imler
Heat Two: Dale Blaney, Travis Philo, Cole Duncan, Josh Davis, Trey Guston, Nate Reeser
Heat Three: Caleb Griffith, Ron Blair, Brad Bowman, Ryan Broughton, Bryan Nuckles
Feature:  Jimmy Nier, Dale Blaney, Stuart Brubaker, Caleb Griffith, Danny Smith, Travis Philo, Brad Bowman, Cole Duncan, Jimmy Stinson, Ron Blair, Josh Davis, Ryan Broughton, Trey Guston, Mark Imler, Bryan Nuckles, Nate Reeser, Jesse McCreary
Gullion Enterprises AMRA Late Models (16)
Heat One: Chris Garnes, Jeremy Scott, Mike Unger, Dillon Bledsoe, Tim Stewart,
Heat Two: Billy Gullion, Ryan Markham, Andy Bond, Mick Sampson, Billy Staker
Heat Three: Kevin Wagner, Steve Breeding, Bryan Casey, Dylan Huron, Daniel Kattine
Feature: Chris Garnes, Billy Gullion, Ryan Markham, Steve Breeding, Kevin Wagner, Andy Bond, Mike Sampson, Bryan Casey, Mike Unger, Dylan Huron, Daniel Kattine, Jeremy Scott, Billy Staker, Tim Stewart, Dillon Bledsoe
Advanced Services OCTANE AMRA MODIFIEDS (14)
Heat One:  Kenny Johnson,Jason Montgomery, Jess Hartman, Dave Jameson, Pete Brunton, Jeff Surber, Rick Hensley
Heat Two:Dave Pinkerton,Dave McWilliams, Donnie Miller,  Jason Armes,  Mike Wilson, Mike Matney,
Feature: Dave McWilliams, Kenny Johnson, Dave Fireball Pinkerton, Jess Hartman, Rick Hensley, Jason Montgomery, Kevin Harkin, Jason Armes, Dave Jameson, Donnie Miller, Jeff Surber, Pete Brunton, Mike Wilson, Mike Matney
C & M Racing Sport Mods (11)
Heat One: Chris Shelton, Dave Whitt, Jr.,  Steve Noble, Robert Lunsford, David Lunsford, Jimmy Spillman
Heat Two:  Tony Whitt, SR., Harley Martin, Greg Litteral, Dwayne Hurley, Mike Brust
Feature: Harley Martin, Greg Litteral, Chris Shelton, Tony Whitt, Sr, Tony Whitt, Jr., David Lunsford, Robert lunsford, Steve Noble, Dwayne Hurley, Mike Brust, Jeremy Spillman