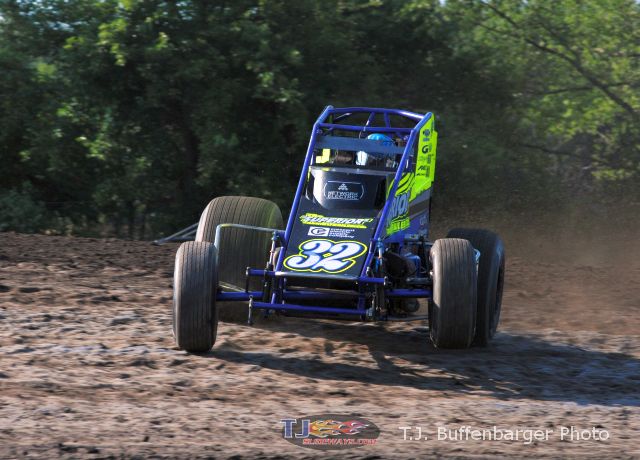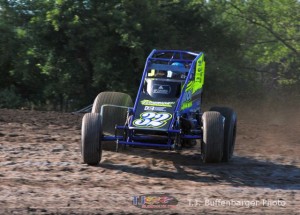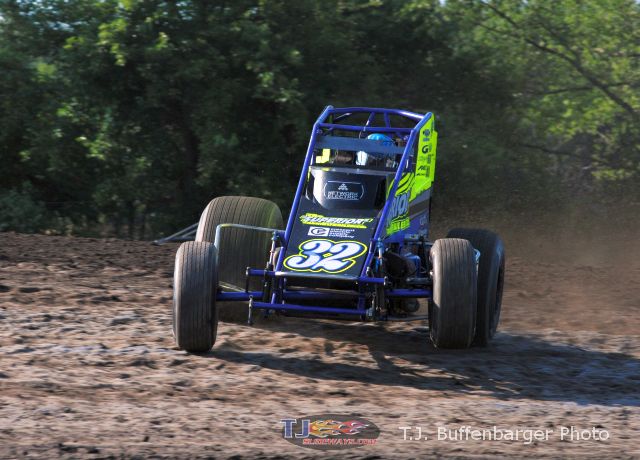 From Dick Jordan and Bob Miller
Bechtelsville, PA — (June 3, 2014) — Chase Stockon  of Elizabethtown, IN was the class of the field as the 8th Annual USAC Eastern Storm opened Tuesday night at the Grandview Speedway.   Stockon earned $6,000 for the win in the 40 lap Jesse Hockett Classic, an event run in the memory of the "Rocket Man" Jesse Hockett who lost his life in a garage accident.   This was the one-hundred and eleventh NAPA Auto Parts Thunder on the Hill Racing Series event presented by Window World, Pioneer Pole Buildings and GALCO Business Communications.   Tim Buckwalter came hone the winner of the twenty-five lap ARDC feature.  The event ran against high odds of bad weather, with at least two rain delays through the night.   An electrical issue required some down time during one of the rain delays as well.  A big crowd was on hand despite the  bad weather throughout the area.
The Amsoil USAC sprints competed in time trials with fast time of the night going to Tracy Hines with a time of 13. 776.    USAC heat race events were won by Brady Bacon, Robert Ballou and  Hunter Schuerenberg  as Landon Simon won the "B" main.
In the forty lap Jesse Hockett Classic, Chase Stockon was the leader at the drop of the green flag with Jon Stanbrough and Justin Grant in the chase.   Grant made several challenges at Stanbrough for second on laps 6-8 with Stanbrough retaining a solid hold on second.
Stanbrough then closed the gap on Stockon but never offered a challenge for the lead.   Justin Grant, Dave Darland  and Brady Bacon were not mixing it up for third with Darland taking a hold on third on lap eleven.  A light mist began to fall on lap fifteen but that never stopped the three wide racing throughout the field.     Then on lap twenty-one, the yellow flag was displayed due to the amount of ran now accumulating on the speedway.   The USAC sprint cars were sent to the pits.    At the same time, an electrical issue developed with the track lights, so the electrician and maintenance team used the rain delay as an opportunity to make electrical  repairs.
After a thirty minute delay, the USAC sprints returned to the speedway with twenty-one laps in the book.   The recently fallen rain made the track super fast and Chase Stockon just checked out from the rest of the field  when green flag racing resumed.
Jon Stanbrough immediately went on the defense as Dave Darland took a run at the runner-up spot.   Justin  Grant and Brady Bacon reeled in Darland and Stanbrough as there was a four car race for second with Stockon holding a comfortable lead.
In the closing laps, Stockon was working his way masterfully around the slower traffic as Stanbrough came up short to challenge for the win.  Dave Darland finished third with Justin Grant fourth and Brady Bacon fifth.
A field of twenty-nine ARDC Midgets took part in the program with heat race victories going to Trevor Kobylarz, Ryan Greth and Bruce Buckwalter as Danny Straton won the "B" Main.
In the twenty-five lap feature, Trevor Kobylarz led the first four  laps with Tim Buckwalter taking the top spot on lap five.   Kobylarz fought to take back the lead but gave up the runner spot to Bruce Buckwalter Jr.
At the halfway mark, Tim Buckwatler was the leader over Bruce Buckwalter, Brett Arndt, Steve Buckwalter and Billy Pauch Jr.
By lap seventeen, Bill Pauch was third and closing on Brett Arndt.     With the five laps to go sign showing, Pauch moved into second.    Pauch ran short of time and settled for the runner –up spot at Tim Buckwalter took the win.  Making up the top five were Steven Buckwalter, Brett Arndt and Steven Drevicki.
AMSOIL USAC NATIONAL SPRINT CAR RACE RESULTS: June 3, 2014 – Bechtelsville, Pennsylvania – Grandview Speedway – "Eastern Storm" Presented by RW and Partners – "Jesse Hockett Classic"
QUALIFYING: 1. Tracy Hines, 4, Hines-13.776; 2. Dave Darland, 71P, Phillips-13.814; 3. Justin Grant, 40, Hery-13.853; 4. Brady Bacon, 69, Dynamics-13.999; 5. Chase Stockon, 32, 32/TBI-14.044; 6. Jon Stanbrough, 37RW, Dutcher-14.082; 7. C.J. Leary, 30, Leary-14.175; 8. Jarett Andretti, 18, Andretti-14.259; 9. Daron Clayton, 3R, Byram-14.301; 10. Kevin Thomas, Jr., 9K, KT-14.318; 11. Chris Windom, 11, Walker-14.384; 12. Hunter Schuerenberg, 20N, Schuerenberg/Nolen-14.391; 13. Landon Simon, 24, LSR-14.424; 14. Mark Smith, 1M, Smith-14.455; 15. Bryan Clauson, 20, Stewart/Curb-Agajanian-14.498; 16. Shane Cockrum, 66, Wade-14.531; 17. Robert Ballou, 12, Ballou-14.534; 18. Dalten Gabbard, 5, Baldwin-14.717; 19. Joey Biasi, B1, Biasi-14.719; 20. Mark Bitner, 15, Bitner-14.765; 21. Trevor Kobylarz, 14, RT-14.877; 22. Billy Pauch, Jr., 36, Thomas/Engler-14.914; 23. Chad Boespflug, 98, Boespflug-14.923; 24. Michael Hamer, 47, Hamer-16.142; 25. Nathan Moore, 48, Moore-NT.
FIRST HEAT: (8 laps) 1. Bacon, 2. Cockrum, 3. Hines, 4. Leary, 5. Thomas, 6. Simon, 7. Biasi. 1:55.15
SECOND HEAT: (8 laps) 1. Ballou, 2. Smith, 3. Windom, 4. Stockon, 5. Darland, 6. Andretti, 7. Bitner, 8. Boespflug. 1:54.50
THIRD HEAT: (8 laps) 1. Schuerenberg, 2. Stanbrough, 3. Clayton, 4. Grant, 5. Clauson, 6. Kobylarz, 7. Hamer, 8. Gabbard. NT
SEMI: (12 laps) 1. Simon, 2. Biasi, 3. Andretti, 4. Gabbard, 5. Boespflug, 6. Kobylarz, 7. Bitner, 8. Moore, 9. Hamer.
FEATURE: (40 laps) 1. Chase Stockon, 2. Jon Stanbrough, 3. Dave Darland, 4. Justin Grant, 5. Brady Bacon, 6. Tracy Hines, 7. Chris Windom, 8. Robert Ballou, 9. Kevin Thomas, Jr., 10. Hunter Schuerenberg, 11. Shane Cockrum, 12. Bryan Clauson, 13. C.J. Leary, 14. Mark Smith, 15. Joey Biasi, 16. Mark Bitner, 17. Trevor Kobylarz, 18. Dalten Gabbard, 19. Jarett Andretti, 20. Daron Clayton, 21. Chad Boespflug, 22. Landon Simon. NT
—————————-
FEATURE LAP LEADERS: Laps 1-40 Stockon.
NEW AMSOIL NATIONAL SPRINT POINTS: 1-Bacon-585, 2-Darland-560, 3-Stockon-535, 4-Hines-533, 5-Clauson-525, 6-Stanbrough-520, 7-Grant-490, 8-Schuerenberg-443, 9-Windom-414, 10-Leary-341.
NEW RW & PARTNERS EASTERN STORM POINTS: 1-Stockon-67, 2-Stanbrough-65, 3-Darland-63, 4-Grant-60, 5-Bacon-59.
NEXT AMSOIL NATIONAL SPRINT RACE: June 4 – New Oxford, PA – Lincoln Speedway – "Eastern Storm" Presented by RW and Partners
ARDC Midget Feature 25 LAPS –#52 Tim Buckwalter, #20 Billy Pauch Jr. #0 Steve Buckwalter, #46 Brett Arndt, #19 Steven Drevicki, #5 PJ Gargiulo, #92 Brenden Bright, #4 Ryan Greth, #8 Kyle Lick, #50 Tony Dimattia, #54 Austin Burke, #1 Trevor Kobylarz, #13 Brian Gilmore, #21 Thomas Kunsman, #83 Bruce Buckwalter Jr., #75 Ryan Watt, #15 Johnny Barnett, #44 Brett Wanner, #33 Danny Straton, #11 Eric Heydenrich, #17 Clayton Glassman, #34 James Morris, #95 Jim Radney.