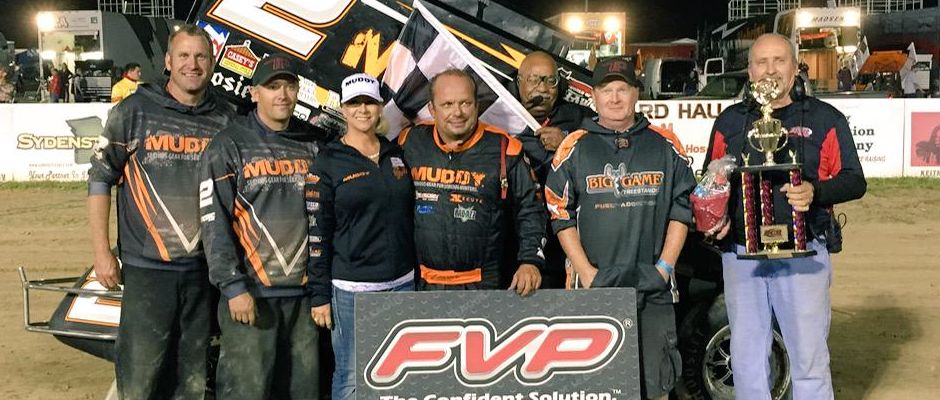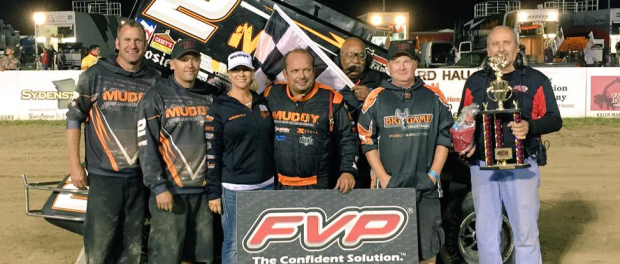 From Bill Wright
Moberly, MO, August 28, 2015 – For the first time in 25 years, 410 sprint cars roared around the high banks of Randolph County Raceway near Moberly, Missouri. Danny Lasoski and Terry McCarl remember those events years ago, and they waged a battle for the lead Friday night in front of a large crowd. Lasoski would emerge victorious, registering his eighth win of the season with the FVP National Sprint League.
McCarl shot out from his pole position to lead early in the non-stop 30-lap feature ahead of fellow front row starter, Lasoski, and fourth starting, Brian Brown. The lead trio chose from several different lines on the wide racing surface, while Bryan Clauson overtook Bill Balog for the fourth spot.
Clauson would hit the high side on both ends of the speedway and reel in Brown, passing him for third on lap ten, when Brown got a bit sideways in turn two.
While McCarl was cruising on the low side, Lasoski too was making up ground up by the wall in turns one and two. On lap 13, he entered high and came down the banking to overtake McCarl for the lead on the backstretch.
Two laps later, Brown would exit while running in the top five with a broken header on the right side of the car. Lasoski pulled away from McCarl, while Clauson continued running the high side well. He pulled even with McCarl a pair of times, before shooting by with two laps to go.
Lasoski cruised to win ahead of Clauson, McCarl, Ian Madsen and Balog. Tasker Phillips, KSE hard-charger, Brad Loyet, Tim Kaeding, Brooke Tatnell and Logan Forler. Madsen set a new track record in The Minnesota Mafia qualifying with a lap of 13.946 seconds, an average of 129.1 miles per hour on the high-banked ½-mile oval. Lasoski, McCarl and Tatnell won heat races.
"First of all, I'd like to thank the great fans for coming out tonight," said Lasoski in Victory Lane. "Tonight they did a great job with this racetrack. I want to thank Guy Forbrook, Tod Quiring, GoMuddy.com…Brian Morrison's power is unbelievable. I'm the lucky guy that gets to drive this thing."
"We kept plugging away," said Clauson. "It took a couple laps to get cleaned up. We found a lane that nobody was running. It took me quite a while to get to Terry. I got within three or four car lengths. I just never got to where I could do a slider on him. We were finally able to do that. I would have loved to see the yellow. Danny was really moving and got away, but I'd have liked to have thrown something at him."
"Sometimes it's easier to run second," said McCarl. "I should have been up top, but we just got running so good on the bottom. We just got loose. We've been afraid to tighten up on these tires. We're doing pretty good at Knoxville with them, but we're tight at these other tracks. You try to learn something every night."
The FVP National Sprint League will compete Saturday night, August 29 with $5,000 going to the winner at the Knoxville Raceway in Iowa, and Sunday, August 30 with the IRA at the Angell Park Speedway in Sun Prairie, Wisconsin. For more information on the FVP National Sprint League, visit www.NationalSprintLeague.com!
Results from Randolph County Raceway
FVP A main (started), 30 laps: 1. 2, Danny Lasoski, Dover, MO [2]; 2. 17w, Bryan Clauson, Noblesville, IN [6]; 3. 24, Terry McCarl, Altoona, IA [1]; 4. 18, Ian Madsen, St. Mary's, NSW, Aust. [8]; 5. 17B, Bill Balog, Brookfield, WI [7]; 6. 7TAZ, Tasker Phillips, Pleasantville, IA [9]; 7. o5, Brad Loyet, Sunset Hills, MO [13]; 8. 3, Tim Kaeding, San Jose, CA [10]; 9. 55, Brooke Tatnell, Sans Souci, NSW, Aust. [3]; 10. 2L, Logan Forler, Boise, ID [11]; 11. 17A, Austin McCarl, Altoona, IA [5]; 12. 09, Matt Juhl, Sioux Falls, SD [12]; 13. 12, Lynton Jeffrey, Prairie City, IA [15]; 14. 5H, Dakota Hendrickson, Omaha, NE [14]; 15. 21, Brian Brown, Grain Valley, MO [4]; 16. 75, Andy Korte, California, MO [17]; 17. 41, Scott Comstock, Prairie Home, MO [19]; 18. 1P, Curtis Evans, Norborne, MO [16]; 19. 77, Clyde Knipp, California, MO [18] DNS – 28, Jonathan Cornell, Sedalia, MO. Lap Leaders: T. McCarl 1-12, Lasoski 13-30. KSE Hard-charger:
Fuel Safe Heat one (started), 8 laps: 1. Danny Lasoski [2]; 2. Bill Balog [4]; 3. Austin McCarl [3]; 4. Logan Forler [1]; 5. Dakota Hendrickson [5]; 6. Andy Korte [6]
DMI Heat two (started), 8 laps: 1. Terry McCarl [2]; 2. Brian Brown [4]; 3. Tim Kaeding [1]; 4. Brad Loyet [5]; 5. Tasker Phillips [3]; 6. Curtis Evans [6]; 7. Scott Comstock [7]
Kaeding Performance Heat three (started), 8 laps: 1. Brooke Tatnell [2]; 2. Ian Madsen [4]; 3. Bryan Clauson [1]; 4. Matt Juhl [3]; 5. Lynton Jeffrey [6]; 6. Clyde Knipp [5] DNS – Jonathan Cornell
The Minnesota Mafia Time Trials (Qualifying Order), 2 Laps: 1. Ian Madsen, 13.946 [9]; 2. Brian Brown, 13.990 [18]; 3. Bill Balog, 14.149 [11]; 4. Bryan Clauson, 14.224 [19]; 5. Tasker Phillips, 14.289 [1]; 6. Austin McCarl, 14.289 [10]; 7. Brooke Tatnell, 14.349 [12]; 8. Terry McCarl, 14.353 [6]; 9. Danny Lasoski, 14.366 [15]; 10. Jonathan Cornell, 14.447 [13]; 11. Tim Kaeding, 14.456 [4]; 12. Logan Forler, 14.557 [16]; 13. Matt Juhl, 14.560 [3]; 14. Brad Loyet, 14.572 [2]; 15. Dakota Hendrickson, 14.576 [8]; 16. Lynton Jeffrey, 14.687 [17]; 17. Curtis Evans, 15.070 [14]; 18. Andy Korte, 15.706 [5]; 19. Clyde Knipp, 17.210 [7]; 20. Scott Comstock, 17.533 [20]
Contingencies
The Minnesota Mafia Quick Time – Paige Polyak
Fuel Safe Heat – Danny Lasoski
DMI Heat – Terry McCarl
Kaeding Performance Heat – Brooke Tatnell
Maxim Driver of the Night – Brad Loyet
Speedway Graphics "From the Tail Award" – Curtis Evans
KSE Hard-charger Award – Brad Loyet
Bell Helmets "Hard Luck Award" – Brian Brown
Brown & Miller Racing Solutions "3 for 3 Award" – Danny Lasoski