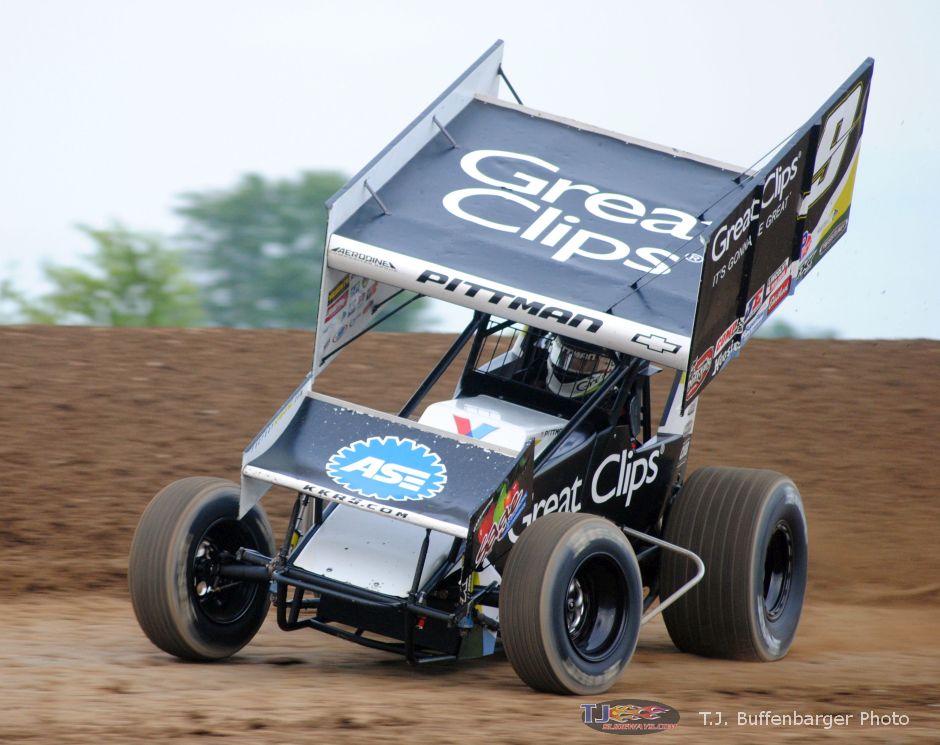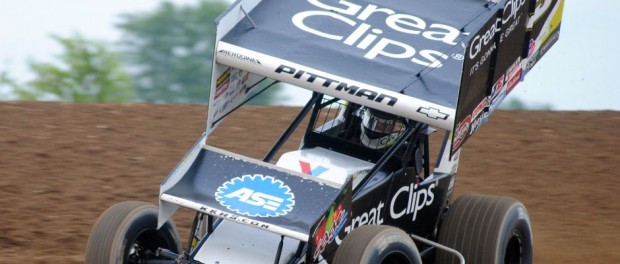 From Aaron Fielder
Antioch, CA — (September 13, 2015) — Daryn Pittman picked up the 2015 Antioch Speedway sweep Sunday night after winning his second World of Outlaws Sprint Car Series feature of the season at the track.
Pittman fought a hard battle past Joey Saldana and then held off him and Tyler Walker through the remaining laps of the feature. It was the fifth series win of the season for Pittman and his Kasey Kahne Racing with Mike Curb team.
"Hats off to this whole Great Clips team," Pittman said. "They do a great job. This was a different track than what we're used to. Really dried up and we were free all night. I haven't yelled much at (my crew chief Kale Kahne) all year that I was loose and all night we were pretty free. He got it pretty good there for the end. Obviously, we had some breaks go our way but man these guys just keep working their tails off."
Pittman picked up the earlier win during the series' appearance at Antioch on March 29.
Saldana brought the field to the green flag and was wheel-to-wheel with Schatz through much of the first lap. He held him off through the next three laps and then Schatz caught him again. Side-by-side once again, Schatz battled past on the bottom of turn four to take the lead.
The move was short lived for Schatz though as rare bad luck struck. A flat right rear tire forced him to the work area on a lap nine caution. As he reentered the track at the tail end of the field, Joey Saldana took over the lead. On the restart, Pittman looked to the lead as Tyler Walker took over second.
"Donny got the lead and I was hanging right with Joey and even Joey was staying right with the 15 before the caution," Pittman said. "I think Joey just messed up a little going into one and two. He didn't commit to the top and missed the bottom and just kind of got stuck there in the middle. I luckily got by him."
As Pittman built up a lead through the middle portion of the race, Saldana had his hands full with Walker. Pittman caught the back of the field on lap 19 and began working his way through traffic. Two laps later, Walker finally found an opening and cleared Saldana as the two drove off of turn two. The next lap, the first of four late race cautions flew.
With Walker around, Saldana stayed close looking for a way around. On lap 25, Saldana threw a slider on Walker in turns three and four, but Walker held the spot. The final caution fell with three laps remaining.
On the restart, Saldana got the opportunity he needed. He worked the slider in three and four again, he missed the mark the first time, but battled past on the second attempt with two laps to go.
"It was weird – we tightened our car up a bunch and I was dead loose from the word go," Saldana said. "So we just hung in there as long as we could and then Tyler was getting loose there at the end and we got a run on him there and there was only a few laps left so you've just got to do what you can in a short time."
Pittman crossed the line first with Saldana, Walker, Sweet and Paul McMahan following.
With his wife and two daughters in victory lane, Pittman thanked them for their support.
"This can be a tough schedule as many races as we run and as long as we're gone from home," Pittman said. "To have my family out here, it means the world for them to be at all the races, especially when we win… Great win, great way to leave California and hopefully we can keep it going here for the rest of the year."
Saldana's finish was his third straight second place finish.
"Good runner-up finish for us," Saldana said. "We'll take it and keep digging."
After two disappointing runs in his return with the World of Outlaws at the Gold Cup, a jubilant Walker thanked his Richie Rich Motorsports team.
"I've got a great team around me, I have great fans and great support," Walker said. "It's a big change from where I was three or four months ago. I'll just keep doing what I love doing and surrounding myself with good people and we'll end up two more spots ahead next time."
The World of Outlaws Sprint Car Series returns to action at Clay County Fair Speedway on Friday, Sept. 18 for the Arnold Motor Supply Shootout. To find out more information and to learn how to buy tickets, visit http://woosprint.com/clay-county-fairgrounds.
Follow the World of Outlaws Sprint Car Series on Twitter at www.twitter.com/WorldofOutlaws, like it on Facebook atwww.facebook.com/WorldofOutlaws, or check out the latest videos on YouTube at www.youtube.com/WorldofOutlaws.
World of Outlaws Sprint Car Series Statistical Report; Antioch Speedway; Antioch, Calif.; Sept. 13, 2015
A-Main – (30 Laps) – 1. 9-Daryn Pittman [3] [$10,000]; 2. 71M-Joey Saladana [1] [$5,500]; 3. 88-Tyler Walker [5] [$3,200]; 4. 49-Brad Sweet [4] [$2,800]; 5. 51-Paul McMahan [9] [$2,500]; 6. 2-Shane Stewart [12] [$2,300]; 7. 22K-Shane Golobic [11] [$2,200]; 8. 29-Kerry Madsen [13] [$2,100]; 9. 1S-Logan Schuchart [10] [$2,050]; 10. 3C-Jonathan Allard [18] [$2,000]; 11. 15-Donny Schatz [2] [$1,500]; 12. 83JR-Kyle Hirst [17] [$1,200]; 13. OO-Jason Statler [20] [$1,100]; 14. 7S-Jason Sides [24] [$1,050]; 15. 5V-Colby Copeland [15] [$1,000]; 16. O-Bud Kaeding [16] [$900]; 17. 27-Chase Jhnson [22] [$800]; 18. 7-David Gravel [7] [$800]; 19. 98-Sean Watts [23] [$800]; 20. 41-Jason Johnson [14] [$800]; 21. 88N-DJ Netto [8] [$800]; 22. 12X-Jarrett Soares [19] [$800]; 23. 24-Rico Abreu [6] [$800]; 24. 1A-Jacob Allen [21] [$800]. Lap Leaders: Joey Saldana 1-4, Donny Schatz 5-9, Daryn Pittman 10-30. KSE Hard Charger Award: 7S-Jason Sides [+10]
Qualifying – 1. 24-Rico Abreu, 11.489; 2. 49-Brad Sweet, 11.559; 3. 7-David Gravel, 11.660; 4. 15-Donny Schatz, 11.678; 5. 71M-Joey Saladana, 11.682; 6. 51-Paul McMahan, 11.724; 7. 9-Daryn Pittman, 11.725; 8. 1S-Logan Schuchart, 11.760; 9. 22K-Shane Golobic, 11.788; 10. 2-Shane Stewart, 11.797; 11. 88-Tyler Walker, 11.804; 12. 88N-DJ Netto, 11.810; 13. 29-Kerry Madsen, 11.830; 14. 41-Jason Johnson, 11.866; 15. 5V-Colby Copeland, 11.898; 16. O-Bud Kaeding, 11.940; 17. 83JR-Kyle Hirst, 11.978; 18. 3C-Jonathan Allard, 11.993; 19. 7S-Jason Sides, 12.015; 20. 12X-Jarrett Soares, 12.039; 21. OO-Jason Statler, 12.057; 22. 1A-Jacob Allen, 12.064; 23. 27-Chase Jhnson, 12.077; 24. 98-Sean Watts, 12.211; 25. 11K-Mikey Kuemper, 12.298; 26. 19X-Art McCarthy, 12.896
Heat 1 – (10 Laps – Top 6 finishers transfer to the A-feature) – 1. 9-Daryn Pittman [2]; 2. 15-Donny Schatz [3]; 3. 2-Shane Stewart [1]; 4. 29-Kerry Madsen [5]; 5. 24-Rico Abreu [4]; 6. O-Bud Kaeding [6]; 7. 7S-Jason Sides [7]; 8. 11K-Mikey Kuemper [9]; 9. 1A-Jacob Allen [8]
Heat 2 – (10 Laps – Top 6 finishers transfer to the A-feature) – 1. 88-Tyler Walker [1]; 2. 1S-Logan Schuchart [2]; 3. 71M-Joey Saladana [3]; 4. 49-Brad Sweet [4]; 5. 83JR-Kyle Hirst [6]; 6. 41-Jason Johnson [5]; 7. 12X-Jarrett Soares [7]; 8. 27-Chase Jhnson [8]; 9. 19X-Art McCarthy [9]
Heat 3 – (10 Laps – Top 6 finishers transfer to the A-feature) – 1. 88N-DJ Netto [1]; 2. 22K-Shane Golobic [2]; 3. 51-Paul McMahan [3]; 4. 7-David Gravel [4]; 5. 5V-Colby Copeland [5]; 6. 3C-Jonathan Allard [6]; 7. OO-Jason Statler [7]; 8. 98-Sean Watts [8]
Dash – (6 Laps, finishing order determined first 8 starting positions of A-feature) – 1. 71M-Joey Saladana [4]; 2. 15-Donny Schatz [5]; 3. 9-Daryn Pittman [3]; 4. 49-Brad Sweet [7]; 5. 88-Tyler Walker [2]; 6. 24-Rico Abreu [8]; 7. 7-David Gravel [6]; 8. 88N-DJ Netto [1]
Last Chance Showdown – (12 Laps – Top 6 finishers transfer to the A-feature) – 1. OO-Jason Statler [3] [-]; 2. 1A-Jacob Allen [4] [-]; 3. 12X-Jarrett Soares [2] [-]; 4. 27-Chase Jhnson [5] [-]; 5. 98-Sean Watts [6] [-]; 6. 7S-Jason Sides [1] [-]; 7. 19X-Art McCarthy [8] [$300]; 8. 11K-Mikey Kuemper [7] [$250]