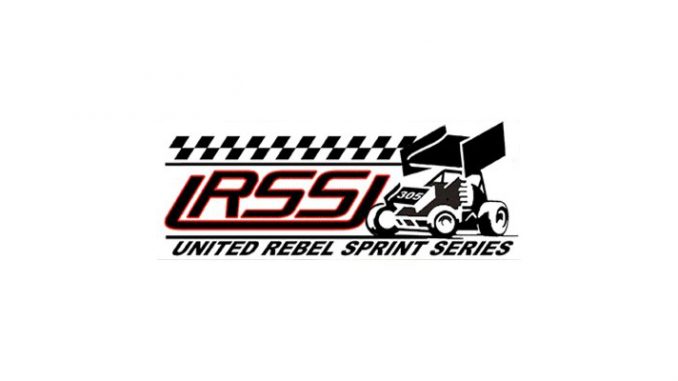 With the 2015 United Rebel Sprint Series Tenth Anniversary season coming to a close it is set to be an exciting battle to the finish in the National Points chase. The Rebels will descend on the Decatur County Speedway 3/8's high banked oval to duke it out for precious points as the season winds down.
The remaining three races are all National Points Races and the points are tighter than ever in the top ten. Point leader Steven Richardson has Luke Cranston just 8 points back, with 2013-14 National Champion Jake Bubak twelve points behind and Zach Blurton a mere 20 points back. Any slip up or mechanical misfortune could be catastrophic for any of the top four in points.
Fifth place Jeremy Huish holds a two point lead over Jed Werner with Brian Herbert just ten markers back. Lance Davis holds down the eighth spot with Zac Taylor just four points behind in ninth with Austin McClean rounding out the top ten. It's anybody's guess how the final point standing will shake out but you won't want to miss any of this weekend's action.
It will be a homecoming of sorts as CJ Johnson is coming to this weekend's Bob Salem Memorial Sprint Car Nationals. CJ's car is owned by our own Lee Martin of Oberlin. CJ and The pits will be open to the public until 4:30pm on Saturday and 2:00 pm on Sunday so come down and meet your favorite URSS Drivers and teams.
Joining the URSS Sprint Cars will be the Rocky Mountain Lightning Sprint Association Mini-Sprints and the Kansas Antique Racers Vintage Cars. Kid's Bicycle races will be held as well as R/C races in the infield. Be sure to go to the pits and visit with the KAR racers and take a good look at the restored and some unrestored racers from the past. The KAR drivers and crews are always ready to answer any questions you may have about the classic cars and to let the kids have their picture taken with them.
For all of your URSS information you can visit www.unitedrebelsprintseries.com 24/7/365 for updated schedule, points, driver bios, race recaps and race previews. It's all at your fingertips and you can pull it up anytime.
If you cannot make it to the race this weekend you can tune into www.racinboys.com and join Kyler Fetters with all of the racing action. Remember, you are invited to visit the pits after the races to visit with the drivers and teams. Many of the Drivers have t-shirts and autograph cards and they are always happy to answer any questions you may have about the series or to take pictures with the kids. Visit the URSS merchandise trailer for your URSS 10th Anniversary T-shirt, coloring book and various driver shirts as well.
Don't miss any of the edge of your seat excitement this weekend at the 3rd Annual Bob Salem Memorial Sprint Car Nationals at Decatur County Speedway this Saturday sept 19th & Sunday Sept 20th.