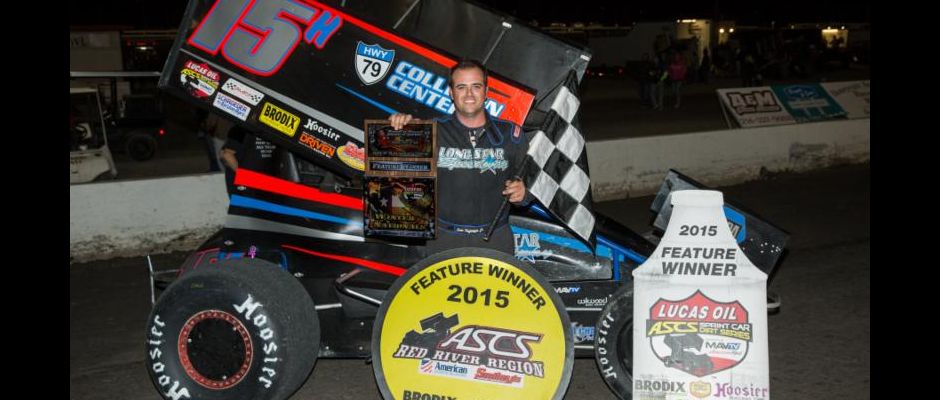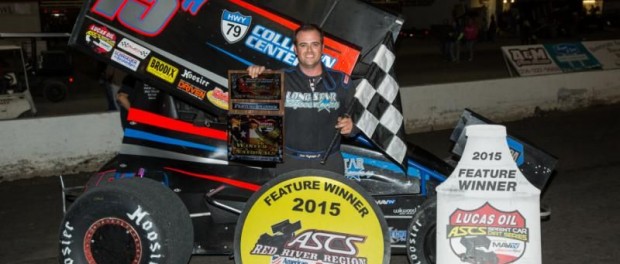 From Bryan Hulbert
Mesquite, TX — (October 17, 2015) — A race of tire conservation in the finale of the 42nd annual Devil's Bowl Winter Nationals, Sam Hafertepe, Jr. raced under the checkered flag with Hoosier to spare for his first Lucas Oil American Sprint Car Series presented by the MAVTV Motorsports Network win of the 2015 season, and fifth overall win on the year.
The seventh time Hafertepe has visited Victory Lane with the Lucas Oil ASCS National Tour, the Hwy. 79 Collision No. 15h took over the lead on Lap 21 as John Carney II saw his right rear tire go to shreds.
Having run down the Coyote Candle Co. No. 74b in traffic, Sam saw a few small chances to make the pass, but instead kept his pace.
"I wasn't even going to try. Carney had a really good car and I didn't want to even try because I knew if I did, I'd start using up our tires trying to pass him and pop them," said Sam on whether or not he was looking for the chance to pass in traffic. "He was running really hard and I think we could have hung with him if we'd run as hard as he was, but on the restart I just held back."
Asked what it meant to win the Winter Nationals, Sam replied, "This is my favorite track in the world. My Dad owns Lone Star Speedway, but this is still my favorite track. It's five-ten minutes from the house, and we get around here pretty good. It's always been a fun place to come to for me."
Pulling away to a 1.718 second advantage at the finish, Sam was chased to the line by Oklahoma's Wayne Johnson. Challenging the No. 15h a few times in traffic early on, Johnson nearly didn't see the end of the race as the right rear exploded just after the checkered flag.
"Well they say conserve them right 'till the end. I guess that's what we did. On that last caution, it was going flat but I had to abuse the right rear there at the end just to keep it churning and I was afraid I wasn't going to make it," commented Wayne. "It shook really bad off of four coming to the checkered but it just made it. Rather be lucky than good any day."
Advancing from sixth, Matt Covington picked up his third consecutive show finish with the Lucas Oil ASCS National Tour. Of the three, the T&L Foundry No. 95 had the most tread remaining.
"I was telling Wayne, if it was a 26 lap race, I would have ran second, but the Devil's Bowl was a new set of challenges tonight. Tire management was basically like racing asphalt, but we still had a lot of fun."
Making moves where most couldn't, Washington's Seth Bergman marched from 16th to fourth. Among where the Corridor Electric No. 23 was making moves was the center groove in turns three and four where most drivers were pinned to the bottom. Running fourth until Lap 24, Joe Wood, Jr. would have to settle for fifth in the Young Tool, Co. No. 11.
Aaron Reutzel crossed sixth with 14th starting Channin Tankersley coming home seventh. Jordan Weaver crossed eighth with Johnny Herrera ninth. The top ten rounded out with Kevin Ramey.
With 44 drivers making the call on Saturday night, five Heat Races went to James Mosher, Aaron Reutzel, Johnny Herrera, Kevin Ramey, and Danny Jennings. B-Feature wins went to Zach Chappell and Blake Hahn. Kris Miller was the only driver to use a provisional start.
The finale of the American Bank of Oklahoma ASCS Red River Region presented by Smiley's Racing Products, Oklahoma's Kade Morton picked up the series' inaugural championship by 30 points. Joe Wood, Jr. took over the runner-up spot in the final standings with Shawn Petersen third. Mickey Walker and Chance Morton made up the top-five in tour standings.
The Lucas Oil American Sprint Car Series presented by the MAVTV Motorsports Network concludes their 2015 season at the I-30 Speedway with the Short Track Nationals happening October 28-31, 2015.
For continued updates on the American Sprint Car Series, log onto http://www.ascsracing.com.
Race Results:
Lucas Oil ASCS National Tour
ASCS Red River Region
Devil's Bowl Speedway – Mesquite, Texas
42nd Winter Nationals
Saturday, October 17, 2015
Car Count: 44
Event Count: 46
Heat Races (8 Laps): Winner plus the next seven highest in passing points advance to the A-Feature along with Friday's lock-ins.
Heat 1 (8 Laps): 1. 12-James Mosher[1]; 2. 4X-Shawn Petersen[6]; 3. 88M-Keith Meyer[2]; 4. 22-Koby Barksdale[7]; 5. E85-Derek Hagar[3]; 6. 2K-Brandon Long[5]; 7. 17M-Carl Bowser[4]; 8. 55-Brad Queen[8]
Heat 2 (8 Laps): 1. 87-Aaron Reutzel[4]; 2. 15H-Sam Hafertepe Jr[5]; 3. 92-Jordan Weaver[6]; 4. 33-Kris Miller[2]; 5. 7M-Chance Morton[7]; 6. 12W-Dale Wester[8]; 7. 6-Kaden Taylor[3]; 8. (DNF) 76-Zane Lawrence[1]
Heat 3 (8 Laps): 1. 45X-Johnny Herrera[2]; 2. 77XX-Alex Hill[3]; 3. 3-Raven Culp[6]; 4. 23-Seth Bergman[8]; 5. 31-Justin Webb[5]; 6. 10K-Kyle Ezell[7]; 7. 8M-Kade Morton[4]; DNS 05M-Charles McManus
Heat 4 (8 Laps): 1. 1A-Kevin Ramey[1]; 2. 2-Mickey Walker[2]; 3. 18-Tony Bruce Jr[4]; 4. 17-Channin Tankersley[8]; 5. 84-Brandon Hanks[3]; 6. 17X-Josh Baughman[6]; 7. 17T-Dustin Gates[7]; 8. (DNF) 22X-Payton Williams[5]
Heat 5 (8 Laps): 1. 1J-Danny Jennings[1]; 2. 17W-Harli White[2]; 3. 52-Blake Hahn[5]; 4. 72-Raymond Seemann[6]; 5. 50Z-Zach Chappell[7]; 6. 40-Howard Moore[4]; 7. 14K-Kyle Bellm[8]
B-Features (12 Laps): Top 3 in each advance to the tail of the A-Feature.
B Feature 1 (12 Laps): 1. 50Z-Zach Chappell[6]; 2. 72-Raymond Seemann[3]; 3. 17T-Dustin Gates[10]; 4. 17X-Josh Baughman[8]; 5. 2-Mickey Walker[1]; 6. 33-Kris Miller[5]; 7. 17M-Carl Bowser[11]; 8. 88M-Keith Meyer[4]; 9. 22X-Payton Williams[13]; 10. 77XX-Alex Hill[2]; 11. 31-Justin Webb[7]; 12. 6-Kaden Taylor[12]; 13. 10K-Kyle Ezell[9]; DNS 05M-Charles McManus
B Feature 2 (12 Laps): 1. 52-Blake Hahn[3]; 2. 7M-Chance Morton[4]; 3. 17W-Harli White[1]; 4. E85-Derek Hagar[6]; 5. 84-Brandon Hanks[7]; 6. 14K-Kyle Bellm[10]; 7. 2K-Brandon Long[8]; 8. 40-Howard Moore[9]; 9. 8M-Kade Morton[11]; 10. 76-Zane Lawrence[13]; 11. 55-Brad Queen[12]; 12. (DNF) 12W-Dale Wester[5]; 13. (DNF) 18-Tony Bruce Jr[2]
A-Feature (25 Laps)
A Feature (25 Laps): 1. 15H-Sam Hafertepe Jr[3]; 2. 77X-Wayne Johnson[7]; 3. 95-Matt Covington[6]; 4. 23-Seth Bergman[16]; 5. 11-Joe Wood Jr[2]; 6. 87-Aaron Reutzel[4]; 7. 17-Channin Tankersley[14]; 8. 92-Jordan Weaver[9]; 9. 45X-Johnny Herrera[8]; 10. 1A-Kevin Ramey[12]; 11. 1J-Danny Jennings[13]; 12. 52-Blake Hahn[18]; 13. 7M-Chance Morton[20]; 14. 74B-John Carney II[1]; 15. 17W-Harli White[22]; 16. 12-James Mosher[11]; 17. (DNF) 17T-Dustin Gates[21]; 18. (DNF) 22-Koby Barksdale[15]; 19. (DNF) 50Z-Zach Chappell[17]; 20. (DNF) 33-Kris Miller[23]; 21. (DNF) 72-Raymond Seemann[19]; 22. (DNF) 4X-Shawn Petersen[5]; 23. (DNF) 3-Raven Culp[10]
Lap Leader(s): John Carney II 1-21; Sam Hafertepe, Jr. 22-25
KSE Hard Charger: Seth Bergman +12
FSR High Point: Aaron Reutzel
Provisional(s): Kris Miller (P3)