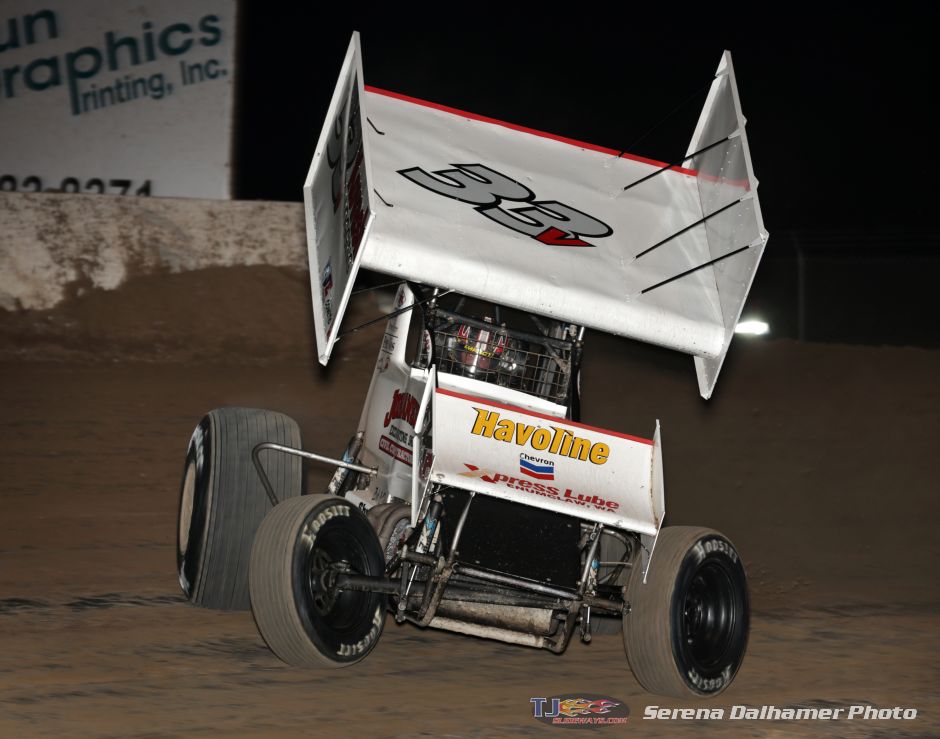 From Kaleb Hart
Alger, WA — (April 7, 2016) — Henry Van Dam has experienced nothing but bad luck over the years at Skagit Speedway. Whether it was "one of them racing deals" or random mechanical failure, the 62 year old 3/10 mile clay oval is a place where the Enumclaw WA based driver has never had much success. On Saturday night, Van Dam finally conquered his personal House of Horrors by going wire to wire at Skagit Speedway over the Summer Thunder Sprintcar Series for a $2,000 win.
The most dry slick surface Skagit Speedway has seen in years provided great racing and plenty of excitement as Van Dam sat outside row one with Steve Parker following the top eight redraw. Henry made use of his starting spot, driving into the early lead on the high side of the track. With room on the bottom to pass slower traffic, Henry began weaving in, our, around and through the slower cars when a caution flew on lap 10 for Luke Didiuk, Reece Goetz and Jake Helsel. On the restart, Jason Solwold put a slider on Eric Fisher out of turn four to take second spot and began his attempts at catching Henry. Lap 15 saw a red for a flipping Michael Bollinger, which would lead to an open red as cleanup crews went to work. Van Dam was just as strong after the open red, stretching his advantage again until a red with seven laps left after third place running Fisher and Colton Heath made contact, resulting in Fisher upside down. On the subsequent restart, Van Dam again escaped from Solwold and kept enough distance between the two to take the $2,000 top prize. Solwold closed to within three car lengths at the final flag but settled for second after starting eighth with Heath coming home third. Skylar Gee, Lance Sargent, Cam Smith and Tayler Malsam were heat winners. Solwold set quick time. Steve Reeves won the B Main.
The Triple X Northwest Focus Midget Series brought 28 cars to Skagit Speedway and the drivers put on a thrilling show for the fans with great racing in both the front, middle and back of the pack. 21 cars started the A Main and when it was all said and done, defending Skagit Speedway and Northwest Focus Midget Series Champion Tristin Thomas took home the win after passing Chance Crum for the lead on lap five. Thomas was all by himself like the chess club president on prom night at the front of the field, while racing behind him was fast and furious. Nick Evans, Eric Turner and Garrett Thomas clashed for the runner up spot, With Evans finally taking it for good while Turner took third after advancing nine positions on the field. The B Feature had the crowd on their feet as well, with Shane Biles making a late race pass of Al Goldie to get the win and Michael Hodel coming from nearly dead last to get Goldie for second. Heat race winners were Michael Millard, Ryan Cully, Tristin Thomas and Garrett Thomas.
It was a family affair in the Outlaw Tuner A Main with Clint Meins leading father Travis Meins around at high speeds. Clint took the lead on lap two from Vance Hibbard with Travis finding his way past shortly thereafter. Travis trailed Clint by just a car length but could never find the combo to get around his son, as Clint scored his second career tuner win. Brandon Berg joined the podium by placing third. Heat winners were Clint Meins and Cliff Ballenger.
Summer Thunder Sprintcar Series
Fast Time – Jason Solwold 12.182
Heat 1 – Skylar Gee, Henry Van Dam, Jason Solwold, Steve Parker, Steve Vague, Luke Didiuk
Heat 2 – Lance Sargent, Eric Fisher, Greg Hamilton, Bricen James, Trevor Cook, Michael Bollinger
Heat 3 – Cam Smith, JJ Hickle, Colton Heath, Bud Ashe, Steve Reeves, Nate Vaughn
Heat 4 – Tayler Malsam, Travis Jacobson, Cody Ridge, Justin Youngquist, Jake Helsel
B Main – Steve Reeves, Helsel, Didiuk, Reece Goetz, Vague, Bollinger, Cook, Vaughn
A Main – Henry Van Dam, Solwold, Heath, Youngquist, Hickle, Hamilton, Gee, Parker, Smith, Malsam, Vague, Ridge, James, Sargent, Ashe, Reeves, Helsel, Jacobson, Fisher, Bollinger, Didiuk, Goetz
Lap Leaders – Van Dam 1-25
Triple X Northwest Focus Midget Series
Heat 1 – Michael Millard, Hannah Lindquist, Nate Vaughn, Renee Angel, Al Goldie, Randy Hodel, Kenzi Thomas, Chris Bullock
Heat 2 – Ryan Cully, Nick Evans, Chance Crum, Ronnie Cox, Thomas Walker, Michael Hodel
Heat 3 – Tristin Thomas, Mike Vollbrecht, Tanner Holm, Jared Gundersen, Derek Holmwood, Shane Biles, Ray Stebbins
Heat 4 – Garrett Thomas, Jacob Brown, Doug Davison, Eric Turner, Todd Hartmann, Brian Aune, Brian Hays, Ali Pyles
B Main – Shane Biles, M Hodel, Goldie, Walker, Hartmann, Aune, R Hodel, Pyles, Hays, Stebbins
A Main – Tristin Thomas, Evans, Turner, G Thomas, Crum, Brown, Millard, Cox, Gundersen, Cully, Vollbrecht, M Hodel, Holmwood, Angel, Walker, Goldie, Holm, Biles, Vaughn, Lindquist, Daviso
Lap Leaders – Crum 1-4 T Thomas 5-25
Outlaw Tuners
Heat 1 – Clint Meins, Brandon Berg, Howard Vos, Eric Thibert, Dalton Taylor
Heat 2 – Cliff Ballenger, Jon Gunderson, Brian Michelson, Vance Hibbard
Main – Clint Meins, Travis Meins, Berg, Thibert, Michelson, Hibbard, Vos, Gunderson
Lap Leaders – Hibbard 1 C Meins 2-17