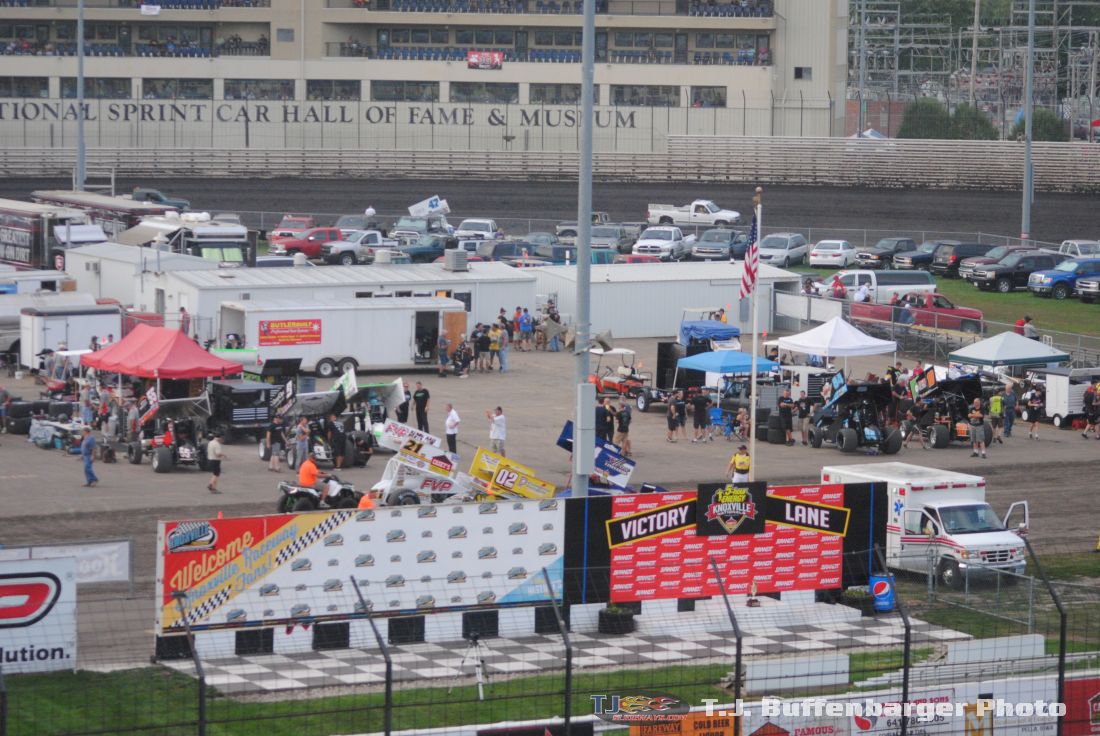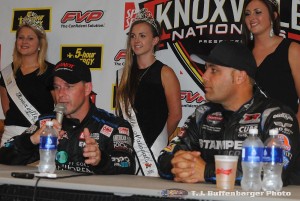 If you have never been to the Knoxville Nationals, the two preliminary nights are the most intense nights of racing I witness every season. With the point system having an emphasis on qualifying equal to the performance in the feature, the eight car inversion based on qualifying time for the heat races, the gap in quality of equipment from the front to the back of the field is closer than ever makes for some anxious moments for drivers and teams."It's the most nerve racking 12 laps of the whole season," Shane Stewart remarked following his victory on Wednesday. "The thing is you have to put pressure on yourself to make two perfect laps and then you have to concentrate on getting through the heat race which in today's time is pretty tough. The track wasn't really that wide during the heat races and you saw there were a lot of good cars that didn't make it out of the heats. Honestly, you can give a big sigh of relief after the heat races are over, whether you make it or not through there or not because then you can just concentrate on racing."
Stewart's performance in Wednesday's 25-lap preliminary feature was particularly impressive being able to counter Schatz's bid for the lead and pulling away over the final laps of the feature. While Schatz appeared to be slightly faster through turns one and two Stewart was extremely fast through turns three and four and used his momentum on that end of the race track to pull away.With two opportunities during restarts Schatz could not make the pass for the lead stick. The win should be a huge boost for the Larson/Marks team that has struggled this summer on the World of Outlaws tour including missing the feature event two nights in a row at Williams Grove Speedway in July and a 10th place finish at Ohsweken Speedway, a track where Stewart had previous run well at winning the Canadian Sprint Car Nationals.Stewart and the team recently bounced back with a third and a sixth place at Pevely, Missouri during the Ironman 55 weekend. Stewart only had one answer on why the Larson/Marks team was able to bounce back strong following his preliminary feature win."Just coming here, honestly," said Stewart. "We've had some good runs here. We stumbled across a little of something last year with the car and we came here with that same package. It's been working okay for us. We've been absolutely terrible for the past month until Pevely. We had a couple of good finishes there and we're just in a slump honestly. Hopefully we have another good run on Saturday and we can get ourselves out of that slump and carry some momentum out west and finish the year out strong."
While Stewart's victory gave fans who want to see a new winner at the Nationals it was clear that at the very least Schatz will be in the hunt on Saturday. Qualifying ninth fast Schatz moved up quickly from the fourth row of his heat race to finish third. Starting sixth in the feature Schatz quickly worked his way into the runner up spot to challenge Stewart.While Schatz was extraordinarily fast on the low side of the track in turns one and two Schatz explained he would like the car to run better on the top of the track."I was kind of married to the top. That's kind of what my game plan was, trying to see how far the track was going to move out there," said Schatz. "I'm guessing that's what Saturday is going to bring, but you never know until it comes Saturday. We can make our race car roll the bottom, but it's the top that gets real tricky. The race track shape has changed a little bit since we were here in June, I think it's gotten a little flatter up there so it's a little harder to exit off of two and off of four. So you have to throw a little something at it to see how far to go."Schatz was also gracious in the post-race press conference towards Stewart."The top was fast but Shane made a better line where he was racing and that's just the way it goes. There are guys on the bottom, there were guys on the top, it did actually make for a really great race. I'm glad to be in the hunt anyway."
For Chad Kemenah Wednesday's third place finish is a continuation of what has been a renaissance season driving for Rob and Tina Hunter along with having his brother Brian turning the wrenches. After finishing 14th in Saturday's B-Main in 2015 Kemenah and ended up fourth in points. After owning his own team for several years and struggling for ¾ of 2015 in Hunter's car the Kemenah brothers are clicking."It's huge for us," Kemenah remarked about being locked in for Saturday. "My brother gets this thing pretty nice for me to drive every night. We're able to move around and stay close to these guys. Just takes a lot of pressure off of us. We can come into Saturday knowing we're locked into this thing and hopefully we can keep going forward."With the busy All Star schedule Kemenah does not get to Knoxville as often as a lot of other teams, so every lap during the 360 Nationals and Capitani Classic in important."Big thing for us is we don't get a chance to come out here, so other than practice that's it," said Kemenah. "The qualifying here thing is so huge, if you get behind the eight ball you can't catch guys like these period. So to be locked in where we are at right now we can finally catch our breath."
If you need proof of how difficult the preliminary format is for the race teams only saw three of the top ten qualifiers finish in a transfer spot. Of the remaining seven, three of them were unable to transfer to the feature through the B-Main including Knoxville regular Brian Brown and All Star Circuit of Champions driver Danny Holtgraver.
Danny Smith's final Knoxville Nationals got off to a rough start when Smith pulled off quickly during his heat race and thought he had a motor issue. Further inspection showed it was actually a U-Joint issue and made repairs for the C-Main. In a stroke of luck Smith moved up into a transfer spot when Dean Jacobs failed to go directly to the scales after transferring, putting Smith into the B-Main where he finished 21st.
Jeff Swindell has made regular visits to Knoxville Raceway in Gil Sonner's #47 car this season in preparation for a run at making Saturday's A-Main at the Nationals for the first time since 1999. Swindell led the first nine laps before dropping back to seventh at the finish. Swindell's effort puts him ninth in points, right on the edge of locking into Saturday's A-Main or the front half of the B-Main event.
Rico Abreu has been near the front at major events throughout the 2016 season, but struggled to find the handle on his car early Wednesday's program posting the 24th fastest time. Abreu rallied to win his heat race and finish ninth in the feature.
Another driver that slashed through the field during Wednesday's feature was Craig Dollansky. After qualifying eighth Dollansky finished one spot out a transfer spot in his heat race. After some late race heroics to transfer out of the B-Main Dollansky moved up from 24th starting position to finish 11th, salvaging 8th in points overall after night one.
One of the more hair raising moments happened in Wednesday's first heat race when Daniel Harding and Matt Covington made contact racing side by side down the backstretch sending both cars into wild spins that could have been much worse given the rate of speed both drivers were at on the race track. While Harding was able to keep under power Covington made hard contact with the infield wall in turn three, doing too much damage to continue the remainder of the night. Covington hoped there was not damage to the team's only 410 engine to put into their backup car for Friday's program.
It's not unusual to see California teams arrive in Knoxville early to take in the 360 Nationals, Capitani Classic, and Front Row Challenge. Colby Copeland took that to another level bringing a sprint kart along with him and winning a feature at English Creek Speedway on Tuesday night.
Wednesday continued what has been an emotional Knoxville Nationals with the passing of Bryan Clauson. Clauson's merchandise trailer opened on Wednesday with a line wrapped around the fan zone with fans wanting to purchase merchandise to help Bryan and his fiancée' Lauren Stewart. Blake Anderson, who was good friends with Clauson, shared a Twitter post from Wednesday properly captured the moment (see below) Wednesday had the excitement of an opening night of the Nationals, but Clauson and his family were never far from everyone's thoughts with tribute stickers on cars, videographer Dean Mills hosting an opportunity to remember Clauson Thursday at the National Sprint Car Hall of Fame and Museum conference center at 2:00 p.m. today, and the announcement that the Matt Wood owned #17W car pacing the field with Ricky Stenhouse, Jr. driving before Thursday's preliminary feature.Wednesday's news via a statement on Clauson's Facebook Page that Clauson being an organ donor helped five other families was a very touching piece of news. Anyone that knew Clauson should not have been surprised by this decision as one of the most genuine and giving people I have ever met.
Incredible. Bryan's merchandise trailer opens at 11. Line is wrapped around the back trailers. #BCforever pic.twitter.com/oIqfrH1M44

— Blake Anderson (@BlakeAnderson) August 10, 2016