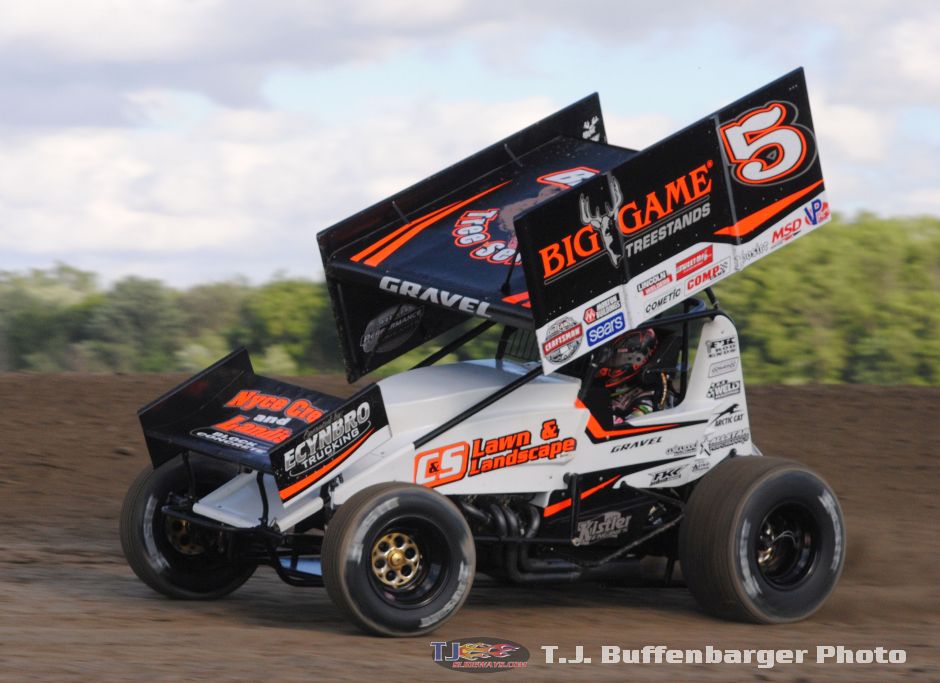 From Gary Thomas
ALGER, Wash. (September 2, 2016) — The World of Outlaws Craftsman® Sprint Car Series return to the Pacific Northwest on Friday culminated in thrilling fashion, with David Gravel carving his way under Logan Schuchart in traffic to claim a final corner victory on opening night at the Skagit Speedway.
Gravel had stalked Schuchart's bumper over the final half of the race, before finally making the outstanding move coming down for the checkered flag, winning by just 0.249 seconds. It was a great way for the Watertown, Connecticut native to open the Western Swing, as he is currently locked in a tight three-way battle for the runner spot in the World of Outlaws Craftsman Sprint Car Series standings.
"That sure was an exciting finish tonight so I hope all the fans enjoyed that one," commented the driver the CJB Motorsports/ Big Game Tree Stands No. 5 machine. "I got a run and saw the opening, so I just went for it. I'm pretty pumped we were able to finally park it for BC tonight. I can't Barry Jackson, my entire crew and all our sponsors enough for working so hard and giving me great cars. I haven't competed here at Skagit Speedway a whole lot, but it hasn't seemed to be my best track. Tonight the third time was the charm I guess. If we get a similar track tomorrow that keeps our confidence up and I think we'll have a good shot to be back up here."
The 25-lap main event started out with Schuchart getting the jump on the field, before a yellow flag waved on lap three when six-cars piled up in turn four. Day time rains had left the surface soft & rough in certain areas, which forced officials to utilize single-file restarts in the feature.
Another caution on lap-five then set up a dramatic restart that saw Bixby, Oklahoma's Shane Stewart power his way to the inside through the first corner and grab the lead heading down the back stretch. As Stewart entered the third & fourth corners however, Schuchart tried to make a move back to his inside, which saw contact ensue, leaving the Larson Marks Racing No. 2 stopped on the high-side with front end damage.
When going back green Schuchart found himself out front once again with Gravel now breathing down his neck. Lapped traffic then made things hectic for the leaders, until the final caution of the night flew on lap 13. The last 12-laps clicked off without incident and featured Schuchart looking to hold on for his second career World of Outlaws Craftsman Sprint Car Series win.
The Hanover, Pennsylvania wheel-man had done a phenomenal job out front, but with the white flag waving Gravel got the run he needed to tuck up behind the Shark Racing No. 1s mount. He then proceeded to cut a perfect set of corners, rocketing to the inside of Schuchart to steal the win away and earn his eighth triumph of the 2016 campaign. Gravel becomes the second driver to reach at least eight wins this season in World of Outlaws competition.
Despite the tough ending it was still a great outing for Schuchart, who has shown lots of speed over the second half of the season.
"First off I want to apologize to Shane Stewart, because I feel bad about getting into him. He had passed me on that restart and I thought I could make a similar move, but once I started bouncing I just couldn't stop. It was definitely a demanding track tonight and I want to congratulate David Gravel & CJB Motorsports on the win. Huge thanks to my team and all of our supporters. Any time you can get on the podium with the World of Outlaws it's a good thing, but I certainly hate losing it like that. We'll get them next time."
Recent Knoxville Nationals winner Jason Johnson of Eunice, Louisiana had a strong outing to claim the final spot on the podium aboard the Priority Aviation No. 41 Sprinter.
"I felt like we had a good spot in the dash getting on the front row, but we were just a little too free and lost a front row starting spot there for the feature. You pretty much have to be perfect to win one of these races, but with how rough the track was it's definitely a feat to be standing up here on the podium. It was the type of track where you really had to be aggressive so I'm happy with our finish. Thank you to all the fans for coming out tonight and be sure to invite all your friends tomorrow."
Grass Valley's Brad Sweet came home in fourth, with current World of Outlaws Craftsman Sprint Car Series point leader Donny Schatz of Fargo, North Dakota rounding out the top-five. Brownsburg, Indiana's Joey Saldana crossed the stripe in sixth, with Shane Stewart making a nice recovery from the early incident to finish seventh. Owasso, Oklahoma's Daryn Pittman, Fresno's Dominic Scelzi and Forni, Texas driver Travis Rilat completed the top-10.
Logan Schuchart captured the night's dash, while the three eight-lap heat races were picked off by Shane Stewart, David Gravel and Jason Johnson. Stewart opened the night by setting a brand new all-time Skagit Speedway track record with a blistering lap of 10.697.
The World of Outlaws Craftsman Sprint Car Series will return to the Skagit Speedway on Saturday night to finish off the 2016 Outlaw Energy Showdown.
World of Outlaws Craftsman Sprint Car Series
Skagit Speedway
Alger, WA
Friday September 2, 2016
A-Main – (25 Laps) 1. 5-David Gravel [3] [$8,000]; 2. 1S-Logan Schuchart [1] [$4,000]; 3. 41-Jason Johnson [4] [$2,500]; 4. 49-Brad Sweet [5] [$2,200]; 5. 15-Donny Schatz [10] [$2,100]; 6. 83-Joey Saldana [7] [$2,000]; 7. 2-Shane Stewart [2] [$1,800]; 8. 9-Daryn Pittman [6] [$1,600]; 9. 41X-Dominic Scelzi [9] [$1,500]; 10. 39C-Travis Rilat [12] [$1,300]; 11. 18-Jason Solwold [8] [$1,200]; 12. 7S-Jason Sides [17] [$1,100]; 13. 21-Robbie Price [14] [$1,000]; 14. 1A-Jacob Allen [22] [$700]; 15. 55-Trey Starks [11] [$600]; 16. W20-Greg Wilson [18] [$600]; 17. 13-Clyde Knipp [23] [$600]; 18. 7-Paul McMahan [20] [$600]; 19. 22X-Trevor Cook [16] [$600]; 20. 44W-Austen Wheatley [13] [$600]; 21. 33V-Henry VanDam [15] [$600]; 22. 9A-Luke Didiuk [19] [$600]; 23. 26-Tayler Malsam [21] [$600]. Lap Leaders: Logan Schuchart 1-24, David Gravel 25. KSE Hard Charger Award: 1A-Jacob Allen [+8]
Qualifying – 1. 2-Shane Stewart, 10.697; 2. 49-Brad Sweet, 10.729; 3. 26-Tayler Malsam, 10.778; 4. 1S-Logan Schuchart, 10.821; 5. 5-David Gravel, 10.872; 6. 41-Jason Johnson, 10.920; 7. 83-Joey Saldana, 10.941; 8. 55-Trey Starks, 10.941; 9. 9-Daryn Pittman, 10.958; 10. 15-Donny Schatz, 10.967; 11. 18-Jason Solwold, 11.044; 12. 33V-Henry VanDam, 11.094; 13. 44W-Austen Wheatley, 11.150; 14. 7S-Jason Sides, 11.189; 15. 39C-Travis Rilat, 11.273; 16. 1A-Jacob Allen, 11.364; 17. 21-Robbie Price, 11.451; 18. 41X-Dominic Scelzi, 11.480; 19. 22X-Trevor Cook, 11.545; 20. 13-Clyde Knipp, 11.549; 21. W20-Greg Wilson, 11.727; 22. 9A-Luke Didiuk, 11.973; 23. 7-Paul McMahan
Heat 1 – (10 Laps – Top 6 finishers transfer to the A-feature) 1. 2-Shane Stewart [1] ; 2. 1S-Logan Schuchart [2] ; 3. 83-Joey Saldana [3] ; 4. 15-Donny Schatz [4] ; 5. 44W-Austen Wheatley [5] ; 6. 22X-Trevor Cook [7] ; 7. 9A-Luke Didiuk [8] ; 8. 1A-Jacob Allen [6]
Heat 2 – (10 Laps – Top 6 finishers transfer to the A-feature) 1. 5-David Gravel [2] ; 2. 49-Brad Sweet [1] ; 3. 18-Jason Solwold [4] ; 4. 55-Trey Starks [3] ; 5. 21-Robbie Price [6] ; 6. 7S-Jason Sides [5] ; 7. 7-Paul McMahan [8] ; 8. 13-Clyde Knipp [7]
Heat 3 – (10 Laps – Top 6 finishers transfer to the A-feature) 1. 41-Jason Johnson [2] ; 2. 9-Daryn Pittman [3] ; 3. 41X-Dominic Scelzi [6] ; 4. 39C-Travis Rilat [5] ; 5. 33V-Henry VanDam [4] ; 6. W20-Greg Wilson [7] ; 7. 26-Tayler Malsam [1]
Dash – (8 Laps, finishing order determined first 6 starting positions of A-feature) 1. 1S-Logan Schuchart [1] ; 2. 2-Shane Stewart [4] ; 3. 5-David Gravel [3] ; 4. 41-Jason Johnson [2] ; 5. 49-Brad Sweet [5] ; 6. 9-Daryn Pittman [6]