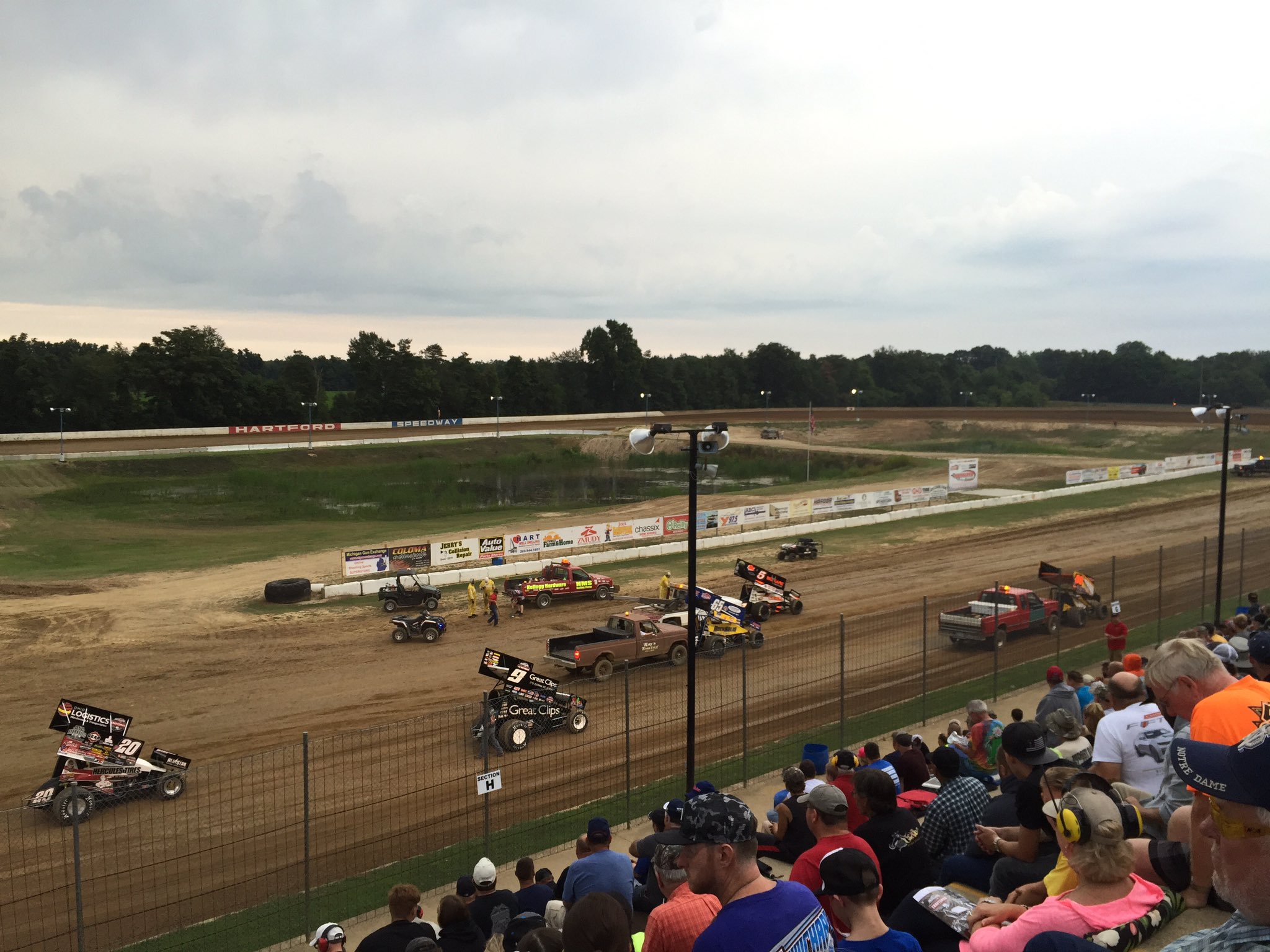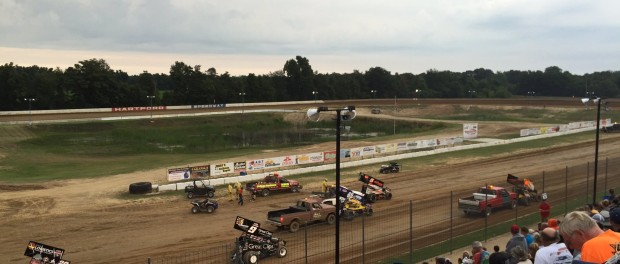 By T.J. Buffenbarger
The World of Outlaws Craftsman Sprint Car Series closes out the 2016 sprint car season in the state of Michigan tonight at Hartford Motor Speedway. After two very rainy affairs at I-96 Speedway and Hartford, tonight's event gives sprint car fans in the Great Lakes State one more chance to see the Greatest Show on Dirt in their home state.
While the weather is rainy at the moment for parts of West Michigan reports from the track are the sun is out as of 10:58 a.m. From the looks of the radar the weather should be cleared out in time for tonight's big show.
During the original date on July 29th Joey Saldana set a new track record with a lap of 15.691 second around the half mile oval, breaking Jason Johnson's 15 year old track record. Johnson, winner of the 2016 Knoxville Nationals, will make his first appearance in Michigan since winning sprint car racing's biggest event.
Hartford's World of Outlaws event will be Paul McMahan's first night back in the driver's seat after sitting out last week's events following a grinding crash during Gold Cup Race of Champions.
While July's program had a light car count, the makeup date position in September during the week has no other races up against it. With full time racers looking to pick up some cash as races wind down this fall look for a few more visitors to join the Outlaws at Hartford. As of yesterday Kraig Kinser indicated his team would venture up to Hartford. Chad Blonde also informed us at Crystal during Labor Day weekend his team plans on going to Hartford tonight.
Notes
Dustin Daggett was the top Michigan driver during the 12th annual Canadian Sprint Car Nationals on Sunday night at Ohsweken Speedway. Daggett just missed a podium finish ending up in the 4th spot in the A-Main. Daggett's had a strong run in Sunday's feature in contention for the win late in the going until dropping back after a late race restart. Daggett's strong run at Ohsweken came following an engine change after experiencing mechanical issues in his heat race.
Ryan Ruhl's Canadian Nationals started well after setting fast time in his qualifying group, only to end up against the wall the following lap. Ruhl's team was able to make repairs, but Ruhl missed the show through the B-Main.
2016 Great Lakes Super Sprints series champion Chase Ridenour had a strong run in the little feature Sunday night at Ohsweken, but came up one spot short of making the Canadian Nationals feature through that event.
Mechanical problems bit Dain Naida during hot laps at the Canadian Nationals. Naida, who ran the entire season at Ohsweken with a third place finish in points, had mechanical issues that sidelined him for the rest of the evening.
Stateside Mike Galdja secured the 2016 Lane Automotive Michigan Traditional Sprints championship Saturday night at Crystal Motor Speedway. Galadja finished fifth in Saturday's feature behind winner Chris Gurley.
With the announcement of the Midwest Non-Winged Sprints series headed by Dave DeHem Michigan Traditional Sprints president Joe Irwin confirmed they would not be sanctioning non-wing pavement races in 2017.