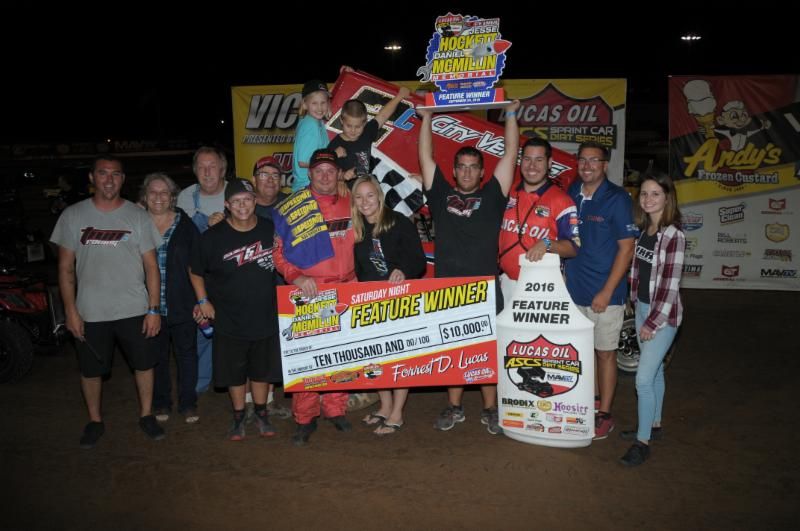 By Bill W
September 28, 2016 – Wayne Johnson has many stories of the times he spent with Jesse Hockett…some can even be printed. That made his win last Saturday all the more special, as he claimed the Jesse Hockett/Daniel McMillin Memorial at the Lucas Oil Speedway near Wheatland, Missouri. Wayne also won Friday's prelim, and his wins couldn't have come at a better time. This Saturday night, the Lucas Oil ASCS National Series will be competing at the "Fall Brawl" at I-80 Speedway near Greenwood, Nebraska.
Last weekend's event encompassed three days, starting Thursday. Wayne drew a starting spot outside row one for his heat and got off to a good start. "We were able to win the heat there," he says. "The track was fast. We had a hard time getting going in the Qualifier. The guy on the pole didn't get going, and that set us behind. We finished third there."
He started outside row five in the feature. "The car was really good," says Wayne. "We were able to drive up to sixth there. It was really just a matter of track position."
Wayne started sixth in his heat Friday. "The car was good again in the heat and ran up to second," he says. "We were the high point guy, and that put us sixth in the Qualifier. We ran up to third again, we were high point guy for the night and we drew the pole for the feature."
He would get his first win of the weekend. "We were able to led every lap," says Wayne. "The racetrack was good and the car was operating well. That gave us enough points to start on the pole for Saturday."
Despite starting on the pole in Saturday's finale, Wayne struggled early. "I freed the car up, because they had reworked the track," he says. "I never should have done that though. We led two or three laps, and then fell back. Sammy (Swindell) got by me. I moved around a little bit trying to keep up, and Sam (Hafertepe) got by me. Then, I got shuffled back on a restart. Logan (Forler) and a couple guys got to racing there and I was on the wrong part of the track at the wrong time."
He caught his break late in the going. "There was a restart with about ten to go for a red," says Wayne. "My nephew (Bud) was screaming at me in turn two. He was telling me I was running all wrong. That actually put us back in the game. Sam biked up there, and that made Logan check up. I had made up my mind on the restart, that I was going to go by them both. I was able to slide by them. They almost crashed. By the time, things shook out Sammy was a straightaway out."
Wayne would catch him quickly. "I just started reeling him in," he says. "I was shocked how fast we closed in on him. Sammy got tight in one and two and I turned off the curb and went back under him. We drag raced down the back straightaway and I got by him. The next lap, he slid me in four and I had to check up in four. We kind of made contact off of four. In one, he tried to block the slider, and I was able to enter high and drive back under him. From there, they said we pulled away."
The win was definitely a highlight in what has been a tough season overall. "That was a big win for us in more ways than one," says Wayne. "We've always wanted to win that race, and it was fun racing with Sammy like that."
Follow Updates on Facebook!
Wayne will update as his race night commences at his Facebook page. Find it by searching for Wayne Johnson Racing or clicking the following link…
http://www.facebook.com/#!/WayneJohnsonRacing
Outlaw Wings – "The Wing with an Attitude"
Check out the new "recessed rivet" design put out by Outlaw Wings. Talk to Wayne about purchasing Outlaw Wings for your car! Outlaw Wings – "The Wing with an Attitude"!
Wayne's Fast Facts
When Wayne won the 2000 ASCS National title it was impressive in more ways than one. He was able to win eight times over the 42 race schedule and finished in the top ten 90% of the time. His eight wins on the tour in Fred and Jo Threatt's #29 came on eight different tracks in seven states: Arkansas (Crowley's Ridge Speedway), Missouri (Sedalia's State Fair Speedway, Joplin 66 Speedway), Oklahoma (Muskogee Speedway), Iowa (Knoxville Raceway), Tennessee (Atomic Motor Speedway), Texas (Route 66 Speedway) and Indiana (Terre Haute Action Track).
Partner of the Week – The Oil Medics
Wayne says, "We had some problems with our hauler this week around Fort Worth, and Bill Jewell helped get us back on the road. He fixed it, and put some "air tabs" on our truck. It saves us about a mile per gallon with our fuel mileage."
The Oil Medics provides truck service without the expense or wait of a dealer! Visit them online at www.TheOilMedics.com!
"Wednesday's with Wayne"
"Wednesday's with Wayne" is an up close look at the past, present and future of colorful and talented sprint car driver Wayne Johnson. You'll never know what to expect next with Wayne, so don't miss us on Wednesdays!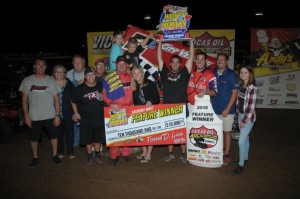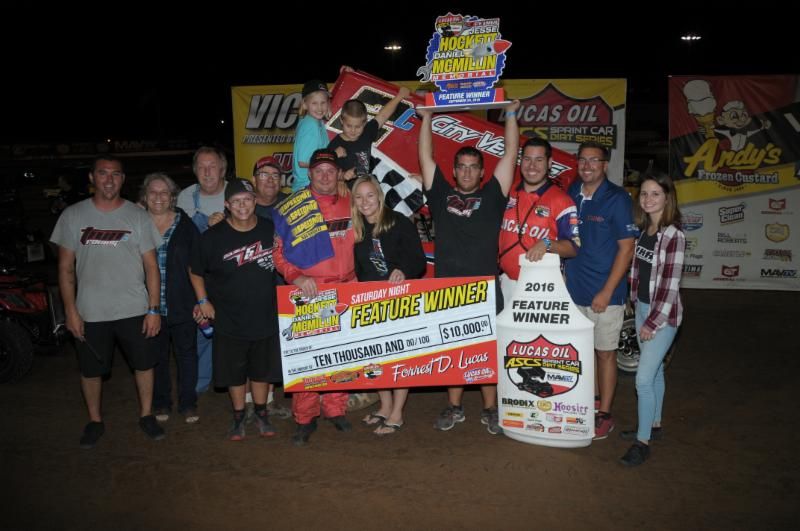 To receive "Wednesday's with Wayne", send an e-mail to sprntcar@hotmail.com with"Wayne" in the subject line.
Wayne Johnson Racing would like to thank partners, Todd Carlile, Outlaw Wings, City Vending and product sponsors The Oil Medics, Sebastian Sandblasting & Powdercoating, Rod End Supply, Astro Titanium, Schoenfeld Headers, Simpson, Butlerbuilt, Xtreme Accu-Tach, Weld Wheels, Slade Shocks, Kustom Sprint Car Supplies, Fisher Racing Engines, Speedway Graphics and Canyon Apparel.