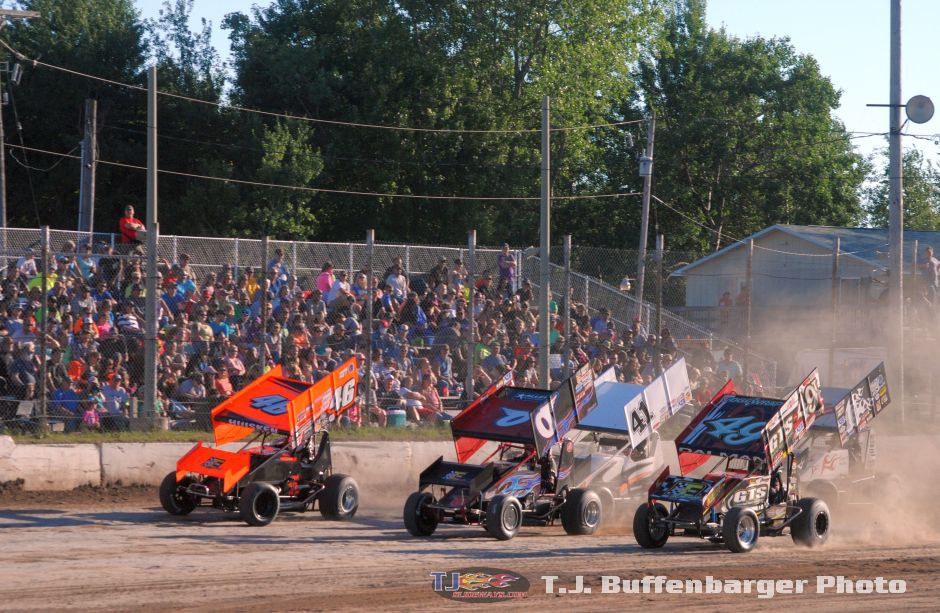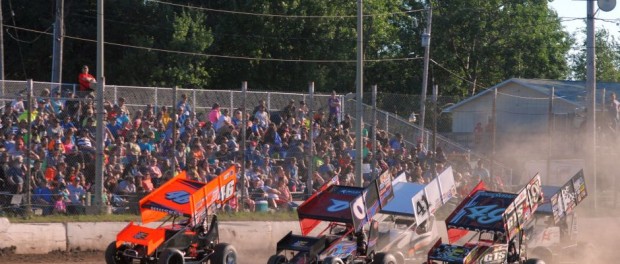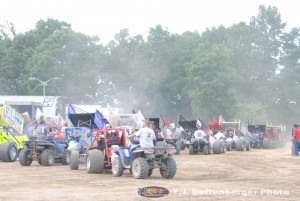 The 2016 sprint car season is complete for the state of Michigan. In honor of finishing off another season there are a few tracks, events, and people we want to highlight for what I feel were the most outstanding performances this year.
Best new event – Arctic Cat All Star Circuit of Champions/Great Lakes Super Sprints/Lane Automotive Traditional Sprints at Hartford Motor Speedway: Hartford owners Tim and Leah Dibble stepped out on a limb and booked a huge triple header of sprint cars. Even with three area graduations taking place fans packed the monster half mile to see this sprint car extravaganza.
Most enjoyable night of racing – Arctic Cat All Star Circuit of Champions/Late Model double header at I-96 Speedway: The All Stars first event taking on sanction and promotion was a huge hit capping off a great holiday weekend of racing. Tony Stewart flew in for the event and signed autographs for hours for adoring fans. Two top flight divisions, a nice crowd, and the show ending at a decent hour with a fireworks display for fans to enjoy while roaming the pit area capped off the best sprint car racing experience in the state for 2016.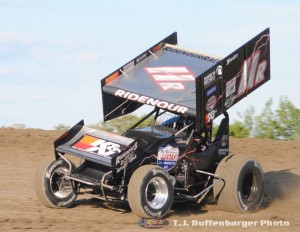 Best Race – GLSS at I-96 Speedway: Chase Ridenour running down Dustin Daggett through slower traffic at I-96 Speedway made for the best feature our staff witnessed during the 2016 season. The Sunday evening event provided a great racing surface with an event better finish.
Best story line – Brian Smith's Championship: When Brian Smith announced he would run the entire Engine Pro Sprints on Dirt presented by ARP series schedule it was a bit of a surprise. Being from the sprint car hotbed of Fremont, Ohio, towing to Michigan every week seemed unusual. Smith's enjoyment of competing at different race tracks from time to time combined with his enthusiasm for the new SOD rules package led him to three feature wins and the championship. Winning the championship with the amount of travel and Smith's minuscule budget using a 18 year old engine was my favorite story of the season.
Most improved race track – Thunderbird Raceway: When a track goes from closed and unlikely to return to not only being active, but operating in a top flight manner, it has to be named most improved. While we saw a lot of improvement at different facilities this year Tom Sprauge and his crew's revival of Thunderbird was remarkable. Attending a June SOD event the stands were full, the racing was good, and the sprint feature was done before 10:00 P.M. With several improvements already completed with more on the way Thunderbird should be on our list to visit again in 2017.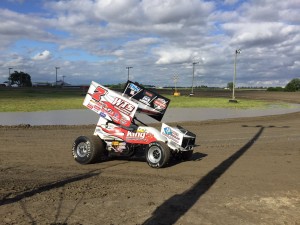 Best racing surface – Tri-City Motor Speedway and I-96 Speedway: While I was unable to make the trip up to Tri-City this year, competitors once again had rave reviews about the Tri-Cities oval. The biggest surprise in surfaces this season was I-96. When Mike Mouch said he would eliminate a rock and dust problem that had plagued the track for most of the past 20 years or so, I was skeptical. Even with Mother Nature trying to douse Mouch and his team's effort's all season I-96 provided for awesome racing every time out including a thrilling finish to the GLSS Sunday makeup race late in the season and the great All Star/Late Model double header mentioned above.
Best new innovation/improvement – Crystal Motor Speedway's LED Lighting: Labor Day's visit to Crystal for the SOD program was my first look at their new LED lighting. The lights are brighter, but the best benefit is not having to wait for the lighting to "warm up" before reaching full power. The instant on saved at least 10 minutes following one of Crystal's traditional holiday weekend fireworks displays during the middle of their program.
Perseverance award – SLS Promotions, I-96 Speedway, Hartford Motor Speedway, and the World of Outlaws: After two rain outs and two rain dates the World of Outlaws Craftsman Sprint Car Series and SLS Promotions deserved better. Everyone made the best of it though along with staff from I-96 and Hartford and provided two rain dates for fans to see the Greatest Show on Dirt.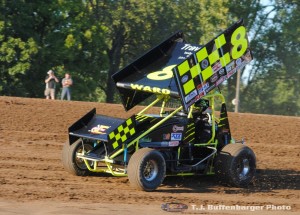 Resident Driver of the Year and Most Improved – Chase Ridenour: This season Ridenour came of age and figured out how to win races. Picking up five feature wins and the GLSS championship 2016 was Ridenour's breakout season. That performance also was the best improvement any of the Michigan drivers made in 2016.
True Sprint Car Rookie of the Year: Justin Ward made a nice transition from the lightening sprints to full size sprint cars during the off season. Contesting in 360 and 410 events Ward has some potential and could be contender in the future. It will be interesting to see if Ward's success leads any other Northern Michigan Lightening Sprint teams to make the jump to SOD, GLSS, or other sprint car divisions.