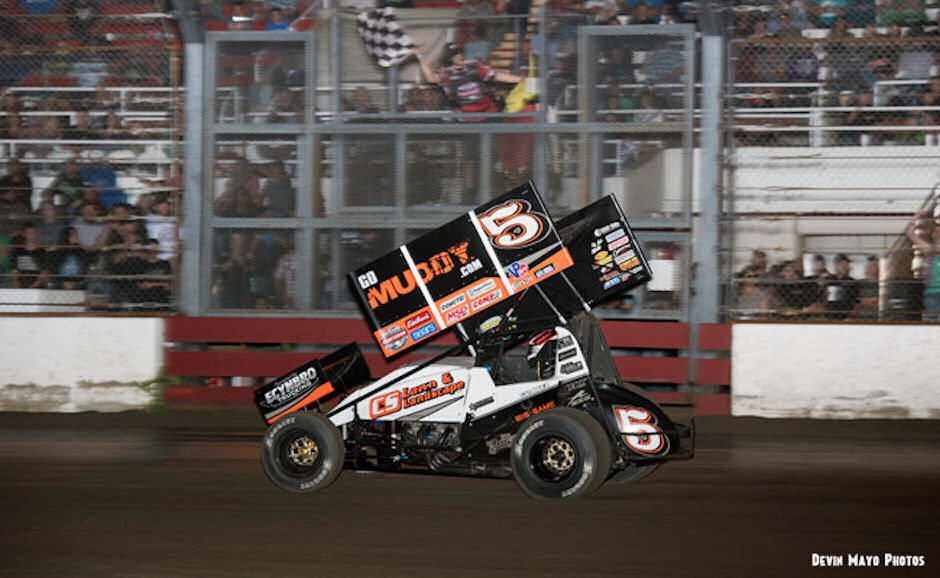 From Christine Cordova
WILLIS, Tx (April 14, 2017) – "It is official. David Gravel has cleared the scales in the CJB Motorsports No. 5, headed to Victory Lane!" cried Johnny Gibson over the PA at Gator Motorplex Thursday night. This was win number four of the season in the No. 5 machine, and a twentieth career win for Gravel.
He worked hard for this one, starting in tenth and working the high side. While Jason Sides started on the pole, with NASCAR driver Kasey Kayne in second, it was Paul McMahan in the lead when Gravel finally took it in lap 30 – and he took it from below.
"I started tenth and was in second before I knew it," said the inaugural Gator Bash champ. "I knew it was a 40-lap race. I tried to be really patient with Paul [McMahan]. The curve got really really really tricky as the race went on, and I almost bit the wall a couple of times."
But it wasn't Gravel who bit the wall at all. That fell on Rookie-of-the-Year-contender Sheldon Haudenschild, who with 4 laps to go got into his third tangle of the night. Haudenschild was the unofficial fan favorite at Gator Motorplex, drawing loud cheers for his persistence each time he returned to the field after two flips. But the last one set him bouncing off the wall outside of turn four, right into Brad Sweet.
Sweet had been busy battling Donny Schatz for the fourth spot, which is precisely where Schatz remained after the checkered flag flew.
The inaugural Gator Bash saw a packed house in Willis, Texas, where fans cheered on Kahne as he made his return to dirt in the iRacing.com 4K. But after a lucky Dash inversion draw that put him on the pole, Kahne spun out during the Feature, turning sideways in turn four and causing Daryn Pittman and Dustin Gates to flip over each other.
Meanwhile, Sides maintained his lead until lap 14, when McMahan come up from third to take it from him. It wasn't until 26 laps later that Gravel managed to final clear both of them, leading them into the checkers in just that order.
"Finishing second right now feels like a win – the way all last year went," said McMahan from Victory Lane. "But second still sucks."
The World of Outlaws Craftsman® Sprint Car Series will return to action tomorrow, Friday night, at Devil's Bowl Speedway for the Texas Outlaw Nationals in Mesquite, TX.