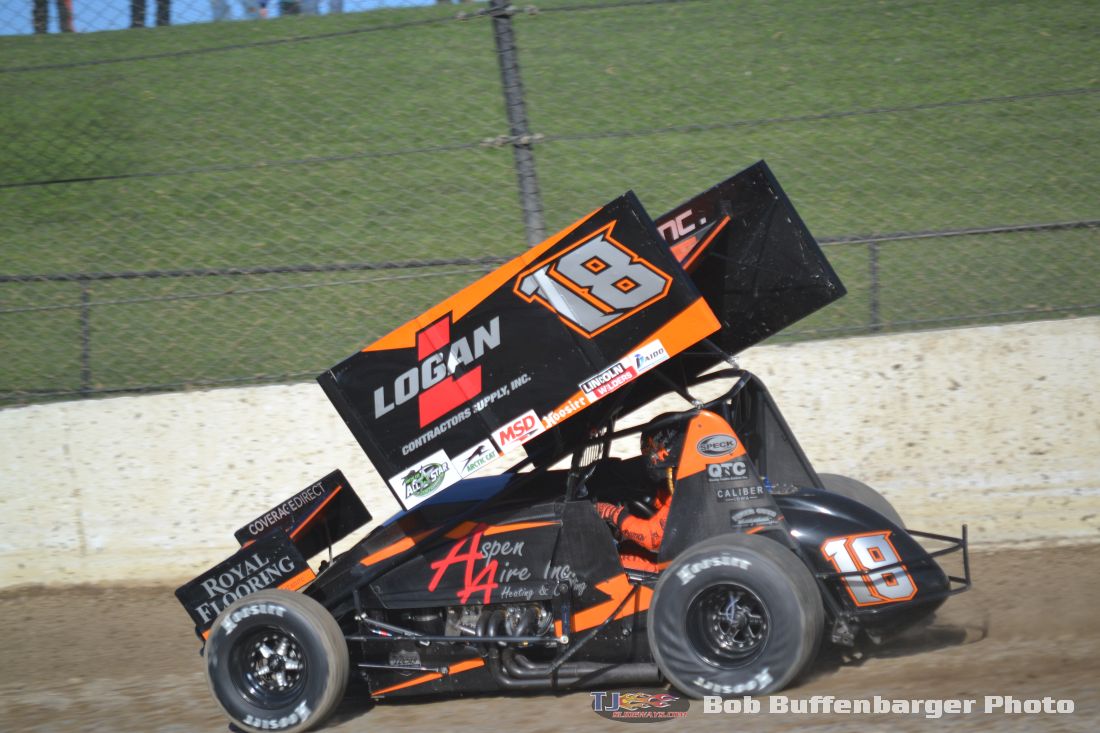 From Bill Wright
OSKALOOSA, Iowa. (May 24, 2017) — Ian Madsen had to pass a pair of McCarl's to win the 25-lap non-stop feature event Wednesday night at the Southern Iowa Speedway in Oskaloosa with the Shottenkirk.com Sprint Invaders. The St. Mary's, New South Wales, Australia driver was paid $1,500 for his win over a stout 29-car field.
Carson McCarl and his father, Terry, started on the front row of the main event. It was Carson who got the jump at the outset, ahead of Terry. Meanwhile, Ian Madsen shot to third on the first lap, after starting outside of row three.
The leaders were in traffic by lap six, and Madsen slowly reeled them in. He entered low in turn one, and slid ahead of Terry for second on lap 11. A circuit later, he repeated the move on Carson, taking the lead for good. From there, he navigated traffic with perfection, pulling away to his third career win with the Sprint Invaders series.
Carson would hold onto second, while Terry finished third. Jamie Ball drove from row six into the fourth spot by lap fifteen. Defending series' champion, Chris Martin finished fifth after starting 14th. Jon Agan, Tanner Gebhart, hard-charger, Jarrod Schneiderman, Ben Wagoner and Hunter Lane rounded out the top ten.
Wagoner, Madsen, Agan and Gebhart won heat races. Tyler Groenendyk won the B main, and Agan took the Shake-Up Dash.
"It's always fun to race with the Sprint Invaders," said Madsen in Victory Lane. "Especially when they have the mid-week shows. It gives us a chance to come out and have fun. We had another good night tonight. I just can't thank my guys enough. It's never easy racing those guys (the McCarl's). They're bad-asses. I kind of got a good break when they both slid across the track. I was able to make a move and get the win."
"We weren't too bad," said Carson. "I had (brother) Austin here to help me set up the car, which was nice. The car felt great. I really felt good. We just weren't quite as good as Ian. He could ring the top a little better than me. As the race went on, I knew I wasn't going to catch him on the cushion. I tried searching around, and never really found it. To be in the middle of a podium with Ian Madsen and Terry McCarl…for our little team from Valley Springs (South Dakota), that's nothing to hang our head about."
"We were fighting the brakes a bit all night long," said Terry, who was driving a new car. "We fought them in the heat and the feature. We felt good in the Dash. We had to pump them three times in the feature. It made it sketchy in traffic. All in all, it was a good first night with the car. Carson was doing well, and Ian was just better than us tonight. We did our best, and it's good to see Carson do well."
The Sprint Invaders continue their busy week Friday at Lee County Speedway in Donnellson, Iowa, and Sunday at 34 Raceway in West Burlington, Iowa. For more information on the Shottenkirk.com Sprint Invaders, visit www.SprintInvaders.com or follow us on Facebook and Twitter!
Shottenkirk.com A main (started), 25 laps: 1. 18, Ian Madsen, St. Mary's, NSW, Aust. (6) 2. 6, Carson McCarl, Altoona, IA (1) 3. 24, Terry McCarl, Altoona, IA (2) 4. 5J, Jamie Ball, Knoxville, IA (11) 5. 44, Chris Martin, Ankeny, IA (14) 6. 4, Jon Agan, Knoxville, IA (5) 7. 81, Tanner Gebhart, Burlington, IA (4) 8. 3G, Jarrod Schneiderman, West Burlington, IA (18) 9. 78, Ben Wagoner, Emden, IL (3) 10. 9L, Hunter Lane, Milo, IA (12) 11, 17, Tyler Groenendyk, Oskaloosa, IA (17) 12. 11B, Ben Woods, Newton, IA (7) 13. 69, Justin Buchholz, Davenport, IA (13) 14. 3, Nate Van Haaften, Otley, IA (19) 15. 51J, Ryan Jamison, Mediapolis, IA (20) 16. 40c, Cody Wehrle, Burlington, IA (15) 17. 50P, Harold Pohren, Lowell, IA (10) 18. 1st, John Greenwood, Woodward, IA (8) 19. 99, John Schulz, West Burlington, IA (16) 20. 19w, Bob Weuve, Newton, IA (9). Lap Leaders: C. McCarl 1-11, Madsen 12-20. KSE Hard-charger: Ja. Schneiderman.
Randall's Performance Heat one (started), Top four to A main, Top two to Dash, 8 laps: 1. Ben Wagoner (3) 2. John Greenwood (2) 3. Bob Weuve (1) 4. Justin Buchholz (5) / 5. 9, Daniel Bergquist, Burlington, IA (4) 6. 13, Brayden Gaylord, Wever, IA (7) 7. 0, Mike Mayberry, Fremont, IA (6) DNS – 10T, Tim Moore, Rock Island, IL
CenPeCo Lubricants Heat two (started), Top four to A main, Top two to Dash, 8 laps: 1. Ian Madsen (2) 2. Carson McCarl (6) 3. Harold Pohren (4) 4. Chris Martin (3) / 5. Tyler Groenendyk (5) 6. 83, Dave Getchell, Sperry, IA (1) 7. 26, Kyle Nelson, Des Moines, IA (7)
Mohrfeld Electric Heat three (started), Top four to A main, Top two to Dash, 8 laps: 1. Jon Agan (2) 2. Terry McCarl (4) 3. Jamie Ball (1) 4. Cody Wehrle (3) / 5. Ryan Jamison (6) 6. 1, Damian Getchell, Sperry, IA (5) DNS – 19, Rob Weuve, Oakland Acres, IA
Shottenkirk.com Heat four (started), Top four to A main, Top two to Dash, 8 laps: 1. Tanner Gebhart (2) 2. Ben Woods (1) 3. Hunter Lane (4) 4. John Schulz (3) / 5. Jarrod Schneiderman (6) 6. Nate Van Haaften (7) 7. 33, Alan Zoutte, Knoxville, IA (5)
B main (started), Top four to A main, 12 laps: 1. Tyler Groenendyk (2) 2. Jarrod Schneiderman (4) 3. Nate Van Haaften (8) 4. Ryan Jamison (3) / 5. Brayden Gaylord (5) 6. Damian Getchell (7) 7. Mike Mayberry (9) 8. Daniel Bergquist (1) 9. Dave Getchell (6) 10.Alan Zoutte (10) DNS – Kyle Nelson, Rob Weuve, Tim Moore
Budweiser King of Beers – Golden Eagle Distributors Shake-up Dash (started), 6 laps: 1. Jon Agan (3) 2. Ian Madsen (5) 3. Carson McCarl (6) 4. Terry McCarl (7) 5. Ben Wagoner (2) 6. Tanner Gebhart (1) 7. Ben Woods (4) 8. John Greenwood (8)
Contingencies
Pyrotec – John Schulz
Saldana Racing Products – Harold Pohren
Kreitz Oval Track Products – John Greenwood