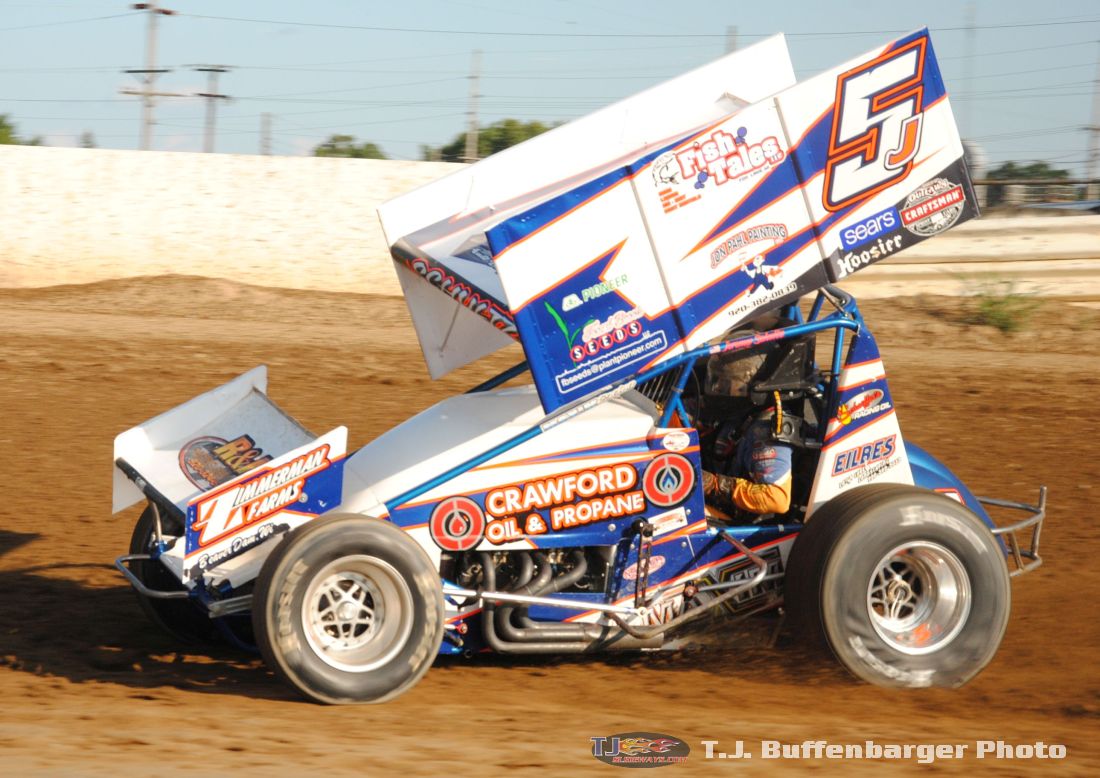 From Tony Veneziano
BEAVER DAM, Wisc. (April 25, 2018) — Jeremy Schultz is probably one of the only drivers who didn't really seem to mind that the start of the Bumper to Bumper Interstate Racing Association (IRA) Outlaw Sprint Series season was postponed twice by inclement weather. The delays gave him and his team some added time in the shop to fine-tune as they gear up for the 2018 campaign.
For Schultz and his fellow IRA competitors, the season opens on Sunday, April 29 at Beaver Dam Raceway as part of the Wipperfurth Memorial Open Wheel Triple Crown. Also on the card is the Wisconsin wingLESS Sprint Series presented by AutoMeter and the Badger Midget Auto Racing Association (BMARA). The event will mark the first time ever that the three series have competed at the same track on the same night.
"This year, it actually helped us having the opener pushed back, because we were a bit behind on getting the cars and things together," said Schultz. "We were ready, but having a little extra prep time really helped us go over things even closer. Everything is done and done right and the car is all good as can be to start the year. I feel pretty good about that."
Schultz, who hails from Beaver Dam, has a solid record over the years at his hometown track with the IRA. Last year, he picked up a pair of top-five finishes. In his championship-winning season of 2016, he had a trio of top-five performances, including a runner-up showing. In his career at the third-mile with the IRA, Schultz has six podium finishes, including three, third-place showings in 2013 as he chases that elusive win with the series at the track.
"I don't think there is any added pressure," he explained of racing at home. "I just can't seem to get a win at the Raceway. I gotten a win at Dodge (County Fairgrounds in Beaver Dam) and have run well there. As far as the Raceway, it's been tough. I have a couple of runner-up finishes. It would be pretty special to win there, especially this time of the year. To get a win at home and in the spring would be great. It's always cool to win in town, with the fan and sponsor support that we have. It would be pretty special if we could get it done."
Last season, Schultz finished fourth in the IRA point standings. He earned 17 top-10 finishes, with 12 of those being top-fives. Schultz has finished among the top-five in IRA points in four of the last five seasons and has been among the top-10 each and every year, dating back to his rookie season with the series in 2013. He enters the 2018 campaign with six career IRA wins. The three-time Wilmot Raceway track champion, has three IRA wins at that venue and has also won with the series over the years at the Plymouth Dirt Track and at 141 Speedway.
Schultz is taking a "Wait and See" type approach to this season. The last couple of years he has added some travelling to his repertoire and would like to hit the road even more, citing a desire to compete with the World of Outlaws Craftsman Sprint Car Series, Arctic Cat All Star Circuit of Champions and maybe even make a trip to the sprint car hotbed of Central Pennsylvania.
"We are going to take the season as it comes and see how things go," he noted. "That's what we did last year. We took a couple of nights off and ran with the Outlaws in Michigan and things like that. I can't say that we aren't going to run the full IRA schedule, but I also can't say that we are. We'll see how it progresses and go from there."
As an open wheel enthusiast in general, Schultz is excited for what the fans will see during the Wipperfurth Memorial Open Wheel Triple Crown at Beaver Dam Raceway with three premier series of open wheel cars in action. He vividly remember going to the track as a youngster to watching the Triple Crown.
"I think it's going to be an awesome event for the fans," said Schultz. "Back in the day, it was the sprint cars, midgets and I think 360 (sprint cars) and it was always a great event. I am a sprint car guy through and through and I like watching them, along with midgets. The non-wing cars are going to put on a great show as well. I think for open wheel fans, it's going to be the show to see."
Pit gates will open at 1:30 p.m. on Sunday, April 29 for the Wipperfurth Memorial Open Wheel Triple Crown at Beaver Dam Raceway. Grandstand gates will open at 2:30 p.m., with qualifying at 3:30 p.m. and racing at 4:30 p.m.
For more information, visit http://www.wismotorsports.net.