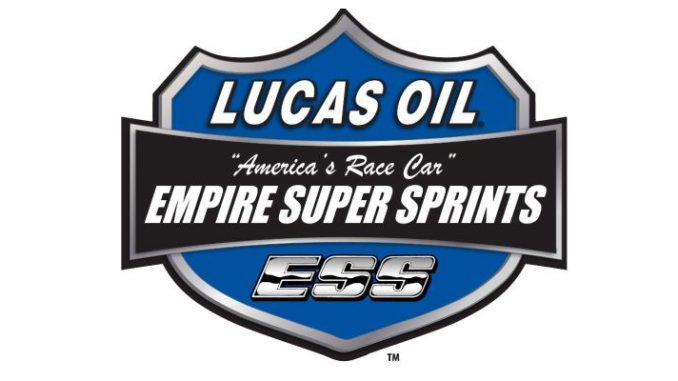 By Dean Reynolds
FONDA, NY – The 360 Sprint Cars took to the speedway for 25 laps and to no surprise Steve Poirier would jump out into the early race lead over Jeff Cook and Matt Tanner. The race track for the Sprint Cars also became difficult on their right rear tires but Poirier, who claimed his record tying 8th series title in 2018, was mastering the tire game to the best of his ability but a yellow on lap 6 for Shawn Donath would slow the pace for everyone.
On the next restart a major accident took place as a total of 12 cars piled into turns 1 and 2 with no place to go, blocking the entire race track and the red flag was displayed. Despite what looked to be a severe accident, resulted in only a few drivers having to retire to the pits but many were able to rejoin at the tail of the field.
On the restart it was still Poirier in front of the field over Cook, Tanner, Jason Barney and Matt Billings. At the halfway point Poirier and Cook had distanced themselves from the rest of the field and Cook, who chose a harder tire than Poirier tried his best in traffic to get by the 8 time ESS champion but Poirier remained up to the challenge and in control.
The battle for 3rd however was a fantastic battle as Matt Tanner tried at will to hold off 2017 ESS champion Jason Barney for a podium spot. With a handful of laps remaining Jason Barney was able to get by for 3rd but had a lot of work to do to run down the top 2. At the checkered flag despite the many attempts by Jeff Cook, the man they call Fireball was able to claim another Brockville Speedway Sprint Car win in his career. Jeff Cook took 2nd with Jason Barney claiming the final podium spot.
Lucas Oil Empire Super Sprints
Brockville Speedway
Brockville, ONT
Saturday October 13, 2018
Feature:
1. 28f – Steve Poirier
2. 10 – Jeff Cook
3. 87 – Jason Barney
4. 90 – Matt Tanner
5. 36 – Matt Billings
6. 11J – Chris Jones
7. 98 – Joe Trenca
8. 99L – Larry Wight
9. 42w – Ricky Wilson
10. 1c – Alex Vigneault
11. 123 – Yan Bilodeau
12. 3 – Denny Peebles
13. 2 – Dave Axton
14. 53 – Shawn Donath
15. 28L – Jordan Poirier
16. 76 – Sean Durand
17. 10h – Kelly Hebing
18. 61 – Parker Evans
19. 16L – Roger Levesque
20. 54J – Steve Hutchinson
21. 98p – Paul Pekkonen
22. 23 – Tyler Cartier
23. 88c – Chad Miller
24. 3g – Dale Gosslin