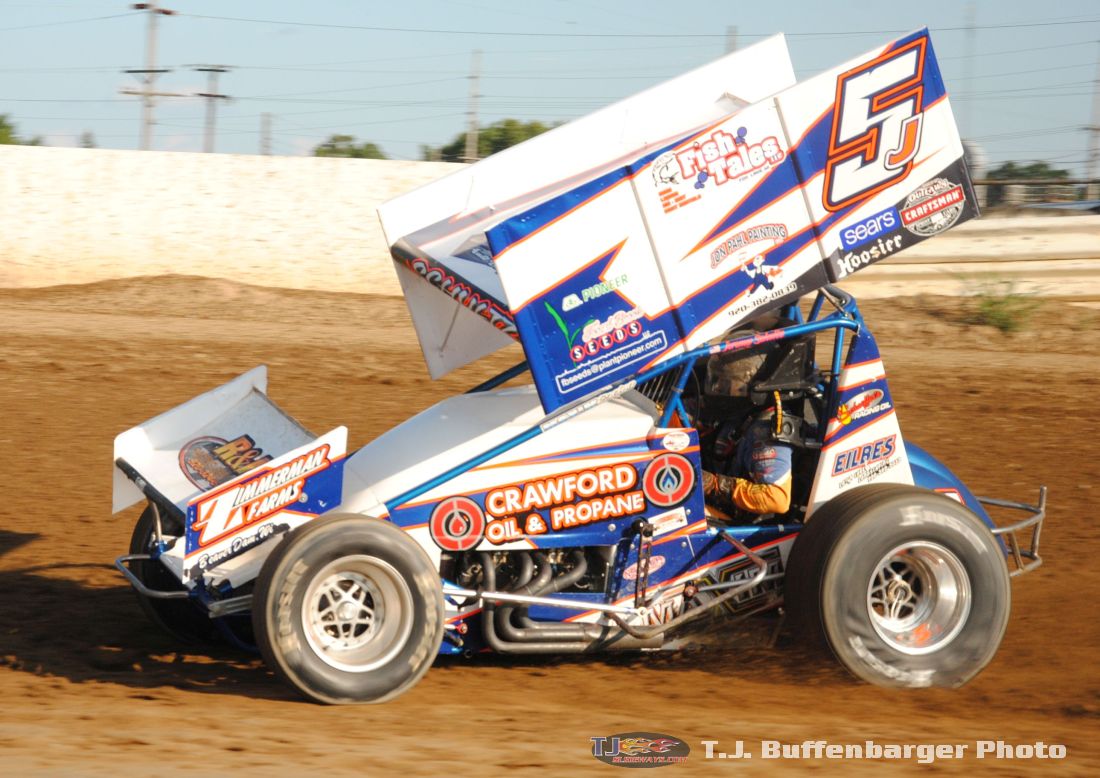 (Wilmot, Wisconsin, Saturday, May 4, 2019)–Beaver Dam's Jeremy Schultz ended a feature less winning drought by taking the 30-lap Bumper to Bumper Interstate Racing Association(IRA) Wilmot Raceway 2019 opening night feature win.
Pardeeville's Craig Campton captured his first ever 20-lap AutoMeter Wisconsin WingLess Sprints feature.
Waukesha's Mark Heinert led wire to wire for the win in the 20-lap Lightning Sprints presented by the IRA main
Joe Huenefeld of Cedarville, IL won his first ever Wilmot 20-lap modified feature.
"I got my first ever 410(winged sprint car) feature win here, and to get Bob and Dawn Hood their first IRA win is awesome," said a jubilant Schultz, noting his previous success at the Kenosha County Fair located 1/3-mile clay oval, the original home of the IRA 52 years ago. "Not having a win in over a year and getting it holding off Bill (Balog) and Rico (Abreu) is fantastic. The team set the car up super. I can't wait until we come back (Friday, May 17 for All Star-IRA Sprint Challenge)."
"I congratulate Jeremy on a great race," said Balog of North Pole, Alaska, 7-time IRA Champion. "We came up just a little short."
"This is a different track for us, so it took a while to get the car set up," said Abreu, of Rutherford, California, who made a last minute decision to come to Wilmot after a rain out at his previously planned event. "I like this track. I look forward to coming back."
Schultz jumped out in front at the drop of the green in the main. In the closing laps a caution cleared some lapped traffic giving the past Wilmot regular season Winged Sprint Champion clear sailing, but not without a hard challenge from Balog and Abreu. The yellow came out as Balog and Brandon Wimmer of Jonesboro, Indiana came together while battling for position in turn four. Wimmer's car was not damaged but restarted at the tail. Balog was able to continue, taking over second on the restart.
The top three of Schultz, Balog and Abreu were followed by Paul Nienhiser of Chapin, IL fourth with defending IRA Champion Jake Blackhurst of Hanna City, IL fifth.
"Finally we get a win," said Campton, who works on world championship snowmobiles. "I have to thank Doug Schenck for getting me to do this. It was fun finishing ahead of him in our other team car. I dedicate this win to Carl Wagener (engine builder who recently passed away).
Trevor's Jordan Paulsen, in his second season, headed the field until lap 13 when he spun in turn two bringing out a caution. Kenosha's B.G. Wood, who battled Paulsen much of the early going, took top spot on the restart.
Campton took the point after the two battled wheel to wheel for several laps. Schenck, of Cottage Grove, followed his teammate getting around Wood for second. Campton was up to the challenges from his mentor for the win. Schenck took second, Wood third, Trevor's Chris Dodd fourth and Oconomowoc's Ryan Zielski fifth.
"This is a great win for us," said Heinert after the Lightning Sprints win, 3-time Wilmot champion. "I have to thank my wife, Michelle, my daughters, for all of their support and everyone who plays a part in our team from our marketing partners to the crew members."
Heinert was followed by C.J. Malueg of Johnsburg, IL second, John Kirk of Johnsburg third, defending Wilmot champion Ion Stear of Harvard, IL fourth and Sun Prairie's Kevin Douglas fifth.
"Last year we were on the last lap and broke while leading," said Huenefeld, who tows nearly two hours one way to race. "We finally got a win. My family, sponsors, everyone who supports us and the great fans who stick around even though it's cold to watch us race. Thank you all."
Tichigan's Michael Wittenburg led the early going. Huenefeld went side by side with Wittenburg until the midway point when he took top spot. One lap later the red flag came out when Tony Izzo, who was not injured, got upside down landing on his roof in turn two.
Huenefeld kept in front to the finish. Eagle's Steve Mueller took second in a hotly contested battle with Genoa City's Simons brothers, Nick who took third and 2-time defending champion Mike II fourth. Past Wilmot Champion Chris Carlson of South Milwaukee was fifth.
Family Night comes to Wilmot Raceway Saturday, May 11 featuring AutoMeter Wisconsin WingLess Sprints, Lightning Sprints presented by the IRA, Modifieds along with the season debuts of the street stocks and Bandit 4-Cylinder Stock Cars. Grandstands open at 5:00 p.m. with on track activity at 5:45 and racing to follow.
Meet The Driver will begin with select drivers and cars from each competing division invited to be on the grandstand concourse between 5:00 and 5:30 p.m. allowing fans an up close look.
May 11 Grandstand Admission is $15.00 for everyone ages 12 and over, with ages 11 and under admitted free.
The IRA-All Star Sprint Challenge comes to Wisconsin's birthplace of sprint car racing in a special Friday race program, May 17. NASCAR Champion Tony Stewart will be competing along with a host of regional and national winged sprint car warriors. AutoMeter Wisconsin WingLess Sprints and Lightning Sprints round out the first major all open wheel sprint car program.
For updated information phone trackside race line 262-862-2090, check wilmotraceway.com or official Wilmot Raceway Facebook Page.
Wilmot Raceway and Kenosha County Fair sponsor 216thenet Facebook Live "Let's Go Racing!" Radio Program hosted by Mike Babicz, "the Voice of Wilmot Raceway," airing Mondays 5-6 p.m., replaying Thursdays 11 a.m.-noon, Saturdays 11 a.m.-noon and 11 p.m.-Midnight.
Wilmot Raceway
Wilmot, WI
Saturday May 4, 2019
Bumper to Bumper Interstate Racing Association
Osborn and Sons Trucking Qualifying 1 (2 Laps):
1. 17B-Bill Balog, 13.315[12]
2. 7TW-Brandon Wimmer, 13.520[2]
3. 73-Ben Schmidt, 13.543[6]
4. 19-Todd Daun, 13.635[16]
5. 10W-Jeremy Schultz, 13.688[15]
6. 25-Jake Blackhurst, 13.731[5]
7. 85M-Steve Meyer, 13.737[10]
8. 02-Mike Reinke, 13.819[27]
9. 23-Russel Borland, 13.825[7]
10. 2W-Scott Neitzel, 13.870[20]
11. 24-Rico Abreu, 13.930[4]
12. 9X-Paul Nienhiser, 14.010[22]
13. 43-Jereme Schroeder, 14.016[23]
14. 73AF-Joey Moughan, 14.060[18]
15. 29L-Brayton Lynch, 14.137[14]
16. 14AJ-Wayne Modjeski, 14.146[17]
17. 4B-Scott Biertzer, 14.183[24]
18. 20I-Kelsey Ivy, 14.200[26]
19. 64-Scotty Thiel, 14.268[19]
20. 29-Hunter Custer, 14.326[28]
21. 68-Dave Uttech, 14.345[13]
22. 63-Nick Matuszewski, 14.469[1]
23. 14F-Jim Fifield, 14.490[8]
24. 65-Austin Deblauw, 14.547[21]
25. 18-Keith Fellner, 14.893[3]
26. 22S-Brian Strane, 15.168[9]
27. 45-Matt Wiese, 15.253[25]
28. 4K-Kris Spitz, 16.197[11]
Weld Wheels Heat Race #1 (10 Laps)
1. 2W-Scott Neitzel, [1]
2. 17B-Bill Balog, [4]
3. 85M-Steve Meyer, [2]
4. 64-Scotty Thiel, [7]
5. 19-Todd Daun, [3]
6. 43-Jereme Schroeder, [5]
7. 14AJ-Wayne Modjeski, [6]
8. 63-Nick Matuszewski, [8]
9. 4K-Kris Spitz, [10]
10. 18-Keith Fellner, [9]
All Star Performance / AutoMeter Heat Race #2 (10 Laps)
1. 02-Mike Reinke, [2]
2. 24-Rico Abreu, [1]
3. 7TW-Brandon Wimmer, [4]
4. 10W-Jeremy Schultz, [3]
5. 73AF-Joey Moughan, [5]
6. 4B-Scott Biertzer, [6]
7. 14F-Jim Fifield, [8]
8. 29-Hunter Custer, [7]
9. 22S-Brian Strane, [9]
EMI Heat Race #3 (10 Laps)
1. 73-Ben Schmidt, [4]
2. 9X-Paul Nienhiser, [1]
3. 23-Russel Borland, [2]
4. 25-Jake Blackhurst, [3]
5. 68-Dave Uttech, [7]
6. 20I-Kelsey Ivy, [6]
7. 65-Austin Deblauw, [8]
8. 29L-Brayton Lynch, [5]
9. 45-Matt Wiese, [9]
Behling Racing B-Main (12 Laps)
1. 14AJ-Wayne Modjeski, [1]
2. 14F-Jim Fifield, [2]
3. 29L-Brayton Lynch, [4]
4. 65-Austin Deblauw, [3]
5. 4K-Kris Spitz, [9]
6. 29-Hunter Custer, [5]
7. 63-Nick Matuszewski, [6]
8. 45-Matt Wiese, [8]
9. 22S-Brian Strane, [7]
DNS: 18-Keith Fellner,
Bumper to Bumper A-Main (30 Laps)
1. 10W-Jeremy Schultz, [1]
2. 17B-Bill Balog, [7]
3. 24-Rico Abreu, [11]
4. 9X-Paul Nienhiser, [12]
5. 25-Jake Blackhurst, [8]
6. 73AF-Joey Moughan, [14]
7. 64-Scotty Thiel, [13]
8. 85M-Steve Meyer, [3]
9. 02-Mike Reinke, [10]
10. 4B-Scott Biertzer, [17]
11. 19-Todd Daun, [2]
12. 2W-Scott Neitzel, [9]
13. 65-Austin Deblauw, [22]
14. 29L-Brayton Lynch, [21]
15. 68-Dave Uttech, [15]
16. 14F-Jim Fifield, [20]
17. 14AJ-Wayne Modjeski, [19]
18. 20I-Kelsey Ivy, [18]
19. 23-Russel Borland, [5]
20. 43-Jereme Schroeder, [16]
21. 29-Hunter Custer, [24]
22. 73-Ben Schmidt, [4]
23. 7TW-Brandon Wimmer, [6]
24. 4K-Kris Spitz, [23]
Wisconsin WingLESS Sprint Cars
Qualifying:
1. 18-Nick Petska, 15.656[17]
2. 40-Tim Cox, 15.662[15]
3. 71S-Doug Schenck, 15.682[5]
4. 38V-Matt VandeVere, 15.822[18]
5. 7S-Craig Campton, 15.852[28]
6. 4-Jordan Paulsen, 15.878[8]
7. 14AJ-B.G. Wood, 15.924[21]
8. 50-Rusty Egan, 15.972[24]
9. 01-Chris Dodd, 15.981[1]
10. 7-Steve Clott, 15.995[10]
11. 91-Jimmy Sivia, 16.033[29]
12. 21-Ryan Zielski, 16.038[3]
13. 54-Scott Grissom, 16.045[9]
14. 19K-Derek Crane, 16.048[33]
15. 9-Greg Olsen, 16.070[23]
16. 20-Natalie Klemko, 16.084[16]
17. 12-Shawn Swim, 16.086[4]
18. 5-Garrett Deieso, 16.096[20]
19. 70-Chris Klemko, 16.106[30]
20. 77-James Walldan, 16.151[26]
21. 23Z-Zach Raidart, 16.160[2]
22. 6-Vince Bartolotta, 16.198[7]
23. 61-Zach Hansen, 16.206[25]
24. 41-Dennis Spitz, 16.410[34]
25. 1-Rod Colburn, 16.464[11]
26. 22-Greg Alt, 16.505[13]
27. 51-Charles Spoonmore, 16.572[27]
28. 00-Paul Shaffer, 16.716[32]
29. 29OG-Tom Eller, 16.745[22]
30. 39-William Huck, 16.912[12]
31. 94-Jim Wehrman, 17.032[31]
32. 11-Lance Walldan, 17.054[6]
33. 2-Tommy Colbourn, 17.079[35]
34. 29-Randy Stanford, 17.244[19]
35. 38-Allen Hafford, [14]
Heat Race #1 (8 Laps)
1. 01-Chris Dodd, [2]
2. 54-Scott Grissom, [1]
3. 18-Nick Petska, [4]
4. 7S-Craig Campton, [3]
5. 12-Shawn Swim, [5]
6. 1-Rod Colburn, [7]
7. 23Z-Zach Raidart, [6]
8. 2-Tommy Colbourn, [9]
9. 29OG-Tom Eller, [8]
Heat Race #2 (8 Laps)
1. 4-Jordan Paulsen, [3]
2. 6-Vince Bartolotta, [6]
3. 19K-Derek Crane, [1]
4. 29-Randy Stanford, [9]
5. 22-Greg Alt, [7]
6. 39-William Huck, [8]
7. 7-Steve Clott, [2]
8. 40-Tim Cox, [4]
9. 5-Garrett Deieso, [5]
Heat Race #3 (8 Laps)
1. 9-Greg Olsen, [1]
2. 91-Jimmy Sivia, [2]
3. 71S-Doug Schenck, [4]
4. 14AJ-B.G. Wood, [3]
5. 70-Chris Klemko, [5]
6. 61-Zach Hansen, [6]
7. 94-Jim Wehrman, [8]
8. 51-Charles Spoonmore, [7]
DNS: 38-Allen Hafford,
Heat Race #4 (8 Laps)
1. 21-Ryan Zielski, [2]
2. 20-Natalie Klemko, [1]
3. 77-James Walldan, [5]
4. 38V-Matt VandeVere, [4]
5. 41-Dennis Spitz, [6]
6. 50-Rusty Egan, [3]
7. 11-Lance Walldan, [8]
8. 00-Paul Shaffer, [7]
B-Main (12 Laps)
1. 40-Tim Cox, [1]
2. 50-Rusty Egan, [2]
3. 1-Rod Colburn, [4]
4. 39-William Huck, [5]
5. 51-Charles Spoonmore, [10]
6. 29OG-Tom Eller, [14]
7. 12-Shawn Swim, [15]
8. 2-Tommy Colbourn, [12]
9. 7-Steve Clott, [6]
10. 11-Lance Walldan, [9]
11. 23Z-Zach Raidart, [7]
12. 94-Jim Wehrman, [8]
13. 00-Paul Shaffer, [11]
14. 61-Zach Hansen, [3]
DNS: 5-Garrett Deieso
DNS: 38-Allen Hafford,
Autometer A-Main (20 Laps)
1. 7S-Craig Campton, [3]
2. 71S-Doug Schenck, [5]
3. 14AJ-B.G. Wood, [1]
4. 01-Chris Dodd, [10]
5. 21-Ryan Zielski, [8]
6. 18-Nick Petska, [6]
7. 20-Natalie Klemko, [12]
8. 40-Tim Cox, [20]
9. 91-Jimmy Sivia, [9]
10. 9-Greg Olsen, [7]
11. 19K-Derek Crane, [14]
12. 29-Randy Stanford, [16]
13. 6-Vince Bartolotta, [13]
14. 70-Chris Klemko, [17]
15. 41-Dennis Spitz, [18]
16. 54-Scott Grissom, [11]
17. 50-Rusty Egan, [21]
18. 1-Rod Colburn, [22]
19. 77-James Walldan, [15]
20. 51-Charles Spoonmore, [24]
21. 22-Greg Alt, [19]
22. 4-Jordan Paulsen, [2]
23. 39-William Huck, [23]
24. 38V-Matt VandeVere, [4]