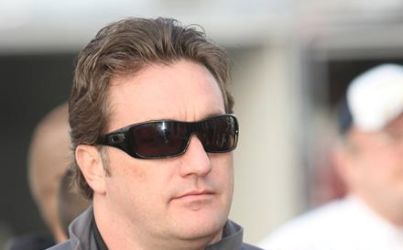 From Bill W
Terry McCarl's finish at Tri-State Speedway in Pocola, Oklahoma last Saturday with the World of Outlaws is still a bit of a mystery. A strange series of events on a tire-eating track left much in doubt. A top ten finish was one certainty, and he'll head to Paducah International Raceway in Kentucky and the I-55 Speedway in Pevely, Missouri this weekend.
It was good for the Big Game Treestands #24 team to get back in action. It had been since March 20 that the team had run with the WoO. "It was just a fun weekend for us," says TMAC. "The Charlotte crash last fall hurt me physically. It was difficult to get back in shape last winter. Then we had that hard crash at Tulare. Physically, it was good to have a few weeks off. It was good for our team. We all traveled together, and we had a great time."
Saturday's draw was not the best, but the Maxim chassis with Don Ott power was up to the task. "We drew dead last, and walking across the track, you knew it was eventually going to lay rubber," says TMAC. "Timing in 11th was a great time for coming out last, and that set us up for a good night."
The time put TMAC on the pole for his heat, which he won going away. "We had a great car in the heat," he says. "I think we won by about a straightaway. We had an advantage over Kraig Kinser, because we started on the pole and had some moisture to give us a boost there at the start."
If he was good in the heat, the Altoona, Iowa driver was great in the dash, running from a tenth starting spot to third. "You just hope to gain a couple of spots and start your progression to the front," he says. "We were unreal though! We were running through the middle. Steve (Kinser) spun at the halfway point, and that may have helped, but I think driving up to third was pretty amazing."
Looking at the track, the team tried to size up their feature run, starting inside row two. "We didn't want to get the car too free, but you knew it was going to lay rubber," says TMAC. "It was just a matter of what lap and how hard. We loosened the car after the dash. We probably put a bit too soft a tire on."
After running in the top five most of the way, TMAC lost a tire late in the event. "We weren't stellar, but we held our own," he says of the tire-eating parade. "There isn't enough ink in this article to tell the whole story, but we ended up with something in the top ten after changing a tire late. There was a multitude of problems."
Chaos ensued. "Guys were changing tires and lining up in the wrong spots," he says. "A few were lining up in front of us after changing their tires. There were some rules broken by some guys too in the tire/wheel changing department. I would say the scoring was the number one problem. To put guys up in the order that had just changed tires was unbelievable."
TMAC can deal with the frustration of the events, but felt for the fans. "I think what bothered me most was the embarrassment of it," he says. "I just felt embarrassed to be a part of it for the fans. They packed the place and with a proud organization running the show…it was just embarrassing. I don't know what's going to happen with the results. I know they aren't correct as they are now, and we'll have to see what is decided."
Right now, TMAC is shown in ninth in the results, though as of this writing, they are still unofficial. He wanted to add something about the restarts. "One thing I would like to talk about is the double-file restarts," he says. "People know I'm a fan of them, but we had a discussion in Florida that they wouldn't be taking place on a track that was one-lane. That's just a recipe for disaster. I thought everyone agreed on that. Also we started double file two times in a row (Saturday). The rule states you go single-file the second time after a caution. Obviously, that wasn't the case at Pocola and they paid a heavy price."
It wasn't all frustration on the track. Brandon Ikenberry drove at the Lucas Oil ASCS National series event on Friday, and the team had fun with it. Starting ninth in a tough heat that included Brian Brown and Shane Stewart, Brandon passed notables such as Sammy Swindell and Brady Bacon to run fourth. "That heat was where Brandon impressed us the most," says TMAC. "It was the toughest heat of the night, and he really showed some of the things he learned racing in Australia. Our Fisher engine is strong, so that certainly helped him out too."
Starting third in the main event, Brandon got in line on a rubber-down track (about five laps in) and held onto a second place finish. "He was comfortable from hot laps on, so that was key," says TMAC, who played crew chief for a change. "(Travis) Rilat about got into him at the start, but he came through that. I think he had a real shot at the win if the rubber hadn't been laid. You can't take anything away from Matt Covington though. He did a good job. Brandon will probably drive the 360 for us again this year."
Front Row Challenge/Ultimate Challenge
The 15th Annual Front Row Challenge and the 9th Annual Ultimate Challenge will be held Monday and Tuesday, August 9 and 10, 2010 at the Southern Iowa Speedway in Oskaloosa, Iowa. Advance ticket holders from 2009 can purchase the same seats NOW by calling McTwo Promotions, Inc. at 515 957-0020.
Tickets will be open to the public on March 23. Visa, Mastercard and American Express are welcomed. Visit www.OskyChallenges.com for further details.
Websites for the McCarl Gang!
Driverwebsites.com has developed websites for the McCarl boys. Check out www.TerryMcCarl.com, and check out www.AustinMcCarl.com and www.CarsonMcCarl.com!
In"Terry"gation
Eddie Helms asks: Is there an up-and-comer or two in the 410's that you have been impressed with?
TMAC Answers: There are a lot. One that is obvious is Cody Darrah. He is a super-nice kid, and he didn't deserve what happened to him with the injury this year. He'll bounce back from that quick. There are a lot all over the country. The future is looking really bright for 410 racing right now.
Got a question for TMAC? Send it to us at sprntcar@iowatelecom.net, and we may answer it in this section! Put "? for TMAC" in your subject line.
This Day in TMAC History!
On this day in 2001, TMAC claimed the Danny Young Memorial at the Iowa State Fairgrounds in Des Moines. The win came ahead of Tony Norem, Dennis Moore Jr., Randy Martin and Don Droud Jr. The win was the first of 22 that TMAC would win that season including the 360 Nationals and the Shaheen's Blast from the Past at the Jacksonville Speedway in Illinois.
Website Updates
Keep up to date with McCarl Motorsports at www.TerryMcCarl.com. We keep it fresh for TMAC fans!