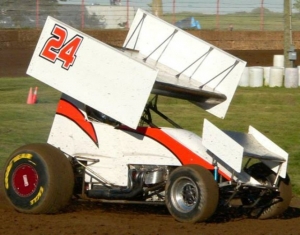 By Bill W
July 20, 2010 – For the second weekend in a row, Terry McCarl was able to drive to Victory Lane. This time it was at the Rapid Speedway in Rock Rapids, Iowa last Friday night in the last of three 410 specials at the track. This week, the Altoona, Iowa driver has an ambitious schedule in mind that may include as many as four events.
TMAC is appreciative of the promotion of the 410 events at both Rock Rapids and Hartford, South Dakota. "Jeff Davis and the folks up there did a great job of promoting that," he says. "It was a lot of fun taking Austin up there this year, and of course, he got the win too. The open wing and open tire rule were great, and we did our best to support it."
The heat saw a starting spot inside row two. TMAC grabbed the lead and went on to win. "Our good draw certainly didn't hurt us," he says. "The track was rough in spots, and I just tried not to make any mistakes. We did the best we could."
TMAC redrew for a starting spot inside of row two. Several cautions and a fuel stop plagued the feature, making it resemble a NASCAR event. TMAC took a lap four lead and went on to win. Unfortunately, son Austin, who won at Rocky in June, was unable to start the race. "The car was good all night," says TMAC. "If someone got around us, they deserved to win. I was disappointed that Austin couldn't run the feature. He actually had a lot tougher heat than me, and made it through there. I think he was definitely a top five car."
The win was TMAC's first in Rock Rapids. "We're racing just one day at a time, and trying to get back in shape," he says. "I'm working on the arm every day to get it stronger, and we're getting there. We had a great time, and it was fun to win. Kevin Deberg of Deberg Concrete was there, and Jon Black and his wife from Rossie Feed and Grain were there too."
Racing at Knoxville on Saturday night, was a bit frustrating. TMAC would checker the feature in sixth. "We were disappointed with how we did," he admits. "We were good in qualifying (2nd quick) and the heat (2nd). Jerry Russell from Eagle Chassis was there helping us. What bit us the most, was the tire choice. I wanted to try a 200 (compound). I walked across the track and it looked pretty dry. We were experimenting with the car too, and the track just stayed heavy, and we were way too tight."
Austin had the car figured out, and at one point, stuck his nose under TMAC. That move was discarded, but he would later shoot around dad in a bid for a top five. "Austin did a great job," says Pop. "I could feel someone was on me, and then they went by me. I was mad until I saw it was Austin, and then I said, 'Go get 'em!'. I think he had a top five car. He actually showed me the line I taught him, and it made me wonder why I hadn't done that sooner."
Austin would spin a lap or two later. "He just got a little overzealous, and that happens sometimes," says TMAC. "It seems that every night out now, he amazes Lori and I with something. He's a good kid and a great racecar driver. I just wish he had the opportunity to race more and race other things."
TMAC will run Wednesday night at the ASCS-Midwest show at the Crawford County Speedway in Denison, Iowa. He will be piloting Gary Swenson's #24A. He also plans to run ELKO Speedway in Minnesota on Friday with the IRA before returning to Knoxville on Saturday. If all goes well, he will travel to Huset's Speedway in South Dakota on Sunday.
Front Row Challenge/Ultimate Challenge
The 15th Annual Front Row Challenge and the 9th Annual Ultimate Challenge will be held Monday and Tuesday, August 9 and 10, 2010 at the Southern Iowa Speedway in Oskaloosa, Iowa. Order your seats NOW by calling McTwo Promotions, Inc. at 515 957-0020. Visit www.OskyChallenges.com for further details.
Websites for the McCarl Gang!
Driverwebsites.com has developed websites for the McCarl boys. Check out www.TerryMcCarl.com, and check out www.AustinMcCarl.com and www.CarsonMcCarl.com!
In"Terry"gation
Michael Burns asks: How did the transition go with team members? What is involved in starting a new team and approximately how much does it cost?
TMAC Answers: People come up and ask a lot. A lot of the time, it is just timing. I always tell the younger guys to get their CDL. That helps quite a bit with any team. Mechanical ability and a good work ethic goes a long ways. As far as pay, everyone is different. Some go by percentage, and some by salary.
Got a question for TMAC? Send it to us at sprntcar@iowatelecom.net, and we may answer it in this section! Put "? for TMAC" in your subject line.
This Day in TMAC History!
On this day in 2006, TMAC drove the #24 to victory with the World of Outlaws at the historic Williams Grove Speedway near Mechanicsburg, Pennsylvania. Terry also won the dash. He fended off friend Daryn Pittman, who finished ahead of Craig Dollansky, Donny Schatz and Lance Dewease.
Website Updates
Keep up to date with McCarl Motorsports at www.TerryMcCarl.com. We keep it fresh for TMAC fans!
"Tuesdays with TMAC"!
"Tuesdays with TMAC" is an up close and personal look at colorful sprint car veteran Terry McCarl. To receive "Tuesdays with TMAC", send an e-mail to sprntcar@iowatelecom.net with "TMAC" in the subject line.
TMAC Motorsports would like to thank sponsors Deanfield Farms, AmeriCashAdvance.com, DeBerg Concrete, and Rossie Feed and Grain.