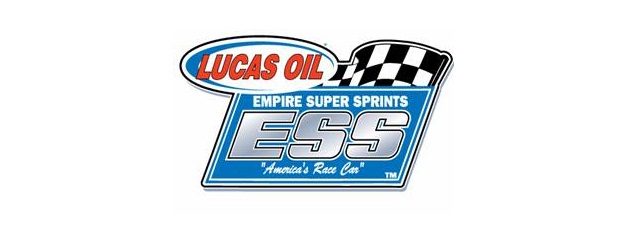 From Dean Reynolds
Back on August 13, 1983 a club called the Empire Super Sprints got its start. A gentleman named Bob Featherly took the first ever win and now just over 28 years later the winged warriors of the Lucas Oil tour makes its return to the place they started…the Fulton Speedway. No less than 62 ESS events have been held here, more than any other track.
Just like its sister track, the Brewerton Speedway, the combination of Wight, Fink and Connelly are running the ship and Fulton plain and simple is coming back from the dead. Once a track that played host to thousands every Saturday night, the new millennium wasn't too kind to the high banked oval.
With new energy, fans and competitors are finding their way back to the Oswego County oval. Big Blocks with some serious names are in the field weekly and with many specials to keep the fans on edge. The Lucas Oil ESS stars are back for the first time in four years, the World of Outlaw Sprints were back as well and to cap off the season is the 25th annual Fulton 200.
Improvements have been made here as well with the incredible side by side action that is the norm here preserved. Fulton is a great sprint car track and fans will be in for a treat on Aug. 21 for the ESS visit.
Drivers of local interest are Dan Kaszubinski, Tommy and Dave Wickham, Doug Emery, Zach Weigand and Shawn Donath.
For more information on the Lucas Oil Empire Super Sprints please visit www.empiresupersprints.com
ESS Facts – Fulton:
ESS Events Run: 62
Different Winners: 21
Most Wins: Gordy Button (12)
Last Event Run: 5/06/06
Most Recent Winner: Bryan Howland
Fulton Facts:
Location: Rte. 57, Just 1 mile south of Fulton
ESS Date(s): Aug. 21st
Track Manager: Harvey Fink
Track Phone: (315) 593-6531
Website: www.fultonspeedway.com
Sites of Interest:
City of Oswego and Lake Ontario just 15 min. away
City of Syracuse just 35 minutes away.
Sister Track, the Brewerton Speedway 20 min. away.
The Lucas Oil Empire Super Sprints are brought to you by: Lucas Oil, Northwood 2 Construction/LaSalle Motorsports, SUNY Canton, 730 Truck Stop, Hoosier Racing Tires, Les Constructions Ultra, Cooks Contracting Services, Fondations 4 Saisons, Car Mate Trailers, The National Parts Peddler Newspaper, WestFront Construction, Cobra Coaches, The Ohsweken Speedway, Mohawk Racing Parts, Engine Research, Brodix Cylinder Heads, Total Race Supply, Riverside Bar and Grill, Coffrage Daniel Lampron, Mohawk Valley Community College, FX Chevy and many, many associate sponsors.