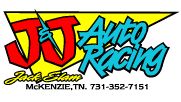 From J&J Chassis
McKENZIE, TN (Aug. 18) – Every Sprint car team in the world wants to win the Knoxville Nationals. Only one can and for the fifth consecutive year, one using a J&J Auto Racing car came out on top.
Tim Shaffer captured his first Knoxville Nationals crown in thrilling fashion in Sprint car racing's biggest race. J&J had a superb weekend that also saw Donny Schatz run second to give J&J the top two positions on the podium, while Josh Schneiderman, Dusty Zomer, and Skip Jackson also had strong performances at the Nationals. Knoxville wasn't the only site where a J&J came out on top. Mike Wagner debuted a J&J and raced it to victory as well at Port Royal Speedway, while Brian Herbert collected a pair of United Rebel Sprint Series victories last week.
KNOXVILLE NATIONALS
One year ago, Tim Shaffer and the CH Motorsports team won the opening feature event of the 49th Knoxville Nationals. It was a stepping stone for the team and proved the No. 83 Kistler powered J&J was going to be a factor. After reeling off five consecutive wins leading up to the Nationals, Shaffer and the team were certainly going to be a factor in the outcome this year.
Crew Chief Brian Kemenah and the rest of the CH Motorsports crew built a new J&J on the Marion County Fairgrounds and Shaffer promptly turned the fastest lap out of 50 cars in Wednesday's opener. Despite missing the transfer spot in his heat race by one, he moved through the B main and raced from the tail of the A-main to a tenth place finish. The results allowed him to collect the most points of any driver during the opening night.
With Friday's A-Scramble washed out, Shaffer ended up 7th overall in the qualifying point process and rolled off in Saturday's 50-lap Knoxville Nationals A-Main inside row four. The reigning All-Star champion and current point leader, wasted little time and quickly was in a battle for fourth with Steve Kinser. Fourth was where Shaffer stayed until late in the race when he took third from Brian Brown. With eight laps to go, Shaffer trailed leader Sammy Swindell and Donny Schatz. When Swindell lost a left rear tire and crashed, "The Steel City Outlaw" was in position two with only three laps remaining. Schatz pulled Shaffer on the restart, but Shaffer reeled him back in and made his winning pass in turns three and four racing back to the white flag. He pulled away on the final lap and scored the biggest win of his career.
"It's incredible," exclaimed a euphoric Shaffer, who earned $150,000 for the win. "It's hard to explain. To be up here is a dream I never thought I'd come close enough to achieving. I can't thank (car owners) Aaron (Call) and Janet (Holbrook) enough. Brian Kemenah is an awesome crew chief. We communicate so well and that's what it takes.'
"When Sammy blew the tire I was just scared I was going to get tied up with him. But being in second, it was like, 'Wow. This is for real now. You'd better make something happen.' "
OTHER STRONG NATIONALS PERFORMANCE
For four-time Knoxville Nationals champion Donny Schatz it was just a matter of those final three laps. After debuting a TSR "Gold Standard" special schemed car for the 50th annual Knoxville Nationals, he made his presence felt in Thursday's qualifying program.
Despite qualifying seventh in the field of 50, he was a rocket on the track charging from seventh to second in his heat race and racing from fourth to second in the feature event. On the final lap, he looked to have overtaken leader Sammy Swindell for the lead, but the yellow came out. It was almost disaster as Schatz' right rear tire began losing air under caution. The Fargo, N.D., racer was able to keep the tire up long enough to cross the finish line, but he would come home fifth instead of second.
He accumulated the fourth most points and in Saturday's finale quickly jumped into a three-car battle for the lead with Swindell and Brown. Following a lap 8 restart, he assumed second and worked Swindell time after time trying to grab the top position. He did lead lap 45 before Swindell got back by him. When Swindell blew his tire, Schatz led the field back to green and he looked to be on his way to a fifth straight victory. Unfortunately, he had an engine going south on him and he didn't have the horsepower to get back past Shaffer on the final lap. His second place finish marked the ninth time in 11 years that he has finished either first or second in the race.
"We gave it everything we had," said Schatz following the race. "Sammy set a torrid pace and I pushed this car to the limit and in the end, we may have pushed it just a bit too hard. Timmy and all of his team did a helluva job tonight and my hat goes off to them. My crew worked so hard to build this special Gold Standard car and I thought at the end there we were going to make it five. It didn't work out. I know it was a really great race to be involved in, and I'm sure the fans enjoyed it too."
JOSH SCHNEIDERMAN
This year's coming out party at the Nationals may have been that of Josh Schneiderman and the Deuce Motorsports No. 49 team. Josh qualified 20th in Thursday's program, and finished fifth in his heat race. He made a dramatic pass late in the B-Main to secure a spot in the 25-lap preliminary feature. He promptly raced the No. 49 Ideal Ready Mix/iwireless sponsored J&J from 24th to 13th. With the evening complete, Schneiderman would end up 25th overall in points, so he would start Saturday's B-Main in fifth.
The 22 year-old continued his solid week on Saturday by racing his way into the A-Main with a third place finish in the 22-lap B-Main. In the 50-lap A-Main, Schneiderman continued to climb in the standings and ultimately finished 13th.
"Being in the feature of the 50th Annual Knoxville Nationals was an absolutely amazing feeling. The crew tuned on the car after the B and got us even better and we were able to go forward in the feature, making the night even better. I have to thank my entire team for their hard work all week long."
DUSTY ZOMER
Dusty Zomer made it consecutive Nationals A-Main appearances thanks to a solid qualifying night in Derek Ingalls No. 91 J&J. Zomer qualified sixth, but was forced to run the B-Main following an eighth-place finish in his heat race. A third-place finish in the B-Main advanced him into the 25-lap A-Main on Thursday night. Jeff Woodruff and the crew gave him a strong car as he raced from 23rd to finish eighth. He started Saturday's A-Main 15th and came home 16th.
SKIP JACKSON
Skip Jackson had a solid week at Knoxville as well. The Sydney, NSW, Australia racer made his sixth career Knoxville Nationals A-Main thanks in large part to a consistent qualifying night effort. Jackson qualified the No. 2 J&S Auto Sports J&J 13th and raced from sixth to fourth in his heat race. The finish put him on the pole for the 25-lap preliminary feature. He ran in third most of the race before overtaking Donny Schatz on the final lap. He ultimately would finish third and accumulate enough points to be 12th overall. The fun didn't last as long as he hoped it would in the 50-lap race. He retired early with motor issues.
"I'm grateful for all the people that help me," said Jackson. "They are the reason we were able to have the kind of week we did."
PORT ROYAL SPEEDWAY
Mike Wagner was the lucky winner of the J&J Auto Racing frame late in the 2008 season and last Saturday, he finally put on the track. Wagner took command of the race on lap 18 and resumed control when a final caution slowed the action on lap 20. From there it was all Wagner as he zoomed away to score his first win of the season.
Wagner's name was drawn following a year-long promotion organized by Cleveland Brothers CAT, Ramsey's Car Wash and J&J Auto Racing.
"This is the J&J car we won here the other year," explained the winner. "We finally got it together. It seemed to work pretty good. We've had this car ready and we finally broke it out. Tonight was the right night. I didn't think I was that good. Then I got to third place. When I took the lead I figured I better run a little harder. It seemed to run pretty good."
Wagner was joined on the podium by two other J&J racers. Ryan Taylor raced the No. 20 Evan Heat Treating/RT Graphics/Barry Taylor sponsored J&J to a second place finish ahead of Chad Layton, who drove the Middleswarth No. 7 J&J to third.
OTHER J&J WINNERS….LeRoy Perfect continued to be the man to beat in Alaska. He drove his No. 27 J&J to another Sprints Alaska victory this past Saturday night. Brian Herbert raced the No. 97 J&J to victory last Thursday at Jetmore (Kan.) Motorplex and followed that win up with a URSS triumph at Dawson Co. Raceway in Lexington, Neb. on Sunday.