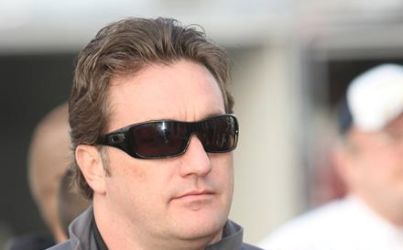 By Bill W
August 24, 2010 – Terry McCarl is still in a lengthy recovery process from a leg injury sustained on July 30 at the Huset's Speedway. Missing the Knoxville Nationals was disappointing, as he was gaining momentum heading into the event following a lengthy absence from a torn biceps tendon. Meanwhile, he waits, helps his sons any way he can, and oh yeah, promoted two great races in Oskaloosa. Last, but not least, Terry would like to thank the Steve King Foundation, the Knoxville Raceway Charitable Organization and Thursday 50/50 winner Wade Briggs for their donations to his medical bills.
It's evident that the Altoona, Iowa driver was in the dumps about missing the Nationals. "It was pretty disappointing, because I was really getting pumped for the Nationals," he says. "I really felt it was meant to be this year for me. After losing my ride, and coming back from the biceps injury, I had a Cinderella story going. I had won 4 out of 9, and I felt that night at Huset's would make 5 out of 10. We had a great comeback going on, and I felt great in the Eagle cars."
Some help was locked and loaded for the Nationals before the injury came. "Things were coming together," says TMAC. "I had talked to a few people about sponsorship for the Nationals, but obviously, the injury put that on hold. Things were headed in the right direction. The pressure was off, to be honest, and I was feeling good about things."
The injury came when debris came through the side of his cockpit at Huset's. "I broke both the tibia and fibia in half," says TMAC. "It was a really bad break. Then I had what they call 'Compartment Syndrome'. The swelling happens so quickly that you have to do something quick to save the leg. They made an eight inch incision on both sides of my leg to relieve the swelling."
The surgery to repair the bones was only a small part of what doctors had to do to start the healing process. "I had the surgery on the bones on Friday after the crash, and I laid there for two days just to let it bleed and relieve the swelling," says TMAC. "They were able to close the left side on Sunday. By Tuesday, they couldn't get the right side closed, so they had to use skin grafts from my thigh to do it."
Until a recent visit to the doctor, TMAC had not seen the injury. "I hadn't seen the wound until the doctor looked at it last week," he says. "He was pleased with the way it looked, but I couldn't believe it. It looked awful, and I was pretty upset. Unfortunately, my leg modeling days are over!"
A racer thinks in crazy ways sometimes. "A couple of people suggested I should just qualify the car at the Nationals to enter the World Challenge," he says. "I thought it was a good idea until I realized I couldn't move my foot. Now I am moving it up to an inch both ways. It doesn't sound like a lot, but from where I was, it's going good. I can't put pressure on the leg at all, and I can't use a boot because of the skin grafting. It may be awhile before I can start physical therapy."
TMAC is as positive as can be for someone enduring a second lengthy rehab and sabbatical from the sport he makes his living at. "It's another test for me, that's for sure, but I'm going to be back stronger than ever," he assures. "The surgeons say I'm going to be off for the rest of this year, but I'm hoping we can put something together late in the year."
The Front Row Challenge and Ultimate Challenge went very well in Oskaloosa despite TMAC supervising from crutches and a golf cart. "We got them in for the fans, and that was the main thing," he says. "Both were great races. I think the 'King of the Hill' Match Race between Joey Saldana and Tyler Walker was one of the most awesome races I've seen in my life. There was a lot of rain around…we were just happy to get it in."
Racing continues in the family with sons Austin and Carson. "I'm proud of Austin, and the good job he's done," says TMAC. "He is a great kid. Carson's racing has been lost a little bit with the injuries this year, but we're hoping to get him out two or three times in a 305 sprint before the season is over."
Websites for the McCarl Gang!
Driverwebsites.com has developed websites for the McCarl boys. Check out www.TerryMcCarl.com, and check out www.AustinMcCarl.com and www.CarsonMcCarl.com!
In"Terry"gation
Joe Kirschbaum asks: Is there anything that can be done to create more parity in sprint car racing or is it simply a matter of who spends the most wins?
TMAC Answers: I don't believe that money always wins the race. It definitely helps, but if you look at guys like Wayne Johnson and myself…we were pulling our cars to the track with flatbeds. I think we both showed that it can be done on a shoestring earlier this year. You look at guys like Davey Heskin, who finished fifth with a 360 engine, and Josh Schneiderman, and Austin, they don't have a whole lot. All it takes is one good car, and one good engine to get it done. Big trailers don't help anyone win races. Every night, it is just one car and one engine on the track. Brian Brown and Don Droud Jr. probably have the most money behind them at Knoxville, but they are also two of the best drivers. If you look at the Outlaws, there are teams outside of the top ten that aren't lacking finances, and they aren't finishing up front, even against the local drivers. I think we need to stop making excuses, and go out there and work as hard as we can.
Got a question for TMAC? Send it to us at sprntcar@iowatelecom.net, and we may answer it in this section! Put "? for TMAC" in your subject line.
This Day in TMAC History!
TMAC won in 1991 on this date in Weldon Offill's #88 at the Johnny Key Classic 100 at the San Jose Fairgrounds in California. Brent Kaeding was second, followed by Rick Martin, Nick Rescino and Mike Henry. TMAC also won at Huset's Speedway on this day in 1997 driving the Holbrook #8H. Danny Lasoski was second, ahead of Doug Wolfgang, Garry Brazier and Dennis Moore Jr.
Website Updates
Keep up to date with McCarl Motorsports at www.TerryMcCarl.com. We keep it fresh for TMAC fans!
"Tuesdays with TMAC"!
"Tuesdays with TMAC" is an up close and personal look at colorful sprint car veteran Terry McCarl. To receive "Tuesdays with TMAC", send an e-mail to sprntcar@iowatelecom.net with "TMAC" in the subject line.
TMAC Motorsports would like to thank sponsors Deanfield Farms, AmeriCashAdvance.com, DeBerg Concrete, and Rossie Feed and Grain.