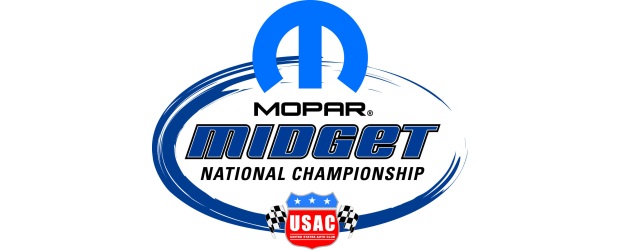 From Dick Jordan
A check in the amount of $15,000 awaits Saturday night's 50-lap feature winner at Tri-City Speedway in Pontoon Beach, Ill. as the track hosts the nation's top-paying Midget race – the "Gold Crown Midget Nationals."
USAC "Triple Crown Champion" Jerry Coons Jr. is the defending winner of the 3-night "Gold Crown Midget Nationals," winning the inaugural race in 2008 at Tri-City. Heavy rains forced cancellation of last year's scheduled event.
The payoff for Saturday night's race is spectacular, with the winner receiving $15,000, second $8,000, third $5,000, fourth $4,000 and fifth $3,000 and a guarantee of $1,000 to start! Thursday and Friday's preliminary features each award $1,500 to the winner. The only Midget race to offer more to a winner was the 1999 "Summer Sizzle" at 16th Street Speedway in Indianapolis, Ind. where Jason Leffler picked up $20,000 for his victory.
Practice Thursday through Saturday is scheduled to start at 6 pm, followed by racing at 7. Thursday and Friday action will also include the 410 non-winged sprint cars and on Saturday the 360 winged sprints will join the Midgets on the program of events.
Tri-City's rich USAC racing history began in 1961 when Danny Frye won a 30-lap Midget race. Fifty-one races later a total of 35 different drivers have won in USAC competition at the Illinois oval. The late Bob Tattersall leads the list with four wins, while Mel Kenyon, Jack Hewitt and Doug Wolfgang have won three times there in USAC competition,
Co-sanctioned by the USAC and POWRi Midget Series, top threats for victory in the "Gold Crown Midget Nationals" will include USAC point leader Bryan Clauson and POWRi leader Brad Loyet. Clauson has already proven he can win at Pontoon Beach, claiming victory in the "Kevin Doty Classic" there in June. He also won this year's "Hut Hundred" and "Hall of Fame Classics" and added a win at Burlington, Iowa in USAC competition. Loyet owns six POWRi feature wins in 2010 and was ninth in the "Kevin Doty Classic" at Pontoon Beach in June.
The three nights of racing at Tri-City will also figure significantly into the battle for the inaugural USAC National Drivers Championship, with Clauson 29 points ahead of Levi Jones. That champion receives a $40,000 cash bonus at season's end and a "top-five" finish for either Clauson or Jones in any of the three events would enhance their chances for that honor.