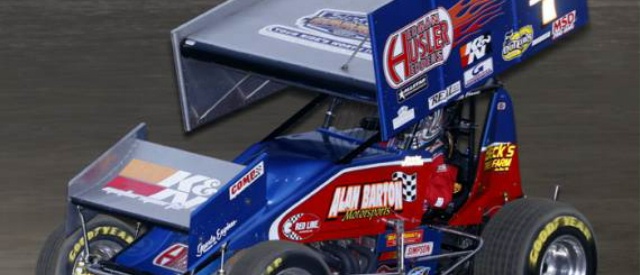 By Bill W,Ryan Northcote Photo
April 27, 2011 – It was a solid start to the sprint car season for driver Brandon Wimmer and the Alan Barton Motorsports #7TW team. A last minute decision to run the Monster Energy™ Sprint Series' opener at 34 Raceway in West Burlington, Iowa paid off with a fourth place finish. This weekend, they plan on taking on the World of Outlaws at Tri-State Speedway near Haubstadt, Indiana.
A stout field was on hand, and the Fairmount, Indiana driver was able to lay down a solid time. "We were able to get out there early and put the fifth quick time of the night down," he says. "With 39 cars there, we'll take that…especially in that it was the first time we had run at that track."
Starting in row three beside Danny Lasoski in heat one, Brandon was able to pick his way forward to finish second behind Joey Moughan. "We had a really good heat race," he says. "It was tough. We had Lasoski, Davey Heskin and Joey Moughan in there. It wasn't easy by any means. We were able to get the jump on Lasoski, and then Austin (McCarl) was pulling a wheelie down the frontstretch and we were able to get by him late for second. It was good to be out in the first heat where we didn't have to deal with the rain showers."
Two rain delays slowed the program, and light drizzle was falling when Brandon pushed off to start fourth in the 30-lap feature. "I thought it would be really greasy and slick for the feature, but it wasn't too bad," he admits. "I was kind of surprised with that. When they pushed us out, it was really slippery. When we went green, you really couldn't tell."
Brandon went most of the distance in the top five, but fought some handling problems early. "It was tacky and rough at the beginning, and we were too tight," he says. "The track actually started to slick off about halfway through the feature, and that's when we got a lot better."
In the end, he was coming on and ended up with the fourth place finish. "We were able to move forward," says Brandon. "We fell back at the beginning, but we were able to come back with a solid finish. Outside of Kaley Gharst, I think we had one of the faster cars. We were right on (Joey) Moughan's tail at the end."
The team was happy to be racing after suffering two weeks of rain-outs with the Outlaws. "For the first night out with the team, we were just glad to get a race in," says Brandon. "We're thankful for the folks in Burlington to work hard to get the show in. There were a couple of times that they could have cancelled if they wanted to. You could tell they had been working hard all day just to get us in the pits."
The track will host the Monster series again in September, and Brandon plans to be on hand. "All in all, it was a good night," he says. "We had been trying to race the last two or three weeks, so we were happy to get it in. We waited until the last minute to decide to race there, and I'm glad that we did. I'm pretty sure we'll be back for the $4,000 to win show there in September."
Win a New Sprint Car by Purchasing Hedman Hedders
Buying a set of Hedman Husler sprint car headers could get you a new sprint car in 2011. Buyers of Hedman Husler sprint car headers will be put in a drawing for the giveaway car…a Eagle chassis supplied with a Gaerte 360 engine.
About Hedman Husler
Hedman Husler is part of Hedman Performance Group comprised of Hedman Hedders, Trans-Dapt and Hamburger's Performance Products. Hedman Hedders, began as a one man shop in 1954. Bob Hedman, founder of Hedman Hedders, sold his highly sought after exhaust tubes to fellow racers on the salt flats of the Mojave Desert. But, what started out as a way to make a few bucks to pay for Bob's racing hobby, quickly turned into the premier hedder manufacturer for both the racing and street hedder marketplaces.
Originally designed for straight-line drag racers, word spread quickly about Hedman's reputation for building hedders that gave you the best boost in power for your dollar. It wasn't long before Hedman Hedders was the brand of choice among racing's elite engine builders, racers and race series. Familiar names like Don Garlits, Warren Johnson, Shirley Muldowney, Bob Chandler and his BIG FOOT Race Team, and the IROC series.
Hedman Hedders constantly reshapes itself to meet environmental requirements and incorporates computer technology to ensure that its products offer the best performance improvement.
Whether you're a Pro or sportsman racer, Hedman Hedders builds your hedder with one goal in mind, optimum performance. Even if you're not a racer, the lessons Hedman learns at the track and on the dyno make it into every street hedder we design.
Team Mannatech
Brandon has realized that a driver not only needs good equipment on the racetrack, but needs to also be in the best physical shape to be a success. That's why Brandon has added a wellness program to his daily routine, which includes adding a line of scientifically validated nutritional products from Mannatech. Mannatech, Incorporation is a leading developer and provider of proprietary nutritional supplements, weight management products and skin care solutions. Athletes around the world rely on Mannatech products because they are formulated from high quality, natural plant sources and are formulated without any substances banned by major worldwide anti-doping agencies.
Brandon has been invited to serve on an elite team of athletes called Team Mannatech because of the results he has had with the products and will be working to share his experience with drivers, crews and fans. With more than 200 athletes representing countries around the globe, Team Mannatech members have been drawn from the exclusive ranks of sports legends, the everyday athlete and young enthusiasts destined to become superstars. They inspire action and attract passionate wellness champions and are all role models for their sport, committed to helping people of all ages lead a healthy, active lifestyle.