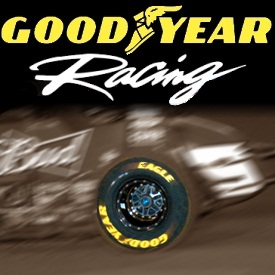 By Lee Elder
MUSKOGEE, Ok. (May 2, 2011) – Whit Gastineau won the second round of the 2011 Oil Capital Racing Series season when he took the victory at Thunderbird Speedway.
Goodyear is the Official Tire Company of the OCRS, supplying a series-specific right rear tire. The remainder of the tires offered OCRS competitors are from the same line of tires it provides other touring sprint car series, both regional and national programs. Goodyear also supplies tires to weekly winged sprint car racing programs at tracks around the nation.
Goodyear and OCRS leadership granted competitors the opportunity at the start of the season to use up their tire inventory left over from the 2010 season. More and more drivers are switching to Goodyear tires and winning on them.
"I had a right rear Goodyear on for the first time tonight and it worked great," Gastineau, the winner, said.
Sean McClelland finished second, followed by Andrew Deal, Casey Wills and Dean Drake Jr.
Deal said, "This was my first time to run (on a) Goodyear and (the track conditions) didn't even touch it. I could have run a little harder, as the tire looked great when I came in."
More information about Goodyear Racing is available at www.racegoodyear.com. More information about the OCRS is available at www.ocrsracing.com.