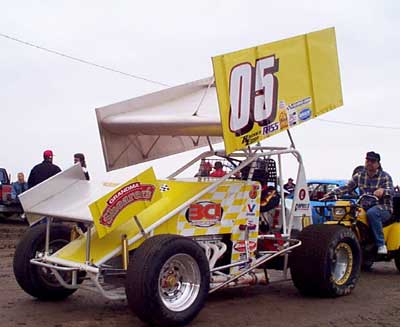 From Eldora Speedway
ROSSBURG, OH (July 13) – When the NRA (National Racing Association) Sprint Invaders compete Friday night (July 15) during Eldora Speedway's fabled Knight Before the Kings Royal, their members will be joining the fans in celebrating the memory of Jimmy Johnston.
Johnston's life came to an abrupt end at 48 years of age on April 6, 2002 when he was involved in a crash in the early stages of that evening's Modified main event at Eldora.
The Lima, OH veteran, who celebrated life to its fullest each and every day, loved racing and with the Sprint car season not yet underway at that point, had jumped behind the wheel of the modified to refresh his skills.
That ride, and freak accident, ended an 18 year racing career for Johnston.
Understandably, the area racing community was shocked and overflowed the funeral chapel to show their respect to Jimmy and his family.
But, it was inside that chapel that the celebration of Jimmy Johnston actually began. Countless photos of his racing career adorned the room, along with checkered flags. There weren't the traditional hymns pumped silently into the room, but rather, the signature Jimmy Johnston hard rock.
That was Jimmy Johnston and that was why he was respected by his peers.
That respect and celebration continues to this day. A victory in the Jimmy Johnston Memorial Classic is treasured by the NRA Sprint Invader regulars, as they reflect back upon their years of racing with and against the rebel, as he was sometimes referred to. The winner is greeted in victory lane by the Johnston family as they return in flock to carry on the Jimmy Johnston name at Eldora Speedway.
It was track owner and two time NASCAR Cup champion Tony Stewart greeting them last year as he competed against the NRA gang and captured the win.
Since its inception in 2003, Jimmy Johnston Memorial Classic winners have included Tim Allison and Dale Blaney as two-time victors, while Mike Brecht, Darren Long and Butch Schroeder have joined Stewart as single event winners.
Completing the all Sprint car Knight Before the Kings Royal doubleheader Friday night will be the World of Outlaws (WoO), with the same two groups returning the following night for the 28th annual running of the Kings Royal and the legendary chase for the crown.
Fully event information may be found on the track's website www.eldoraspeedway.com.
Images of Jimmy Johnston