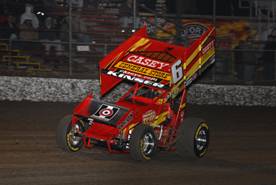 By Parsons Motorsports PR
Granger, IA—Aug. 2, 2011—While he grew up in the shadows of Bloomington Speedway, in his home state of Indiana, Kraig Kinser has only raced at the ¼-mile bullring a handful of times, as non-wing sprint cars have dominated the scene at the venerable track for well over the last decade and a half. The native of Bloomington will have a chance to compete at his hometown track this weekend aboard the Casey's General Store Maxim for Parsons Motorsports, as the World of Outlaws return to the facility for the first time since 1999, on Friday, Aug. 5. The event marks the only winged sprint car race of the season at Bloomington.
Kinser visited Victory Lane at Bloomington Speedway in 2002 with the former Great Lakes Outlaw Sprint Series. He has four career Top-Five finishes in six starts at the track which has seen three generations of his family visit the winner's circle, as his grandfather Bob and father Steve have both won their fair share of races at the ¼-mile.
A second bullring awaits the younger Kinser this weekend, as the World of Outlaws invade I-55 Raceway in Pevely, Mo. on Saturday, Aug. 6 for the Third Annual Ironman 55, with 55 grueling laps on the high-banked 1/3-mile on-tap.
Kraig won at I-55 Raceway in 2005 and has turned in several strong runs at the always racy, venue near St. Louis. He made his debut at the track in 2001 and has made 14 career starts with the World of Outlaws at Pevely, picking up five Top-10 finishes along the way, with three of those performances being Top-Five runs. Kinser set fast time in just his third career start at the track in April of 2003. He has finished in the Top-10 in three of his last five starts at I-55 Raceway, including a fourth-place effort in the finale of the Ironman 55 last season. The event this spring at the track was rained out, making the Ironman 55 the only visit of the season for the series to Pevely.
Kinser enters this week 12th in the World of Outlaws standings with 11 Top-10 finishes, following a sixth-place finish at Brockville Ontario Speedway last week and a pair of 13th-place showings at Ohsweken Speedway and Autodrome Drummond.
Kraig on Bloomington Speedway:
"I can't to hit the track at Bloomington. It's been a few years since I've raced there, so I am very, very excited. The fans there are great and I'll definitely have a lot of family and friends there, since it's my home track. Hopefully we can turn in a good run and give the fans a great show. I'd like to think we have a home track advantage, but against these guys everyone adapts to the track in a hurry, even if they haven't been there for a while."
Kraig on I-55 Raceway:
"The Ironman 55 is a tough race for sure. Not only do you have 55 laps and 23 other competitors, but you usually have the heat and humidity to deal with. You have to make sure to stay hydrated and out of the sun all day, so that you can conserve your energy and be around for all 55 laps. Things happen in a hurry at Pevely, so you have to always be on your toes and you really need your car to be working and luck to be on your side as well."
Kraig Kinser By the Numbers: Bloomington Speedway & I-55 Raceway:
0.25- Miles around Bloomington Speedway
0.33- Miles around I-55 Raceway
1- Event for the World of Outlaws this season in Missouri
2- Races for the World of Outlaws in Indiana this season
3 Generations of the Kinser family that have won at Bloomington (Bob, Steve & Kraig)
4- Career Top-Five finishes at Bloomington Speedway
6- Career starts at Bloomington
9.720- Track record at Bloomington Speedway
10.189- Track record at I-55 Raceway
11- Top-10 finishes through July 30
12- Position in the World of Outlaws championship standings
13.8-Average finish at I-55 Raceway in 14 career starts
40- Laps in the main event at Bloomington Speedway on July 5
42- Career laps led at I-55 Raceway in World of Outlaws events
55- Laps in the Ironman 55 at I-55 Raceway
258- Miles from Bloomington Speedway to I-55 Raceway
1999- Year the World of Outlaws last competed at Bloomington
2001- Year of first start at I-55 Raceway
4529- Points earned through July 30
46,680- Dollars earned through July 30
Keep up with all the action: Follow Kraig Kinser on Twitter at http://twitter.com/kraigkinser6 and receive live updates from the track each and every race night. Also keep up with Kraig online at the recently redesigned www.KraigKinser.com.
Tune in: Listen live to each and every World of Outlaws event on DIRTVision.com with "The Voice of the Outlaws" Johnny Gibson on the call. Visit www.DIRTVision.com for live audio of each and every World of Outlaws Sprint Car Series event.