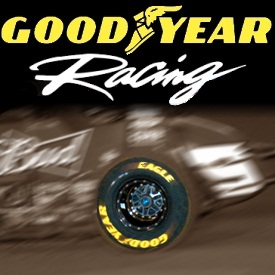 By Lee Elder
KNOXVILLE, Iowa (Aug. 8, 2011) – The sprint car racing world will converge on Knoxville Raceway this week for the 51st running of the Goodyear Knoxville Nationals, the most prestigious event in that form of the sport. The race is sanctioned by the World of Outlaws Sprint Car Series.
The four-night event begins Wednesday, Aug. 10.
Goodyear is the Official Tire Company of the WoO Sprint Car Series and is the exclusive tire provider for the rear wheel positions of the weekly 410 Sprint Car class at Knoxville. The Akron, Ohio-based tiremaker will supply 1,200 tires for the event, split among 17 variations of front and rear tire sizes and compounds.
"We look forward to this event every year," said Justin Fantozzi, Goodyear's marketing manager for dirt track racing. "This is a great American race. The atmosphere is tremendous."
Goodyear will staff the event with engineers and technicians, all charged with helping the competitors negotiate the tricky Knoxville half-mile venue.
Craig Dollansky won the most recent WoO event, taking the Ironman 55 at I-55 Raceway in Pevely, Mo. It was the seventh victory of the season for Dollansky. Jason Meyers took second, followed by Lucas Wolfe, Kerry Madsen and Donny Schatz. Paul McMahan recorded the quickest time during qualifying.
Schatz won a night earlier at Bloomington Speedway in Indiana. Wolfe was second, followed by McMahan, Chad Kemenah and Meyers. Meyers was the qualifying leader.
Meyers leads the Outlaws' championship standings as the series heads toward Knoxville. His 5,525 point total is 52 better than Schatz (who, for the mathematically challenged, has 5,473 points), who is second in the standings. Steve Kinser is third (with 5,420).
Handicapping the Knoxville race is frustrating. While the race is sanctioned by the WoO, the event draws winged sprint car racers from around the world as well as most of the weekly Knoxville teams. Simply put, the infield will be jammed with high-quality teams and drivers.
And they'll all be racing with Goodyear.
More information about Goodyear Racing is available at www.racegoodyear.com. More information about the WoO is available at www.worldofoutlaws.com.