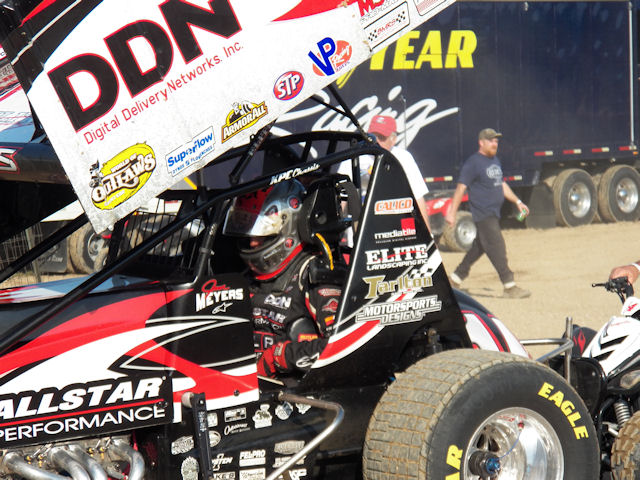 By Kyle Luetters
EDMONTON, ALB. CAN. — Aug. 26, 2011 — Jason Meyers was the quickest man by far on the first night of a two day show at Castrol Raceway in Edmonton, Alberta, Canada. In the process of setting Quick Time, Meyers broke the four year old track record by turning in a lap of 12.653 around the 3/8 ths mile oval. During the 30 lap feature, Meyers used both the top and bottom grooves to slide past Paul McMahan on lap 18 to hold on for the win.
"Charlie Garrett horsepower is the key to all of those Quick Times and track records," Meyers said as he stood by his #14 DDNi/GLR Investments/All-Star Performance KPC. "Everyone on this crew really works hard and I have to tell you, we love Canada. It's a long haul up here but the people are great and so I the racing. Another win is great. It puts more points up on the board. Tonight you really had to hunt around to find the right line because the track kept changing. The crew here did an awesome job of giving us a great racing surface tonight."
2011 Knoxville Nationals winner Donny Schatz was another driver who continuously searched around the track to find the right line for his #15 STP/Armor All/Chevrolet.
"The track certainly went through a lot of changes," said Schatz, a Fargo, N.D. resident. "There for a while, everyone was running the bottom which kicked some stuff up to the middle and I was able to take advantage of that for about four or five laps."
As Meyers and Schatz ran away from the pack, a battle was brewing behind them for the third spot. With early race leader McMahan and a lightening quick Jason Sides trading slide jobs at each end of the race track, Lucas Wolfe was able to sneak through for his second consecutive third place finish.
"We got to racing really hard there," said Wolfe. "Fortunately for us no one wrecked and we made it out with another great result. We keep running really well and that's encouraging as we head west."
The action on the track was fast and furious as several drivers moved throughout the top-5. McMahan wound up finishing in the fourth spot with Sides rounding out the top-5. Title contender Steve Kinser was caught up in a spin during a green-white-checkered attempt and finished 15th. His son Kraig, also running in the top-5 for much of the event, spun in turn one and finished the night 12th.
The 'Great Northern Tour' wraps up for the Outlaws as the series is back at Castrol Raceway in Edmonton, Alberta, Canada on Saturday, August 27.
CASTROL RACEWAY NOTEBOOK
WINNERS – There have been 46 World of Outlaws Sprint Car Series A-Feature events in 2011. The winners include: Craig Dollansky – 7 (Silver Dollar Speedway on March 12, Salina Highbanks Speedway on May 3, River Cities Speedway on June 17 and 18, Dodge City Raceway Park on July 1, Lebanon Valley Speedway on July 24, I-55 Raceway on August 6); Steve Kinser – 7 (Volusia Speedway Park on Feb. 11 and 12, Pike County Raceway on Feb. 25, the Dirt Track at Las Vegas on March 4, Lakeside Speedway on June 4, River Cities Speedway on August 19, Huset's Speedway on August 20); Donny Schatz – 6 (Attica Raceway Park on May 20, Princeton Speedway on June 25, Limaland Motorsports Park on July 13, Bloomington Speedway on August 5, Knoxville Raceway on August 13, Black Hills Speedway on August 23); Jason Meyers – 4 (Cedar Lake Speedway on July 8, Williams Grove Speedway on July 23, Autodrome Drummond on July 30, Castrol Raceway on August 26); Sammy Swindell – 4 (Royal Purple Raceway on Feb. 26, Merced Speedway on April 1, Tri-State Speedway on April 30, Knoxville Raceway on June 11); Joey Saldana – 4 (Las Vegas Motor Speedway on March 3, Thunderbowl Raceway on March 19, Eldora Speedway on May 6, Beaver Dam Raceway on July 9); Jason Sides – 4 (Volusia Speedway Park on Feb. 13, Calistoga Speedway on April 2, I-96 Speedway on May 30, Dodge City Raceway Park on July 2); Paul McMahan – 3 (the Dirt Track at Charlotte on May 28, Belleville Highbanks on June 3, Brockville-Ontario Speedway on July 29); Tim Shaffer – 2 (Eldora Speedway on July 15, Lernerville Speedway on July 19); Dale Blaney – 1 (Lernerville Speedway on July 19); Greg Hodnett – 1 (Williams Grove Speedway on July 22); Daryn Pittman – 1 (Williams Grove Speedway on May 13); Tony Stewart – 1 (Oshweken Speedway on July 27); Tyler Walker – 1 (Eldora Speedway on July 16.)
TIME TRIALS– Jason Meyers was the fastest qualifier around the 3/8th's mile oval with a time of 12.653 seconds and earned five championship points. Also earning points were Donny Schatz, Paul McMahan, Lucas Wolfe and Steve Kinser. It marked Meyers seventh Quick Time of the season.
WE'RE ONLINE – Make sure to check out the all-new WorldofOutlaws.com for the latest news and results, plus exclusive driver interviews, video and pictures. Also listen to every event live at DIRTVision.com .
World of Outlaws Sprint Car Series Statistical Report; Castrol Raceway; Edmonton, Alberta, Canada; Aug. 26, 2011
A-Main – (30 Laps)
1. 14-Jason Meyers[3][$8,000]; 2. 15-Donny Schatz[4][$4,000]; 3. 5W-Lucas Wolfe[2][$2,500]; 4. 83-Paul McMahan[1][$2,200]; 5. 7S-Jason Sides[5][$2,100]; 6. 7-Craig Dollansky[12][$2,000]; 7. 9-Brad Sweet[6][$1,800]; 8. 91-Cody Darrah[8][$1,600]; 9. 6R-Bill Rose[13][$1,500]; 10. 63-Chad Kemenah[10][$1,300]; 11. 39C-Jason Solwold[15][$1,200]; 12. 6-Kraig Kinser[7][$1,100]; 13. 31-Colton Akerstrom[23][$1,000]; 14. 11EH-Marc Duperron[9][$700]; 15. 11-Steve Kinser[11][$600]; 16. 38-Trevor Turnbull[18][$600]; 17. 44-Kelly Miller[22][$600]; 18. 12-Casey Adams[14][$600]; 19. 3-Dennis MacEachern[20][$600]; 20. 1M-Drew MacDonell[16][$600]; 21. 33-Justin Bienert[24][$600]; 22. 55-Gord Kynoch[21][$600]; 23. 59-Eric Fisher Jr[19][$600]; 24. 16-David Miller[17][$600]
Lap Leaders: Paul McMahan 1-17, Jason Meyers 18-30
KSE Hard Charger Award: 31-Colton Akerstrom[+10]
Qualifying –
1. 14-Jason Meyers, 12.653; 2. 15-Donny Schatz, 12.838; 3. 83-Paul McMahan, 12.838; 4. 5W-Lucas Wolfe, 12.868; 5. 11-Steve Kinser, 12.932; 6. 7-Craig Dollansky, 12.947; 7. 9-Brad Sweet, 13.030; 8. 91-Cody Darrah, 13.038; 9. 63-Chad Kemenah, 13.108; 10. 11EH-Marc Duperron, 13.173; 11. 7S-Jason Sides, 13.193; 12. 6-Kraig Kinser, 13.234; 13. 6R-Bill Rose, 13.239; 14. 12-Casey Adams, 13.261; 15. 39C-Jason Solwold, 13.355; 16. 38-Trevor Turnbull, 13.397; 17. 59-Eric Fisher Jr, 13.639; 18. 1M-Drew MacDonell, 13.684; 19. 16-David Miller, 13.763; 20. 3-Dennis MacEachern, 13.986; 21. 5-Allan Green, 14.059; 22. 31-Colton Akerstrom, 14.108; 23. 44-Kelly Miller, 14.123; 24. 55-Gord Kynoch, 14.392; 25. 9X-Sean MacDonell, 14.446; 26. 33-Justin Bienert, 14.956; 27. 75-Jesse Dakus, -.—
Heat 1 – (10 Laps – Top 6 finishers transfer to the A-feature)
1. 9-Brad Sweet[2] ; 2. 11EH-Marc Duperron[1] ; 3. 38-Trevor Turnbull[6] ; 4. 14-Jason Meyers[4] ; 5. 5W-Lucas Wolfe[3] ; 6. 6R-Bill Rose[5] ; 7. 16-David Miller[7] ; 8. 31-Colton Akerstrom[8] ; 9. 9X-Sean MacDonell[9]
Heat 2 – (10 Laps – Top 6 finishers transfer to the A-feature)
1. 7S-Jason Sides[1] ; 2. 91-Cody Darrah[2] ; 3. 11-Steve Kinser[3] ; 4. 15-Donny Schatz[4] ; 5. 59-Eric Fisher Jr[6] ; 6. 12-Casey Adams[5] ; 7. 44-Kelly Miller[8] ; 8. 3-Dennis MacEachern[7] ; 9. 33-Justin Bienert[9]
Heat 3 – (10 Laps – Top 6 finishers transfer to the A-feature)
1. 63-Chad Kemenah[2] ; 2. 6-Kraig Kinser[1] ; 3. 83-Paul McMahan[4] ; 4. 7-Craig Dollansky[3] ; 5. 39C-Jason Solwold[5] ; 6. 1M-Drew MacDonell[6] ; 7. 55-Gord Kynoch[8] ; 8. 5-Allan Green[7] ; 9. 75-Jesse Dakus[9]
Dash – (8 Laps, finishing order determined first 10 starting positions of A-feature)
1. 83-Paul McMahan[2] ; 2. 5W-Lucas Wolfe[1] ; 3. 14-Jason Meyers[4] ; 4. 15-Donny Schatz[3] ; 5. 7S-Jason Sides[9] ; 6. 9-Brad Sweet[5] ; 7. 6-Kraig Kinser[10] ; 8. 91-Cody Darrah[6] ; 9. 11EH-Marc Duperron[8] ; 10. 63-Chad Kemenah[7]
B-Main – (10 Laps – Top 6 finishers transfer to the A-feature)
1. 44-Kelly Miller[5] [-]; 2. 3-Dennis MacEachern[2] [-]; 3. 16-David Miller[1] [-]; 4. 31-Colton Akerstrom[4] [-]; 5. 55-Gord Kynoch[6] [-]; 6. 33-Justin Bienert[8] [-]; 7. 9X-Sean MacDonell[7] [$500]; 8. 5-Allan Green[3] [$500]; 9. 75-Jesse Dakus[9] [$500]