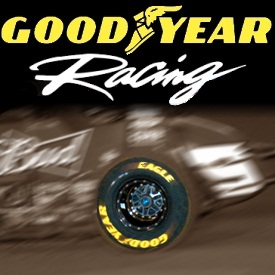 By Lee Elder
CANEY, Kan. (Oct. 17, 2011) – Sean McClelland clinched his third Oil Capitol Racing Series championship when he started the final race of the season at Caney Valley Speedway.
Then he won the race.
Goodyear is the exclusive supplier of rear tires for the OCRS. The Akron, Ohio-based tiremaker developed a right rear tire specifically for the demands placed on tires by the winged sprint car series. The remainder of the Goodyear tires used by OCRS competitors come from the same line that Goodyear manufactures for other leading touring sprint car series and many of the top weekly sprint car programs around the country.
"I tell you, those Goodyear tires didn't let me down tonight," McClelland raved. "They really did their job."
McClelland's previous OCRS titles came in 2002 and 2003. This year, he had to fend off the hard-charging Whit Gastineau to win the title. Gastineau finished second in the standings. Gastineau's championship hopes were dashed when McClelland started the Caney Valley race and then Gastineau finished seventh.
Josh Toho finished second in the race. Matt Sherrell was third, followed by Danny Smith and Jamie Passmore.
There were 28 entries for the event.
More information about Goodyear Racing is available at www.racegoodyear.com. More information about the OCRS is available at www.ocrsracing.com.