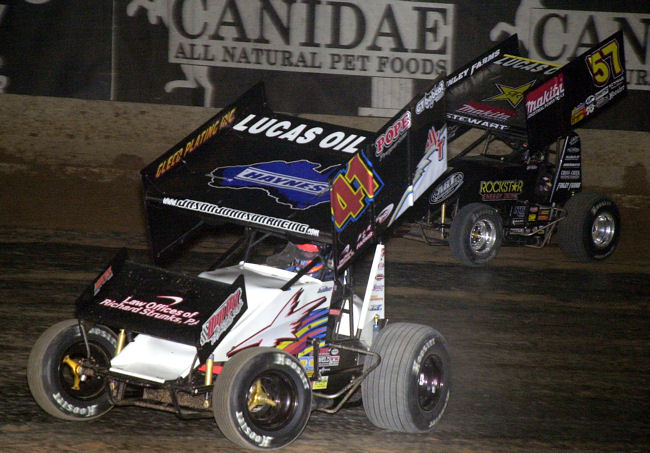 Inside Line Promotions
– TUCSON, Ariz. (Nov. 21) – For the first time this season, Jack Dover literally destroyed a race car.
Unfortunately for the 21-year-old from Springfield, Neb., it happened during his preliminary feature at the 44th annual Western World Championships last Friday at USA Raceway in Tucson, Ariz. Even more frustrating was that he was running 10th – only two positions out of locking himself into Saturday's $15,000-to-win ASCS National Tour finale.
"We got the car a little too tight," he said. "On that yellow before, my tire pressures went back down to the starting spots and that tightened the car up even more. I was way too tight entering the first corner."
After driving from seventh to fourth in his heat race, Dover started the main event 11th. He was running 10th on a restart on lap eight when disaster struck. Dover biked in turn one, caught the cushion and flipped several times.
"I just went in there behind Roger Crockett and got dirty air," he said. "I doubt we would have been top five, but we would have been a transfer car."
The impact destroyed both wings, the front end, rear end and basically everything except the frame, engine and steering gear.
"We started working on rebuilding the car right after the main event," he said. "It went together good. Luckily it was just bolt on parts.
"The Eagle chassis withstood the crash and still worked great on Saturday. And the Shaver engine ran hard the entire weekend."
Dover was credited with a 21st-place finish, which placed him on the pole of the second C Main on Saturday. He was never challenged and led all 12 laps to advance to the second B Main, which he started 13th.
"It definitely helped out a lot being in that C Main for the B Main," he said. "I knew what I needed to do for the setup. We tightened it up just a little."
Dover started the B Main liked he ended the C Main – fast. He was in ninth on the first lap and sixth on the second. Dover passed for fifth on lap six and advanced to fourth on lap nine of the 15-lap consolation.
"I kinda figured everybody was going to go up top," he said. "I just stayed on the bottom. I was really patient."
With three laps remaining, Dover pulled to the inside of J.T. Imperial off turn two for the third and final transfer position. However, Imperial had the momentum and the track began to take rubber. Imperial found it before Dover to hold onto the position. Another car slid by Dover on the final lap, pushing him to fifth and two spots out of advancing to the main event.
It was only the seventh time all season Dover didn't make the feature. However, he finished with nine victories and 33 top fives in 53 races. Dover also placed 13th in the ASCS National Tour standings despite missing more than one third of the events.
"It was real successful," he said. "We were in the top five a lot. When we ran with the national guys, we were up there in the top 10. So we didn't lose anything. The wreck this weekend was my worst of the year, so it was a good year.
"I want to thank my parents and all of the sponsors, friends, family and crew that have helped this year."
Dover is working on securing sponsorship in order to compete for the ASCS National Tour championship next season.
QUICK RESULTS –
Nov. 18 – USA Raceway in Tucson, Ariz. – Heat race: 4 (7); Feature: 21 (11).
Nov. 19 – USA Raceway in Tucson, Ariz. – C Main: 1 (1); B Main: 5 (13).
SEASON STATS –
53 races, 46 features, 9 wins, 33 top fives, 39 top 10s, 41 top 15s, 42 top 20s
FAVORITE NUMBER –
62.3: Percent of top fives Dover earned in 53 races this season.
SOCIAL MEDIA LINKS –
Website: http://www.jackdoverracing.com
Twitter: http://twitter.com/#!/JackDoverRacing
Facebook: http://www.facebook.com/#!/jackdoverracing
ON THE AIR –
Dover was a featured guest on the ASCS Show with Racinboys on Sept. 6 after winning the LOS 360 Nationals. His segment starts around the 3:30 mark into the episode.
http://www.meridix.com/mbp/general/index.php?liveid=Racinboys&recordid=20826
He was also on the ASCS Show with Racinboys on Aug. 30. His interview starts approximately four minutes into the show.
http://www.meridix.com/mbp/general/index.php?liveid=Racinboys&recordid=20614
He was also on the ASCS Show with Racinboys on June 14 after his win at the Eagle Nationals. His interview begins around 18:40.
http://www.meridix.com/mbp/general/index.php?liveid=Racinboys&recordid=19427
Dover's first interview of the season on the ASCS Show with Racinboys was on June 7. Check out the link below for his interview, which begins around the 6:50 mark.
http://www.meridix.com/mbp/general/index.php?liveid=Racinboys&recordid=19351
Here's a link to some on-board video of Dover winning his heat race at Knoxville Raceway on June 4:
Check out this video of Dover's feature win and heat race victory at U.S. 36 Raceway in Osborn, Mo., on Aug. 26:
Here is an interview with Dover after he won the LOS 360 Nationals at Lake Ozark Speedway in Eldon, Mo., on Sept. 4:
SPONSOR SPOTLIGHT – Home Pride Companies, Inc.
Home Pride Companies, Inc., is a leader in vinyl siding, window replacement, roofing and guttering. Based in Omaha, Neb., Home Pride Companies, Inc., also specializes in storm damage repair and has served Nebraska and Iowa for more than 25 years. For more information, visit www.homepridecompanies.com.
"Luke Cochran has become a family friend the last few years and he's been instrumental in keeping our program going in 2011," Dover said. "He also has a great company, which we've seen firsthand when Home Pride Companies, Inc., roofed my parents house."
Dover would also like to thank Thorpe's Body Shop, Trail Performance Coatings, Inc., Certified Transmission, Shaver Engines, Eagle Motorsports, Inc., The Oil Medics and ButlerBuilt for their continued support.