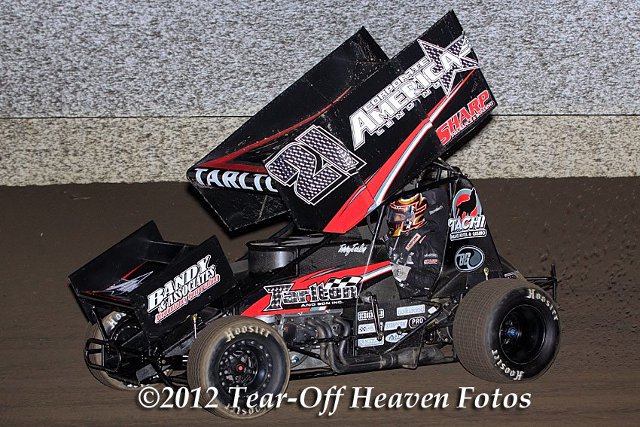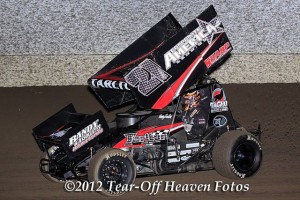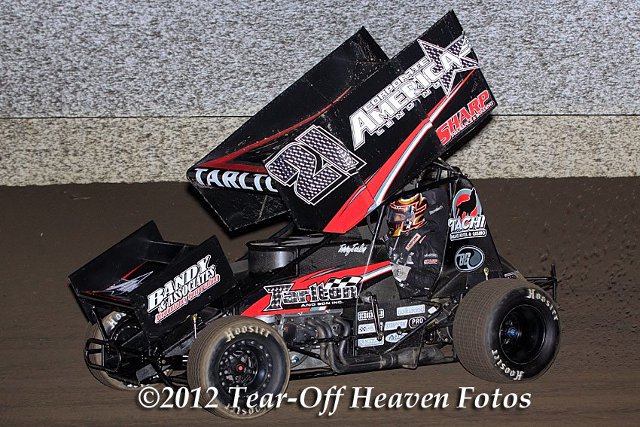 From Peterson Media
Tommy Tarlton spent his Saturday night 'wow-ing' the crowd at Marysville Raceway Park as he charged from his 10th starting spot to a third place finish aboard his Corporate Lending America/Tachi Palace and Casino/Sharp Insurance entry on the tacky ¼ mile.
MRP's dual heat race format pits drivers in two heats, with the second heat being lined up completely inverted from the start of the first heat, as passing and finishing points would line up the feature event.
Starting on the pole of his first heat, Tarlton battled Justin Sanders in an exciting heat, with Tarlton prevailing.
Lining up in the fourth row of his second heat, the driver of the Pro Signs/Bandy and Associates/Tarlton and Sons mount fought a tight racecar on the sticky track, and was only able to move up to the sixth spot.
As points were tallied, Tarlton has accumulated the 10th most points, and lined up for the 30-lap feature in the fifth row.
The feature went off with only three early stoppages, and on the final one on lap eight, Tarlton had inched his way up to the sixth spot.
Over the final 22 non-stop laps, the Easton, CA driver maneuvered through traffic and disposed of Korey Lovell, and Mason Moore to move up to the fourth spot by the 12th circuit as he chased down the leading trio of Colby Wiesz, Kyle Hirst and Willie Croft who had broke off into their own pack.
Once the leaders hit traffic, Tarlton put his potent black no. 21 entry all over the bumper of Wiesz and moved into third with just 10-laps remaining.
As the lead duo battled traffic, Tarlton moved up on Croft's bumper over the final two laps, but was not able to grab the second spot and chased Hirst and Croft across the line.
"What can you say, really? We struggled in our second heat and put us about mid-pack the start this thing," explained Tarlton. "My guys worked very hard to get us good for the feature, and I'm pleased with third. Coming from 10th to the front is tough, so I'll take this for the start of the season. I can't thank all of my sponsors enough for supporting this deal and letting us get out here and do what we love."
Tommy would like to thank Corporate Lending America, Tachi Palace and Casino, Sharp Insurance, Bandy and Associates, Pro Signs BG Lubricants, Pro Shocks and Astro Titanium for their continued support.
VIDEO: Check out some behind the scenes action as well as some of the racing action http://vimeo.com/37919846
ON TAP: The Tarlton and Son's team will look at the busy month of March in California, and announce their plans soon.
STAY CONNECTED: Stay connected with Tommy by visiting www.tommytarlton.com or follow @Tarlton_Racing on Twitter.