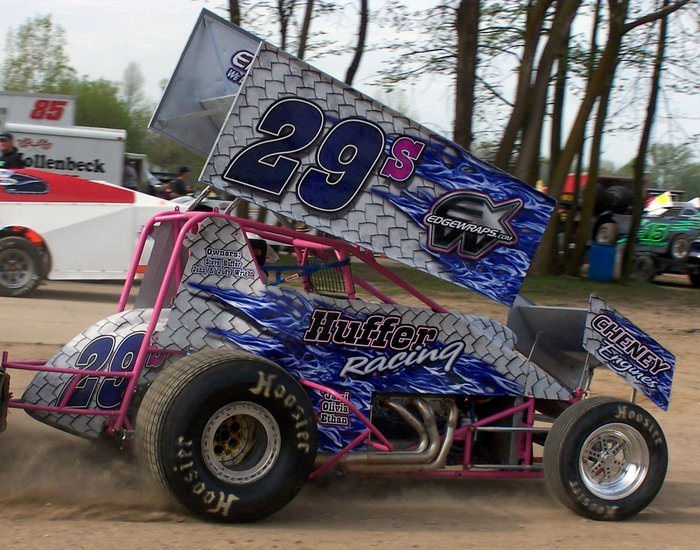 By M.P.H. Promotions
Eagle, Michigan (Wednesday, April 18th, 2012): Marques Huffer's racing career didn't begin the conventional way of other teams that he goes wheel to wheel with on a weekly basis. The 34-year-old didn't even start racing until he had reached his 30s and not only that, he started off in one of the most powerful short track machines in the country, a Winged Sprint Car!
Now with some experience under his belt and a new found energy to be as successful as possible, the Eagle, Michigan driver is ready for the 2012 racing season to begin and he expects nothing less than to contend for at least one championship and find that elusive first career Feature Win against some of the toughest competition in the country.
For the 2012 racing season, Huffer Racing will make a run at the ASCS Sprints On Dirt Series Championship as well as the NRA Sprint Invaders title. They'll also make appearances at Butler Motor Speedway as well as Limaland Motorsports Park. An aggressive 44 race schedule is on the calendar for Huffer Racing and they couldn't be more excited for the season to begin.
"We are looking forward to getting our very aggressive 2012 Huffer Racing season started! We are very pleased to be coming out of the stables this year with a phenomenally powerful power plant that was freshened and upgraded for us by Craig Rutan with Rutan Racing Engines!" Stated Marques as he and his Huffer Racing Team prepare for their first race of the 2012 campaign.
The season starts this Friday, April 20th at the fast ¼ (0.250) mile high-banked dirt oval of Limaland Motorsports Park in Lima, Ohio for the NRA Sprint Invaders Series Opener. "We're finding the desire to be on the track more intense every year during the off season!" The Great Lakes State driver continued. "Our off-season program has been stellar and I hope that shows in our on-track performance. We're racing against some of the finest drivers in the world we are all very excited!"
"A big Thanks to the very generous help of Don, Mike and Dustin Daggett, Craig and Ben Rutan, Brett and Jim Mann, Matt Prieur with M.P.H. Promotions, Jason Adams with AFCO, Eddie Smith with Lane Automotive, Cliff and Cindy with Smart Innovations during this past off season, we are expecting nothing short of a Championship year!." He ended.
His quest for the 2012 ASCS Sprints On Dirt Championship will begin on Saturday, April 28th at Crystal Motor Speedway, located 45 minutes northwest of Lansing in Crystal, Michigan. Huffer Racing will make its first appearance at Butler Motor Speedway, located northeast of Coldwater in Quincy, Michigan the following Saturday, May 5th in the weekly 410 Sprints competition.
With the 2012 racing season starting this weekend, Huffer's popular #29s Winged Sprint Car will carry sponsorship decals from Huffer Racing as well as Rutan Racing Engines, AFCO Racing Shocks, Lane Automotive, Smart Innovations, Imagine Design Now, M.P.H. Promotions, TS Lettering & Graphics and Premier Custom Trailers.
To learn more about Marques Huffer and the entire Huffer Racing Team and to inquire about sponsorship opportunities available for the 2012 racing season, go to the teams new website at: www.hufferracing.com You can also stop by and check out the Huffer Racing Facebook Fan Page at: www.facebook.com and search "Huffer Racing"