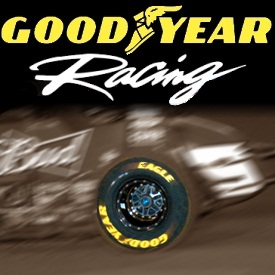 By Lee Elder
PADUCAH, Kent. (April 17, 2012) — Joey Saldana grabbed his second win of the World of Outlaws Sprint Car season when he grabbed the checkered flag at Paducah International Raceway. The victory put him solidly in second place in the 2012 standings.
Goodyear is the exclusive tire provider for the World of Outlaws Sprint Car Series, supplying an array of sizes and tread compounds for each tire position at every race. The same line of bias-ply tires that Goodyear manufactures for the WoO are is used by other touring sprint car series and by the leading weekly sprint car programs around the country. Goodyear is the title sponsor of the Goodyear Knoxville Nationals at Knoxville Raceway in Iowa, the biggest race of the season for sprint car races each year.
Veteran racer Stevie Smith posted the best lap during time trials with a speed of 102.22 mph around the 3/8-mile oval.
Saldana started fourth in the main event. Danny Smith finished second, followed by Sammy Swindell, Kerry Madsen and Steve Kinser.
Swindell leads the standings with 1,248 points. He is followed by Saldana's 1,243 and Donny Schatz with 1,236.
More information about Goodyear Racing is available at www.racegoodyear.com. More information about the WoO is available at www.worldofoutlaws.com.