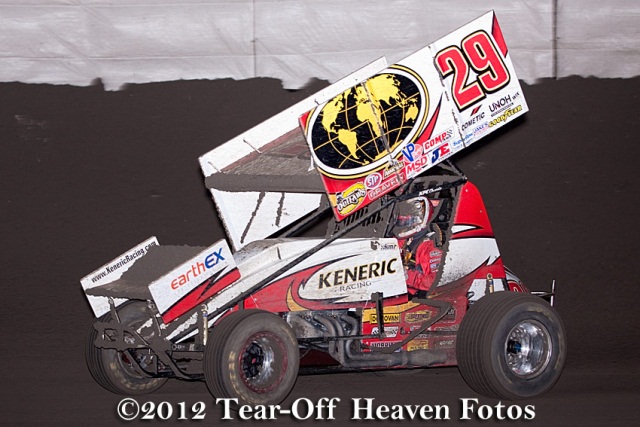 By Bill W
April 18, 2012 – Rain stayed on the World of Outlaws as they were washed out in Pevely, Missouri on Saturday night, but they did get in Friday's run at Paducah (KY) International Raceway. Kerry Madsen had a strong showing, running up front for much of the feature before settling for fourth at the checkers. This weekend, the Keneric Racing #29 team heads to the Missouri State Fair Speedway in Sedalia on Friday night and the Tri-State Speedway near Haubstadt, Indiana on Saturday.
An early qualifying pill helped Kerry to the second quick time of the night. "It was a weird deal," he says. "The track dropped off immensely for the guys at the end. That happens quite a bit. You still have to qualify well, and we got around there pretty good."
With a dash spot guaranteed with a heat transfer, Kerry was steady and ran third from his starting spot outside of row two. "The heat went well," he says. "We didn't have to do anything silly (to qualify for the dash). We just had to go out and get transferred. We just needed to tune for the dash and keep our tires."
After a fifth place finish in the dash, Kerry would start inside row three in the main event. "It was a good track early," he says. "We got a real good start. We were running fourth and passed Chad Kemenah, and we were getting ready to pass Joey (Saldana) and Danny Smith. The yellow came out there about twelve laps in."
Running second on the restart, Kerry saw the track turn to one-lane. "At that point, we had a long green flag run, and the rubber got laid down," he says. "Unfortunately, at that point, we just got in line. Joey got by me on the restart, and I was on Danny Smith's tail. The rubber was just too narrow to make a pass."
He would surrender the show position on the final lap after being slowed, and ended up with a solid fourth. "On the last lap, I got caught up by a lapped car," says Kerry. "Sammy (Swindell) put a big monster (slide job) on me for third, so we ended up fourth. It was no big deal. It was pleasing to do well, and we're on the right track, we'll be fine."
All in all, it was a good night for the St. Mary's, New South Wales driver. "We qualified well, ran well in the heat race, the dash and the feature," he says. "It would have been good to win it, but it was still a good night. It shows we are on a good track with our program."
The Sedalia half-mile, and the Haubstadt bullring await the WoO this weekend. "I've never really had big runs at those tracks," says Kerry. "I've been quick, but I've never had any great finishes."
Follow Kerry Madsen on his Website and on MySpace, Facebook and Twitter!
Follow Kerry Madsen at his website located at www.KenericRacing.com! Also keep up with him on Facebook and Twitter (which also can be accessed at the website) at the following links…
Facebook link = http://www.facebook.com/#!/pages/Official-Fan-Page-for-Kerry-Madsen/101145169933686
Twitter link = http://twitter.com/#!/kmr29
Kerry's Releases
To receive Kerry's Releases, send an e-mail to sprntcar@hotmail.com with "Madsen" in the subject line!
The Team
Kerry Madsen (KMR / Keneric Racing), Bob & Peter Gavranich (Keneric Racing), Earthex, Morrison Motors, KPC Chassis.