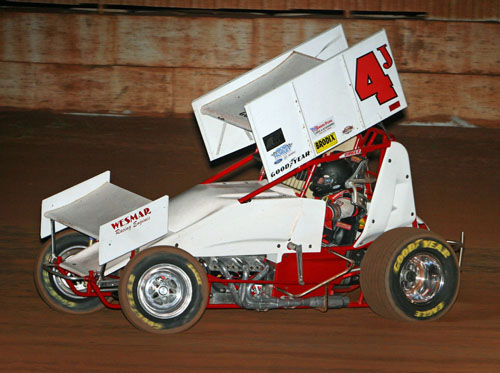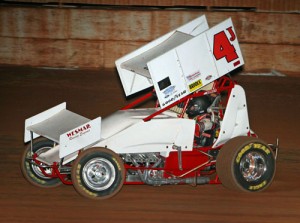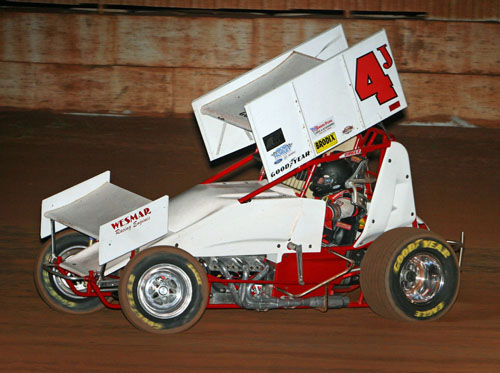 The Oil Capital Racing Series along with series partner, Goodyear Tires of Akron Ohio, kicked off their 2012 racing season at Brill Motor Speedway and three time former champion Jamie Passmore took no prisoners as the driver of the G.A.P. Roofing / Eagle / Wesmar Racing Engines / Goodyear Eagle shod #4j never left anything on the table and took the season opener by a half lap over his closest competition. Always modest, Passmore reflected on his night in victory circle, "It helps a lot when you start up front. We got a good jump on the start and just took off from there." When asked about his season from last year and what the team expects for 2012, Passmore quipped, " Last year wasn't what we had hoped but this year, well, we will get some more (wins) this year I think."
The original line up was jostled a bit when Joe Wood Jr. was scheduled to start on the outside front row in the JD & Jannie Porter "Hog Wagon" which is also a Eagle / Wesmar Racing Engines package. Wood Jr. was flagged for being late getting onto the track and OCRS officials directed the talented shoe to start tail back. This line-up adjustment placed Moore Oklahoma's Frank Dittman, who was in the Robert Bailey #83 sprinter, onto the outside on the front row. While Wood Jr. got to see the rear bumpers of a full field, he and Dittman would meet again before the night was done. On the start and before a full lap could get completed, a yellow was tossed for a spin by the 2011 series runner-up, Whit Gastineau, also of Moore. A complete restart would be in order.
At the end of the first official lap of action, Passmore was in front with Dittman, Fred Mattox and 2012 rookie of the year contender Alex Sewell in tow. Almost identically, Passmore and Wood, while starting in opposite time zones, began to set a torrid pace in their own continents. While Passmore was pulling out a multiple car length lead on the field, Wood was blitzing through the pack like a crazed driver about to engage in an act of road rage. Passmore had built a ten car length lead by the fourth lap and was encountering lapped traffic by the seventh lap. Wood was ripping up red clay by the pound and he sat in the seventh spot by lap ten. The "Hog Wagon" was on a tear. Wood then disposed of Mattox on the 12th lap.
At the mid-way juncture of the 25-lap affair, Passmore had a half lap lead on the field. Kenneth Walker, driving the Phil Oakes Icon Pistons / Headman Headers / POPS Custom Engines / J&J sprinter, Mattox, in the D&J Tank Trucks / AKL Oilfield Services / Pacer Energy Marketing / XXX mount and Mr. Wood were waging an exciting battle with positions changing frequently. As Passmore was crossing the line to start the 17th lap, Jeff Leep spun to a stop in the center of the backstretch. On the 18th lap, Wood and Jeremy Allen made contact in two. Both saved their cars from stalling then a yellow came out immediately for Brent Swift who stalled on the racing surface.
With 17 laps in the books, Passmore had five lapped cars between himself and second place Dittman, Allen, Mattox and Wood and Kyle Cobb. With four to go, the "Joe Wood Jr. Show" was getting ready for it's flaring finish as he had worked his way to third and set his sights on Dittman while Passmore was strolling along. On the last lap, Wood got a solid run on Dittman and over took him for the runner position behind a long gone Passmore. The triumph was Passmore's first since an August 2011 take at the formerly named Outlaw Motor Speedway in Oktaha, Oklahoma.
Passmore won the "Pole Dash" to earn the right to start the feature up front but before doing so, he had a decision to make. The night was the debut for the "Back Row Challenge" program sponsored by the "Oil Medics". Passmore had to decide whether to retain his pole berth or go tail back and win a $1,000 bonus from the Oil Medics if he could win from the rear. With the crowd cheering the former champion on to start in the back, Passmore citied what he felt was a tough surface along with a difficult task to make a successful challenge happen on the red clay track. Thus Passmore declined until another day.
Race date: April 27, 2012 – Event 1
HEAT 1: 1, Jamie Passmore. 2, Joe Wood, Jr. 3, Brandon Jennings. 4, Josh Toho. 5, Strike Hill. 6, Matt Sherrell. 7, Beau Gastineauy. 8, Colton Brewer (DNS).
HEAT 2: 1, Frank Dittman. 2, Jimmy Taylor. 3, Fred Mattox. 4, Shayla Waddell. 5, Casey Wills. 6, Kyle Clark. 7, Will Scribner. 8, Michael Bookout.
HEAT 3: 1, Alex Sewell. 2, Danny Smith. 3, Whit Gastineau. 4, Jeremy Allen. 5, Tim Kent. 6, Darien Roberts. 7, Layne Himebaugh. 8, David Stephenson (DNS).
HEAT 4: 1, Brian Bishop. 2, Brent Swift. 3, Kenneth Walker. 4, Jeff Leep. 5, Jason Lair. 6, Jeff Garnett. 7, Brandon James. 8, Kyle Cobb.
DASH: 1, Jamie Passmore. 2, Joe Wood, Jr. 3, Frank Dittman. 4, Fred Mattox. 5, Brian Bishop. 6, Alex Sewell.
B FEATURE: 1, Strike Hill. 2, Layne Himebaugh. 3, Tim Kent. 4, Colton Brewer. 5, Kyle Clark. 6, Michael Bookout. 7, Beau Gastineau. 8, Jeff Garnett (DNS).
B FEATURE: 1, Casey Wills. 2, Kyle Cobb. 3, Matt Sherrell. 4, David Stephenson. 5, Will Scribner. 6, Brandon James. 7, Jason Lair. 8, Darien Roberts (DNS).
A FEATURE: 1, Jamie Passmore. 2, Joe Wood, Jr. 3, Frank Dittman. 4, Kyle Cobb. 5, Kenneth Walker. 6, Danny Smith. 7, Alex Sewell. 8, Fred Mattox. 9, Brian Bishop. 10, Brandon Jennings. 11, Josh Toho. 12, Shayla Waddell. 13, Layne Himebaugh. 14, Whit Gastineau. 15, Jeremy Allen. 16, Jimmy Taylor. 17, Casey Wills. 18, Strike Hill. 19, Brent Swift. 20, Jeff Leep.
Car Count: 32.