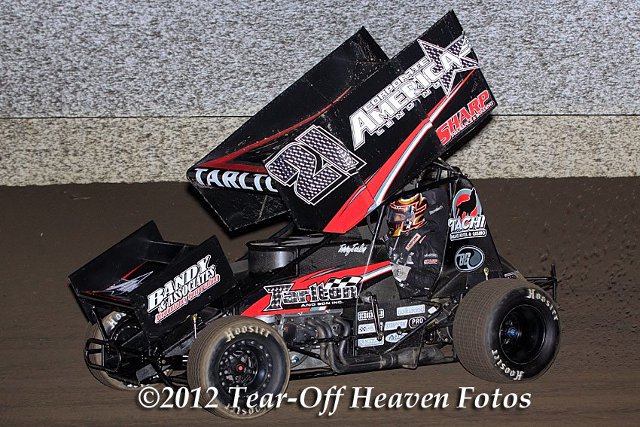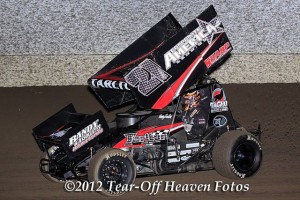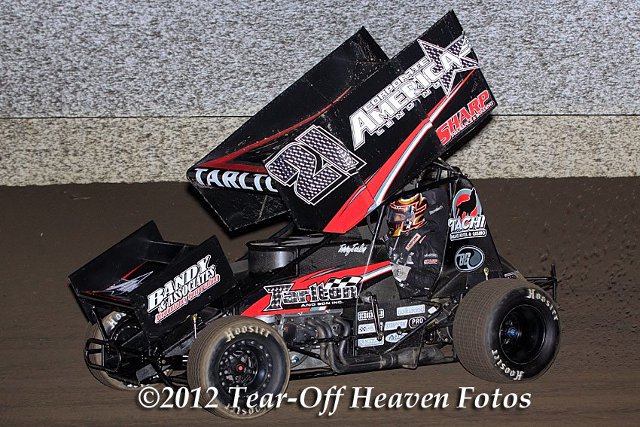 From Ocean Speedway
Watsonville, CA — (May 19, 2012) — 2010 Ocean Sprints presented by Taco Bravo champion Tommy Tarlton, in his first 2012 appearance with the division, fended off Fremont's Shane Golobic to lead all 30 laps for the win in Friday night's feature at Ocean Speedway Watsonville. Tarlton is the fourth different winner in four rounds of the Ocean Sprints so far this season and the win came against a 26 car turnout in the pits.
Tarlton, who also won his heat race, drove the #21 Tarlton & Son entry to victory lane from the pole position despite several restarts, a near miss of a crash in turn four, and relentless lapped traffic.
"Yeah we had a great car tonight…Paul gave me a great car," Tarlton said. "Something happened with about 15 to go and the right rear tire was going down or something was broken. I like coming over here because John (Prentice) does a great job. I just really like this race track and it races well."
Tarlton led the field to green with Golobic immediately jumping from seventh starting position to second. The first caution in the race came out on lap three when the 41x of Joshua Williams from Glendale, AZ spun in turn one. Under caution, 2011 champion Ronnie Day ducked off to the pits with a flat tire and an apparent miss in the engine.
Day's crew was unable to get the car back on the track in time for the restart, placing the #22 Keith Day Trucking car 22nd in the final result.
By lap 10, Tarlton encountered lapped traffic and narrowly escaped a crash that involved Williams and Nick Ringo, Jr. of Morgan Hill in turn four. Tarlton hit the brakes and almost stalled the car but was able to resume.
St. Helena's Rico Abreu was also making his first start of 2012 aboard the #89 Abreu Vineyards entry and he stormed from 13th on the grid to third by lap 13. Abreu's strong charge to the front was halted on lap 15 when Jason Toft bounced off the wall and collected Abreu.
Abreu returned from the work area just in time to make the restart, but was gathered up in a crash in turn four triggered by contact between Ringo and Salinas' Carter Train.
On the ensuing restart, Tarlton yet again pulled away from Golobic while the intensity picked up behind them. Ninth place starting "Cowboy" Craig Smith asserted himself in a battle from the third position on back in a mix that included Stockton's Brad Furr, Gilroy's Kurt Nelson, and San Jose's Nick Green among others.
Smith's race went south on lap 22 when he tagged the wall and suffered a flat right rear tire. The yellow came out and Smith was able to rejoin at the back in the field however.
Lap 22 turned out to be the final restart of the night and Golobic gave it one last shot at Tarlton. Using lapped traffic, Golobic closed the gap to just over a car length in the closing laps. Tarlton was able to drive away in the closing laps with Golobic mired in traffic.
Tarlton took the victory ahead of Golobic, Furr, Green, and rookie driver Carson Macedo in the Tarlton & Son #21x. Corralitos' Jerry Bonnema scored the DDNi Hard Charger award for finishing ninth after starting 18th, and Smith recovered to a 12th place finish.
"I thought the restarts was about the only shot we had and we got alongside him once," Golobic said. "Every time we started to catch traffic we'd get a yellow and make it easier on Tommy. If we could have 10-15 laps straight in traffic it would have been a lot better race. Got to hand it to Tommy though because he didn't make a lot of mistakes."
Ronnie Day won the Ray Scheidt's Electric Fast Time award with a 11.811 second lap to top the 26 cars on hand. Heats went to Day, Golobic, and Tarlton with Orval Zane Burke, Jr. winning the B main.
The Ocean Sprints presented by Taco Bravo will return to action on Friday night June 1 at Ocean Speedway Watsonville.
For more information on the Ocean Sprint Cars presented by Taco Bravo log onto http://www.oceansprints.com and for more on the Ocean Speedway visit http://www.oceanspeedway.com
Ocean Speedway would like to thank Taco Bravo, Digital Delivery Networks, Get Som Sports, Ray Scheidt's Electric, Hoosier Tires West, and Kaeding Performance for their support of the 2012 Ocean Sprints presented by Taco Bravo.