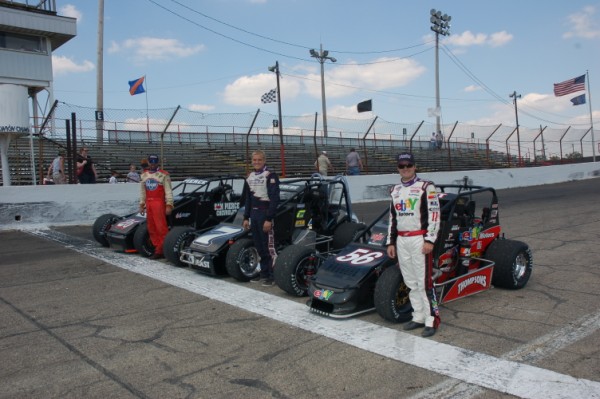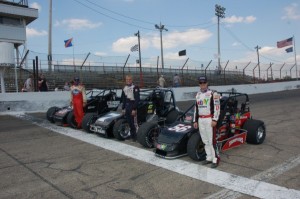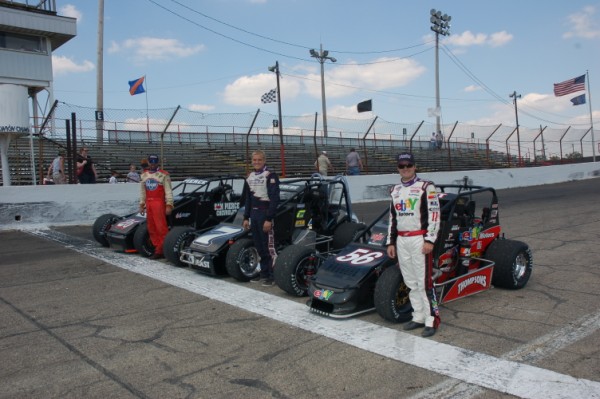 From Anderson Speedway
Anderson,IN – May 25, 2012 – The starting field for the Must See Racing sanctioned 64th Pay Less Little 500 was set Friday afternoon. Fourteen registered Must See Racing Xtreme Sprint Series teams are in the starting field. The Little 500 is a special non-points event.
Two of the top three positions will be led by Must See Racing drivers Jo Jo Helberg and Aaron Pierce who will start second and third respectively. California driver Tony Hunt will lead the field after he captured the pole position in qualifications Thursday afternoon.
The Little 500 is a non-winged asphalt Sprint Car race that features eleven rows of three much like the Indianapolis 500. Thirty-three drivers will battle 500 laps around a high-banked ,250 oval for an estimated $25,000 to win.The Little 500 is the only non-points event of its type on the MSRXSS schedule.
Thus far in 2012, the MSRXSS has competed at four different tracks and have had four different winners. Tanner Swanson, Brian Olson, Troy DeCaire, and Jason Blonde have each tasted victory lane in 2012. In addition, a new track record has been established at each event.
Saturday'sh Little 500 will be televised to a national TV audience on FOX SPORTSNET on a taped delayed format. Air times can be found at
www.mustseeracing.com
once they have been announced.
After Saturday's Little 500, The MSRXSS will be back in action again at Lucas Oil Raceway Park in Clermont, IN June 9. This will be the first-ever appearance for the series at the historic 5/8 mile speedway. This will be only the second time in the speedway's history winged sprint cars have ran at this venue.
64th Annual Pay Less Little 500 Starting Grid:
| | | |
| --- | --- | --- |
| POS | # | DRIVER |
| 1 | 56 | Tony Hunt |
| 2 | 7 | JoJo Helberg |
| 3 | 26 | Aaron Pierce |
| 4 | 35 | Russ Gamster |
| 5 | 2 | Eric Gordon |
| 6 | 26B | Jeff Bloom |
| 7 | 88 | Jimmy McCune |
| 8 | 77 | Chet Fillip |
| 9 | 4 | Shane Cottle |
| 10 | 20 | Shane Hollingsworth |
| 11 | 12w | Billy Wease |
| 12 | 4A | Donnie Adams Jr. |
| 13 | 91 | Troy DeCaire |
| 14 | 1 | Brian Gingras |
| 15 | 44 | Brian Tyler |
| 16 | 07L | Ryan Litt |
| 17 | 63 | Rex Norris III |
| 18 | 14 | Scott Pierovich |
| 19 | 5 | Tony Elliott |
| 20 | 26p | Mickey Kempgens |
| 21 | 40x | Jason Cox |
| 22 | 07 | Jacob Wilson |
| 23 | 55 | Dave Baumgardner |
| 24 | 1 W | Chris Neuenshwander |
| 25 | 15 | Brandon Whited |
| 26 | 8 | Kyle Feeney |
| 27 | 11 | Denny England |
| 28 | 18 S | Jim Sheets |
| 29 | 27 | Brian Gerster |
| 30 | 5H | Shaune Hogg |
| 31 | 19 | Keith Butler |
| 32 | 3 F | Tim Barber |
| 33 | 18 | Travis Welpott |
| Alt. 1 | 7 S | Joe Swanson |
| Alt. 2 | 93 | Jerry Kobza |