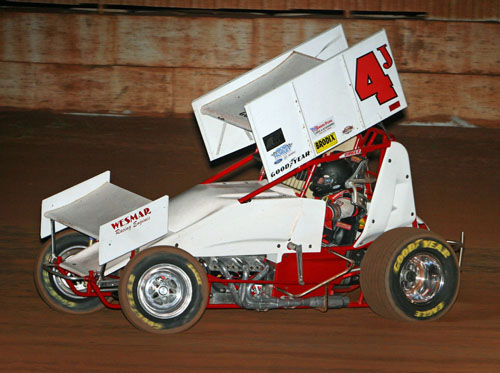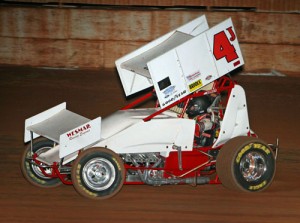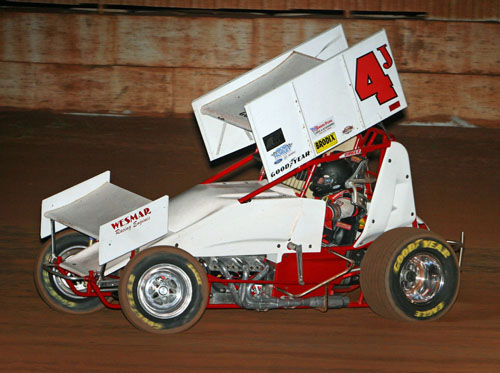 From John Lemon
Pocola, OK — (June 16 2012) — Current Oil Capital Racing Series point leader Jamie Passmore collected his fifth OCRS A-Feature trophy for 2012 in his GAP Roofing / Eagle Chassis / Wesmar Racing Engines sprinter in front of an enthusiastic audience that voiced their approval when Passmore was sent to victory lane.
After claiming victory in the Drive Shafts Inc. heat race, Passmore was close to sweeping the program but was regulated to a second place in the night's "Pole Dash" event to determine the top six positions in the main event. The spoiler there was Whit 'Gasman' Gastineau who was victorious in the five lap dash after an outstanding nail biting dual in which he and Passmore traded positions at speed so closely, it left the fans in a frenzy over what they had just witnessed. Gastineau had a decision to make, keep the pole berth earned or take the Oil Medics "Back Row Challenge" in his DW's Video – Shell Rapid Lube / Larry Allen Racing Engines / Eagle Chassis. If successful from the back row, The Oil Medics would pay Gastineau an additional $1100 cash for this night. After pondering the challenge opportunity, Gastineau elected to retain his pole berth mainly citing the solid run of Passmore's mount during the evening. "It's tempting and I think it can be done on this track," said Gastineau, "But Passmore is running really strong and I would like to give my team a win tonight."
At the start of the 25-lap A Feature, Gastineau dove to the bottom of turn one to take the immediate lead only to have Passmore work the high groove to perfection and roll by the Gasman coming out of turn two and to lead the first lap. Johnny Hotrod Kent would be third and keeping an eye on the front two speedsters. Passmore got such a good start he was 8-10 car lengths ahead of Gastineau from the get go but oh how things would change. The yellow would be displayed on the fourth lap as 19th starter Kenneth Walker would coast to a stop at the start of the back straight. He would re-fire and join the field for the restart.
Working lap eight, Danny Smith would show signs of life in his Same Day Auto Repair / BMS Engines / XXX Chassis mount as he would begin to slice through the field from his 14th starting spot. On the next lap, Passmore would be on top of lapped traffic and methodically began to work his way through them. Gastineau would do likewise hoping to gain ground on the former champion but the distance between the two remained the same. Then, at the halfway mark, Gastineau finally found his stride and slowly began to cut into Passmore's lead.
Lap 19 would see trouble and heartbreak on the racetrack. Salina Highbanks winner Shayla Waddell would get tapped from behind by Harli White in turn three, which sent her around. Getting collected in the fray with the young ladies were Tim Kent, Beau Gastineau and Casey Wills. Beau would spin into Kent causing front-end problems on the #79 car thus sending it to the pits. As the leaders came around at full speed only to find a blocked racetrack, a scramble to get their cars up and over the topside of the track began. Passmore went extremely wide off the racing surface and slowed to a crawl yet he managed to keep the # 4j sprinter moving. However, Gastineau would not be so fortunate. Trying to miss stalled cars, he too went to the top where Passmore was only to spin to a stop. This would regulate the Moore Oklahoma driver to rejoin the field in the rear of the pack.
The top three on the lap 18 restart would see Passmore on the point, Hotrod Kent in the catbird seat in his Kent Construction / Kent Fireworks / Eagle followed and Fred Mattox in the 26m Pacer Energy Marketing / AKL Oilfield Services / D&J Tank Tuck / Mattox Engines / XXX Chassis. There would be a lapped car between the top two for the restart. Smith was still working magic and he now was nipping on the Mattox machine for the third spot. With five laps to go, J. Kent was right on Passmore's chrome bumper and looking as good as ever and Mattox was on their tailcoats. These three now had the crowd totally enthralled for the tight action being produced on the clay oval.
Just as J. Kent was having one of his best runs, mechanical issues developed and Mattox swung by Kent with a slider move in turn three with only four laps remaining and like a rock fired from a sling shot, Mattox found the bottom to his liking and he had a "power run" on Passmore and was just a few feet from taking the top spot only to have the Gasman blow a motor on the front straight bringing out the last yellow on the night and killing Mattox's rhythm. " I think he had me (for the lead)" said Passmore in victory lane. "He had a good run going but he should of have never pulled up along side of me (as the yellow came out). Once he did that, I knew where the line was and I took it," said Passmore who is searching for his fourth OCRS championship.
Passmore would hold on for the final three laps with Mattox tying his OCRS career best finish in second. Smith rolled in third with 2012 OCRS Brodix Cylinder / PM PRO rookie of the year contender Alex Sewell fourth and Glen Passmore, who ran a steady and consistent race all night, fifth. Rounding out the top ten were AmeriFlex Hose & Accessories "Hard Charger" Kenneth Walker, rookie Colton Brewer, Casey Wills, Rafe Essary and a third rookie, Harli White.
Passmore commented about the carnage that almost made trouble for him: " I saw about halfway down the back straight-a-way there was trouble and I went way wide. I've been here before and having pitted in that area before, I knew there was plenty of room up there so that's were I went. " Regarding coming very close to being overtaken by Mattox with three laps to go: "I was running my race and when your out front, you don't always know where to go. You have that luxury sometimes running second because you can find the faster place to go and he (Mattox) found it. With a little bit more experience, he will know not to show me the line next time. After that, I just knew where to go."
From the runner-up Mattox: "I started the restart behind Hotrod and a lapped car and I got around them and was running Jamie down then that caution came out. I had showed my nose to him plus his crew was pointing for him to get down on the bottom and he got down there like he was supposed to. Second is a good spot to finish in. We had an "off the wall" set up tonight. It was either going to be really fast or we were going to go to the back."
Danny Smith: "I got to quit spotting these guys 5-6 rows in the A feature," said Smith. "It seems like that's what we have been doing this whole year. You just can't race from that far back and expect to win." Smith (as well as many drivers) had high praise for the job promoter Tim Adams and crew did on preparing the track on such a warm day. " I've been here many-many times and that was by far and away the best I've ever seen it. We didn't touch tires (wear out tires) and that makes everybody happy. These Goodyear tires are a good product and they look great after those 25 laps."
Next up for the OCRS warriors is a Sunday night stop at the Monett Speedway in Monett, Missouri. It will be the first time ever for OCRS sprint cars to grace Monett soil. Race time is at 7:30pm.
Tri-State Speedway
Race date: June 16, 2012 – Event 8
Cars: 20
( ) = Starting position
M&W Aluminum Heat:
1- Johnny Kent (2) 2- Casey Wiils (1) 3- Whit Gastineau (6) 4- Rafe Essary (7) 5- Danny Smith (5) 6- Russell Boren (3) 7- (Kenneth Walker)
Bob Hurley Auto Family Heat:
1- Fred Mattox (1) 2- Glen Passmore (3) 3- Shayla Waddell (5) 4- Beau Gastineau (4)
5- Colton Brewer (6) 6- Michael Bookout (2) 7- Jeff Garnett (7)
Drive Shaft Inc. Heat:
1- Jamie Passmore (6) 2- Harli White (3) 3- Alex Sewell (4) 4- Tim Kent (2) 5- Kyle Clark (5)
6- Rob Hooper (1)
Pole Dash:
1- Whit Gastineau (3) 2- Jamie Passmore (4) 3- Fred Mattox (1) 4- Johnny Kent (5) 5- Harli White (2)
6- Glen Passmore (6)
OCRS A Feature:
1- Jamie Passmore (2) 2- Fred Mattox (3) 3- Danny Smith (14) 4- Alex Sewell (10)
5- Glen Passmore (6) 6- Kenneth Walker (19) 7- Colton Brewer (13) 8- Casey Wills (7)
9- Rafe Essary (8) 10- Harli White (5) 11- Shayla Waddell (9) 12 – Beau Gastineau (11)
13- Russell Boren (16) 14- Kyle Clark (15) 15- Michael Bookout (17) 16- Rob Hooper (18)
17- Jeff Garnett (20) 18- Johnny Kent (4) 19- Whit Gastineau (1) 20- Tim Kent (12)
AmriFlex Hose and Accessories Hard Charger award: Kenneth Walker +13
www.ocrsracing.com