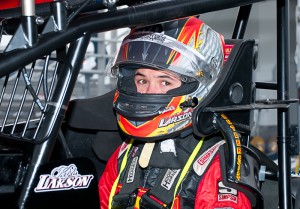 From Dick Jordan and Troy Hennig
Chico, CA — (September 5, 2012) —  "We better enjoy this kid while we can because pretty soon we will all be watching him on Sunday's," said second place finisher Andy Forsberg. Of course Forsberg was referring to Elk Grove's Kyle Larson. Larson put on quite a show for the fans at Silver Dollar Speedway tonight. The defending Gold Cup Champion won both the USAC Western Classic Racing Series and Civil War main events tonight. "I had two good cars tonight," said Larson. "I have to thank both the Ford family and the Finley family for giving me the chance to race tonight." Larson added, "The bottom of the track was good tonight and I just kept trying to hit my marks. I mean I missed the line a few times but all in all I kept it stuck in there pretty well." Forsberg was the bridesmaid in both features tonight. "The big problem I had tonight is that Kyle Larson's too good and I'm not," said Forsberg when asked about his runner up finishes. Sacramento's Kyle Hirst finished third in the Civil War main event. "I tried the top on the last few laps and just ran out of time," said Hirst. "I can't thank Rod Tiner enough for letting me drive his car."
Andy Forsberg jumped out to the early lead during the 22-car starting field, 30-lap main event. Kyle Hirst fell into the second spot while Larson ran third. Lap nine saw Larson ease his way around Hirst for second. On a lap 10 restart, Larson got around Forsberg for the lead. Larson went on to battle his way around slower cars and try to keep Forsberg behind him.
The top three raced evenly for the next few laps. Larson was quicker than the two cars behind him but the slower traffic was giving him fits. At one point Forsberg moved to within a car length of Larson for the lead. Hirst caught up to Forsberg and on the last lap made strides to try and steal a second place finish at the line. Rico Abreu continues to make a lot of fans happy. He was really quick on most restarts. Abreu would use the high line to pass cars going into turn one. Abreu wound up with a fourth place finish. Fast time qualifier Herman Klein rounded out the top five. Klein had to come through tonight's B main event to secure a starting spot in the feature. Klein turned a 12.881 in qualifying.
Cole Wood won the first heat race of the night. John Michael Bunch provided a nice spark to win the second heat race. Colby Wiez won the third heat race with ease. Jimmy Trulli dominated the fourth heat race.
Larson started on the pole position for the 19-car wingless USAC A feature. The race was originally scheduled for 30 laps but cut to 20 due to five yellow flags and three red-flag stoppages for rollovers. Larson would eventually lead every lap of the shortened race. Forsberg did his best to keep up with the talented driver from Elk Grove but was never able to get close enough to make a pass. Shauna Hogg of Citrus Heights' really impressed us tonight. She avoided all the big wrecks and was able to hang right outside the top two. Hogg finished in the third spot. Tony Hunt rebounded from an earlier spin to come back and finish fourth. Both Hogg and Hunt are regulars on the circuit and both were very impressive tonight. Ninth place starting Mark Tabor Jr. raced his way into a fifth place finish.
Terry Schank Jr. took a nasty ride off turn four after he and Matt Streeter made contact. Schank walked away but the car was badly damaged. Schank did win the first heat race he entered tonight. He also set the fastest lap in qualifying. Kyle Hirst won the second heat while Larson won the third heat. Schank fast lap in qualifying was a 14.409.
All results are available at www.silverdollarspeedway.com
USAC WESTERN CLASSIC SPRINT CAR SERIES RACE RESULTS: September 5, 2011 – Chico, California – Silver Dollar Speedway – "Gold Cup"
QUALIFICATIONS: 1. Terry Schank, Jr., 1, Gleason-14.409; 2. Shauna Hogg, 5, Hogg-14.538; 3. Matt Streeter, 14jr, Streeter-14.586; 4. Andy Forsberg, 92, Forsberg-14.673; 5. Chad Boespflug, 25B, Baxter-14.702; 6. Kyle Larson, 73, Ford-14.845; 7. Tony Hunt, 56, Phulps-14.900; 8. Klint Simpson,  84, Simpson-15.003; 9. Mark Tabor Jr., 38n, Tabor-15.006; 10. Taylor Simas, 7T, Simas-15.009; 11. Kyle Hirst, 3F, Finkenbinder-15.011; 12. Shane Golobic, 14, Pierson/Vertullo-15.049; 13. Tom Baker, 3T, Baker-15.184; 14. Jim Richardson, 8, Richardson-15.353; 15. Gordon Rodgers, 94, Rodgers-15.579; 16. Rowdy McClenon, 13, McClenon-15.676; 17. Rusty Baglin, 44, Baglin-15.935; 18. Pete Lawrent, 6R, Lawrent-17.104; 19. Marvin Mitchell, 68, Mitchell-17.574.
FIRST HEAT: (8 laps) 1. Schank, 2. Simas, 3. Hunt, 4. Forsberg, 5. Baker, 6. Mitchell, 7. McClenon. NT
SECOND HEAT: (8 laps) 1. Hirst, 2. Simpson, 3. Boespflug, 4. Hogg, 5. Richardson, 6. Baglin. NT
THIRD HEAT: (8 laps) 1. Larson, 2. Streeter, 3. Golobic, 4. Tabor, 5. Rodgers, 6. Lawrent. NT
FEATURE: (20 laps) 1. Kyle Larson, 2. Andy Forsberg, 3. Shauna Hogg, 4. Tony Hunt, 5. Mark Tabor Jr., 6. Chad Boespflug, 7. Shane Golobic, 8. Matt Streeter, 9. Pete Lawrent, 10. Rusty Baglin, 11. Marvin Mitchell, 12. Rowdy McClenon, 13. Taylor Simas, 14. Klint Simpson, 15. Gordon Rodgers, 16. Terry Schank Jr., 16. Jim Richardson, 18. Tom Baker, 19. Kyle Hirst. NT
——————————
**Simas, Simpson and Schank all flipped during the feature.
FEATURE LAP LEADERS: Laps 1-20 Larson.
NEW USAC WESTERN CLASSIC SPRINT CAR POINTS: 1-Hunt-758, 2-Hogg-745, 3-Rodgers-468, 4-Baker-416, 5-Scott Pierovich-388, 6-Marty Hawkins-359, 7-Simas-312, 8-Brian McClish-209, 9-Tim Skoglund-179, 10-Cody Gerhardt-174.
NEW USAC WESTERN CLASSIC DIRT SPRINT CAR POINTS: 1-Hunt-599, 2-Hogg-576, 3-Marty Hawkins-359, 4-Baker-328, 5-Rodgers-313, 6-Simas-312, 7-Scott Pierovich-214, 8-Jerry Cisco-100, 9-Mitchell-46.
NEXT USAC WESTERN CLASSIC SPRINT CAR RACE: September 15 – Madera (CA) Speedway – "Harvest Classic"