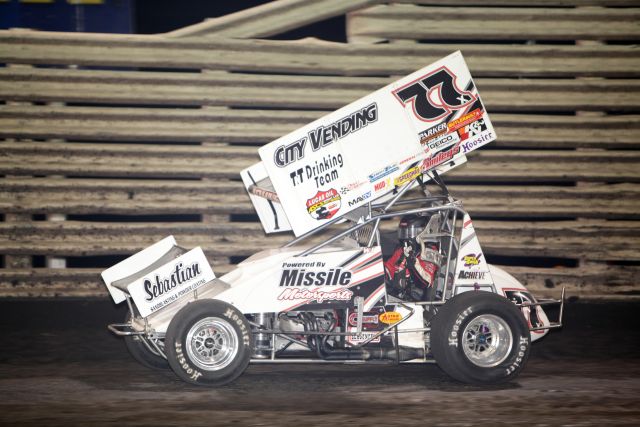 By Bill W
September 19, 2012 – Wayne Johnson and his #77x team are ready for the Midwest "Fall Brawl" this weekend at the I-80 Speedway near Greenwood, Nebraska. The Knoxville, Iowa driver is coming off a second place finish with the Lucas Oil ASCS National Series' event at the Texas Motor Speedway Dirt Track near Dallas.
One of Wayne's primary sponsors, Outlaw Wings, provided a new design for him last weekend. "We were running a brand new dish wing from Outlaw Wings this weekend," he says. "It's the best wing we've ever had."
The heat went well on Saturday in Dallas. "The racetrack was just one-dimensional around the curb at that point," says Wayne. "We started fourth and ended up second. We just couldn't quite get Matt Covington run down, but that got us in the redraw. We got what was left in the draw and it was the pole."
Wayne roared out to the lead at the outset. "We got a really good start," he says. "We got going there around the curb and we were leading. I think we were out front for thirteen laps or so. I thought we had a shot at the win."
One car proved it was faster. "The next thing you know, here comes Jason Johnson," says Wayne. "He slid me…cleared me by a mile, and pulled away. He would drive through the middle and pull away. He was just that much faster on the straightaways."
Wayne tried to run down the leader, but settled for the runner-up spot. "The track had a nice curb on it," he says. "It was just so slick everywhere else, that you could just do slidejobs. Jason was running the middle, and I thought he was in some rubber. When I tried it, he really drove away. We were just second best. We have to figure something out. That's all I have to say."
The veteran had not run at the facility for over ten years, when he ran with the World of Outlaws there. "It was like 2000 or 2001," he says. "It sure raced way different Saturday. They used to overwater it, and it was choppy and goofy. Saturday, from the bottom of the corner to the guardrail, I bet it was 60 feet wide or more. We changed gears three times. The track kept moving up and we changed with it."
The Fall Brawl takes place Friday and Saturday at I-80 Speedway, and there is plenty of cash on the line and Wayne will be aiming for it. "We struggled there earlier this year, but we're looking forward to it," he says.
Follow Updates on Facebook!
Wayne will update as his race night goes on at his Facebook page. Find it by searching for Wayne Johnson Racing or clicking the following link…
http://www.facebook.com/#!/WayneJohnsonRacing
Outlaw Wings – "The Wing with an Attitude"!
Check out the new "recessed rivet" design put out by Outlaw Wings. Talk to Wayne about purchasing Outlaw Wings for your car! Outlaw Wings – "The Wing with an Attitude"!
Wayne's World
Eric Parker asks: What is your gameplan when you race a non-point show?
Wayne Answers: We use the non-point races to experiment a little bit, and just try to make our racecar better. We tried the Outlaw Wings dish wing and it worked really well. We'll be using it the rest of the year. We'll use this weekend for a test, and Kilgore too. We're just trying to get better. Now that we have Doug Rankin with us, we are trying some things that he likes to do too.
Got a question for Wayne? Each week, Wayne will answer your questions about "Tech Tips", or anything that's on your mind. If you ever wondered what a part on a sprint car is all about, send an e-mail to us at sprntcar@iowatelecom.net, and we may answer it in this section! Put "? for Wayne" in your subject line. He'll try to keep it clean if you do!
Wayne's Fast Facts
I-30 Speedway near Little Rock, Arkansas is home to one of Wayne's biggest wins, the $10,000 to win 1997 Short Track Nationals in Bobby Sparks #91. His first win there came in 1996, when he bested Mike Ward, Pete Butler, Tim Crawley and Garry Lee Maier.
Partner of the Week – The Oil Medics
Wayne says, "We had some problems with our hauler this week around Fort Worth, and Bill Jewell helped get us back on the road. He fixed it, and put some "air tabs" on our truck. It saves us about a mile per gallon with our fuel mileage."
The Oil Medics provides truck service without the expense or wait of a dealer! Visit them online at www.TheOilMedics.com!
"Wednesday's with Wayne"
"Wednesday's With Wayne" is an up close look at the past, present and future of colorful andtalented sprint car driver Wayne Johnson. You'll never know what to expect next with Wayne, so don't miss us on Wednesdays!
To receive "Wednesday's with Wayne", send an e-mail to sprntcar@iowatelecom.net with"Wayne" in the subject line.
Wayne Johnson Racing would like to thank Vern Rengen and Missile Motorsports, Sebastian Sandblasting & Powdercoating, City Vending, Outlaw Wings, Team Achieve, The Oil Medics, Century Signs, Smiley's Racing Products, Hoosier Tire Southwest, Simpson, Butlerbuilt, Super Shox, Maxim, Speedway Motors, Rod End Supply, Schoenfeld Headers and RCM Design.