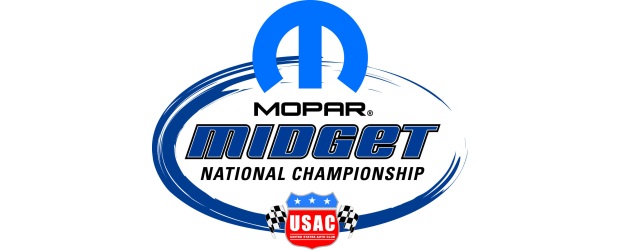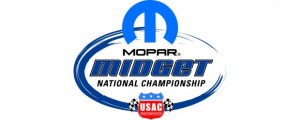 By T.J. Buffenbarger
New Weston, OH – (September 22, 2012) – Kyle Larson was glad Saturday night's USAC Mopar National Midget Car Series longer as he blew his motor while crossing the finish line to win the main event. Larson ran down early leader Jerry Coons, Jr. and motored away from the field before his engine expired while taking the checkered flag, coasting to a stop after the race was over. The win was Larson's second in two midget car starts at Eldora.
"I knew I couldn't waste a lot of time with (Jerry Coons Jr.) up front and (Tracy Hines). I had a good battle with (Brady Bacon), (Darren Hagen), and Hines," said Larson. " Once I got to second I chased down Coons pretty quickly. Once I got the lead the cushion got a lot closer to the wall, and I hit it a couple of times off two. From there I just tried to keep it off the fence."
Brad Kuhn and Jerry Coons, Jr. started on the front row for the 25-lap main event. Coons led into turn one with Tracy Hines sliding up to second by the end of the first lap. Hines car would only last one more lap though as he lost power coming off turn four to bring the caution flag out. Hines retired pit side.
Coons got a great jump during the restart while Bobby East tried to slide Kuhn for second, but could not make the pass. While Bacon and East continued to battle for third Darren Hagen joined this battle and began exchanging slide jobs with Hagen for fourth, which Larson joined as the trio continually exchanged slide jobs for several laps before Larson motored around the top to take four.
One lap later Larson motored around East on the top side of turns three and four. Larson then quickly disposed of Kuhn for second on lap 11 and set sail after Coons for the lead. Larson quickly closed the gap and drove past Coons for the lead on lap 14. From there Larson motored away through slower traffic until coming to the checkered flag when Larson's Toyota engine went up in smoke as he crossed the finish line.
"Toyota gives me great engines, first time I blew one up," said Larson.
Kuhn moved past Coons for the second spot. East, and Hagen rounded out the top five.
Darren Hagen was the fastest qualifier with a lap of 16.383 seconds at an average speed of 109.870 miles per hour. Brady Bacon and Tracy Hines won the heat race events. During qualifications Caleb Amstrong got upside down after hitting the turn two wall.
Mopar USAC National Midget Car Series
4-Crown Nationals
Eldora Speedway – New Weston, OH
Saturday July 22, 2012
Qualifications: 1. 3 – Darren Hagen, 16.383; 2. 24 – Tracy Hines, 16.427; 3. 71 – Bryan Clauson, 16.527; 4. 67 – Rico Abreu, 16.552; 5. 99 – Brady Bacon, 16.611; 6. 63 – Jerry Coons, Jr., 16.627; 7. 4 – Bobby East, 16.784; 8. 17 – Brad Kuhn, 16.812; 9. 67k – Hunter Schuerenberg, 16.941; 10. 33 – Davey Ray, 16.946; 11. 16 – Thomas Messeraull, 16.991; 12. 11w – Dave Darland, 17.024; 13. 7a – Dalton Amrstrong, 17.302; 14. 191 – Chase Barber, 17.526; 15. 55 – Taylor Ferns, 17.576; 16. 7c – Caleb Armstrong, NT; 17. 11 – Chris Windom, NT.
Heat Race #1 (8 Laps): 1. Brady Bacon, 2. Bryan Clauson, 3. Brad Kuhn, 4. Thomas Meseraull, 5. Kyle Larson, 6. Darren Hagen, 7. Taylor Ferns, 8. Dalton Armstrong. DNS: Caleb Amstrong
Heat Race #2 (8 Laps): 1. Tracy Hines, 2. Jerry Coons, 3. Davey Ray, 4. Rico Abreau, 5. Chris Windom, 6. Bobby East, 7. Chase Barber, 8. Dave Darland
Feature (25 Laps): 1. Kyle Larson, 2. Brad Kuhn, 3. Jerry Coons, Jr., 4. Bobby East, 5. Darren Hagen, 6. Bryan Clauson, 7. Rico Abreu, 8. Brady Bacon, 9. Davey Ray, 10. Thomas Meseraull, 11. Taylor Ferns, 12. Dalton Armstrong, 13. Chase Barber, 14. Chris Windom, 15. Tracy Hines, 16. Dave Darland. DNS: Caleb Armstrong
Lap Leaders: Coons 1-15, Larson 16-25
*Abreu switched to a backup car and started at the back for the feature event.